Looking for a nonprofit pitch deck that will help you raise money for your cause? You're in the right place.
And don't worry, you won't be making it from scratch.
I'm Viktor, a pitch deck expert, creative strategist, and burger lover. My work has helped my clients win $4mill+ worth of pitches and helped 100+ companies develop decks that are currently helping them raise investments and close deals.
I've personally worked in several NGO's so I understand how hard it is to raise money, particularly when you're just starting out.
This guide specifically aims at helping you understand what a nonprofit pitch deck is and how you can create one.
Let's dive in.
Hold on. Before you go and spend 20 hours building a deck…
Consider doing what 100s of others like you did. Let me help you develop a killer pitch deck and save 20+ hours of your time for a fraction of the cost. All it takes to start is a free 30 min call with me.
The least you will get is 10 actionable tips & strategies to own that next presentation, worth $599, for free.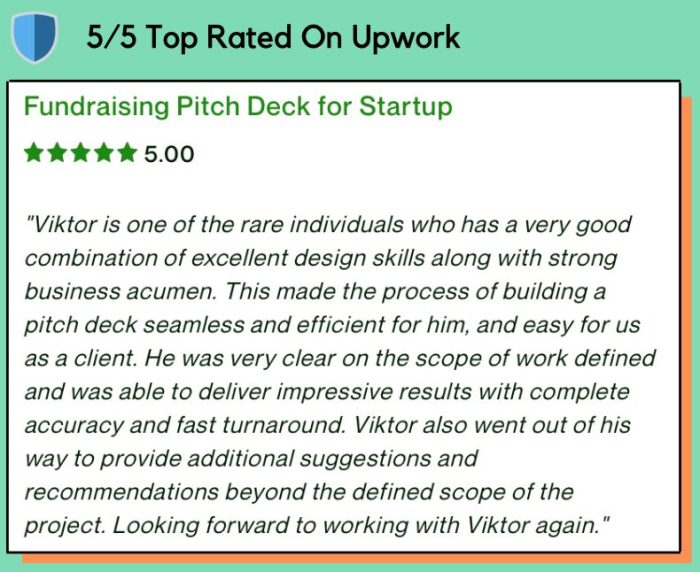 What is a Nonprofit Pitch Deck?
A Nonprofit Pitch Deck is a presentation that provides an overview of a nonprofit organization, its mission, and the services it offers.
It typically includes slides with information such as the organization's history, program highlights, impact data, financial information and donor stories.
Nonprofit pitch decks can be used to introduce organizations to potential investors, partners and other stakeholders. They are also used to provide updates on current programs and accomplishments.
The purpose of a nonprofit pitch deck is to show off an organization's unique value proposition in order to raise money, and secure donations or other forms of support.
It should be engaging and informative in order to effectively demonstrate why the organization deserves attention and investment.
How to Create a Nonprofit Pitch Deck Presentation?
Creating a nonprofit pitch deck presentation can be a daunting task. However, with the right guidance and a bit of preparation, it can be done effectively and efficiently.
Firstly, you will need to gather all the relevant data and information that is pertinent to your presentation. This includes facts, figures, images and videos that will help tell your story in an impactful way.
Secondly, decide how you want to structure your presentation so that it flows in a logical way.
Once this is done, you should use appropriate visuals such as graphs and charts to help illustrate your points and make them easier for the audience to understand.
Last but not least, practice your presentation several times before delivering it so that you are confident when making your pitch.
What Slides Should a Nonprofit Pitch Deck Include?
A nonprofit pitch deck should provide a concise overview of the
organization
its founder
the team members
mission
current progress
It should include slides on the organization's background, areas of impact, key programs or initiatives, financials, and fundraising needs.
You can do this as a PowerPoint presentation or go for the more advanced and well-designed way, using various tools available on the internet.
Testimonials from people that have previously worked with you or from the team members are always a great strategy to give a glimpse of your work and attract partners.
It would be great if you could make it in a way that is both visually stimulating, and amazingly straightforward.
The nonprofit should also consider including slides on potential partners or sponsors, board members and staff, how donations will be used to further the mission, and any other relevant information that will help demonstrate the value of supporting their cause and potentially convince investors to invest in the project.
Additionally, it is important to add visuals such as graphs and charts to support data-driven points.
Altogether, these elements can help create an effective pitch deck that accurately tells the story of an organization's work and provides compelling reasons for potential donors to invest in their mission or maybe make a partnership deal.
Examples of a Well-Designed Nonprofit Pitch Deck
A well-designed nonprofit pitch deck is an important tool for presenting information to potential investors in a concise and compelling manner.
As said above, a good nonprofit pitch deck should include a brief overview of the organization, a clear mission statement, an explanation of how funds will be used, a compelling presentation of the organization's impact, and any other relevant information such as financials or case studies.
The deck should have a professional look and feel – from the color scheme to font choices – so that it stands out from other decks and grabs the attention of potential investors and prospective partners which can be very beneficial and help you reach a new milestone.
Here is a great example of a well-designed nonprofit pitch deck that has been made for a charity:
The Nonprofit Pitch Deck Template You Need
With the help of this template, you can essentially take a bite of the pie and get your perfect nonprofit pitch deck created and ready for your platform.
You can then modify and personalize this however you want, but I bet that you won't need to.
Get the template that helped companies win $4,000,000+ in funding, deals and investments.
Nonprofit Pitch Deck Wrap-Up
Creating a nonprofit pitch deck can be a challenging task, but with the right preparation and research, you can create an effective presentation that will help your organization achieve its goals.
The key to success is to create an organized and concise presentation that focuses on the key aspects of your organization and clearly conveys your message.
By following the tips outlined in this guide, you can create an effective pitch deck that will be well-received by potential partners and donors.
Additionally, having a clear understanding of how to structure and present your information will help make your presentations more memorable.
Last Words From Me
If you need any help finalizing your deck, or just having a creative block, let me know and I'll help you out. Schedule a free 30 min call with me here, and let's take a look at your needs together. Or visit my pitch deck service page for more info.
More Resources
Check my main pitch deck guide that helped clients win more than $4mill in funding:
It contains a carefully laid out bulletproof step-by-step guide that will help you convince your investors to give you that funding you always needed.
Building each slide (including elevator pitch slide, financials slide, and more)
Best startup pitch deck examples
What investors want to hear
What a pitch deck is
What a pitch deck isn't
Best practices when creating a pitch presentation
Also, consider these resources:
And, don't stop there, check these resources too: