A film pitch deck is a great way to introduce your film or video project to potential investors and distributors, and get them excited. Creating a pitch deck, however, can be a daunting task.
Fortunately, it's 2022 and there is a wide palette of templates and tips you can integrate to easily execute a fantastic pitch deck for your movie.
Hi there. I'm Viktor, a pitch deck expert, creative strategist and burger lover. My work has helped my clients win $4mill+ worth of pitches and helped 100+ companies develop decks that are currently helping them raise investments and close deals.
I've created some fantastic movie scripts that even HBO deemed as too radical, and I'm here to show you how to make one too.
By following the tips listed below and using the right template, you can create a great pitch deck that will help you secure funding for your film project.
Let's begin.
Hey, before you read on and spend about 20 hours making a pitch deck:
Consider doing what others like you did. Let me help you develop a killer pitch deck and save 10 hours of your time for a fraction of the cost. All it takes to start is a free 30 min call with me.
The least you will get is 10 actionable tips & strategies to own that next presentation, worth $599, for free.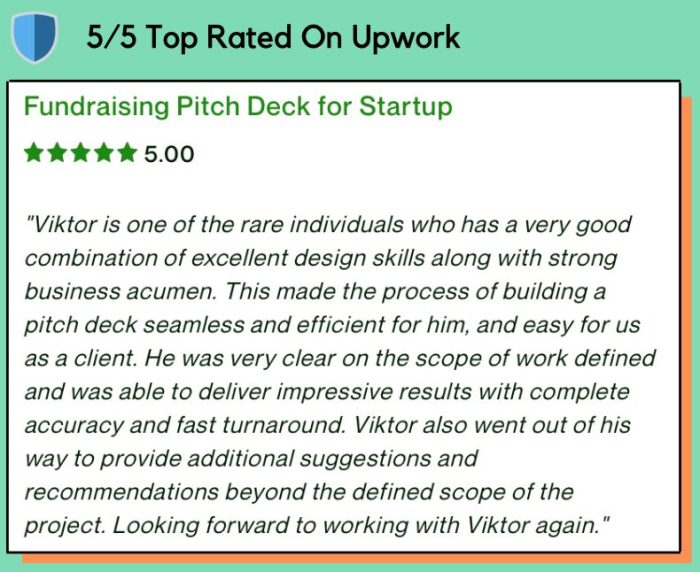 What is a Film Pitch Deck?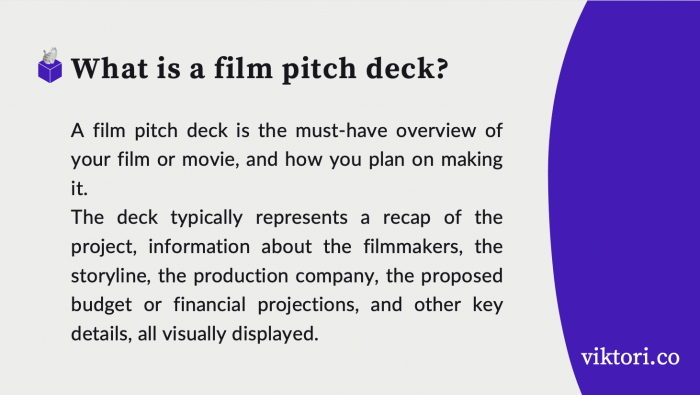 A film pitch deck is the must-have overview of your film or movie, and how you plan on making it. No need to be reading your script for this, since it is a short presentation document that is used to showcase a film or video project to investors, distributors, agents, and other creatives who might be interested in your project.
The deck typically represents a recap of the project, information about the filmmakers, the storyline, the production company, the proposed budget or financial projections, and other key details, all visually displayed – similar to a look book.
What Is The Purpose Of a Film Pitch Deck?
As you probably already know, the purpose of this type of pitch deck is to show potential investors and partners why they should fund your project.
You ideally want to convey an overview of the film project, its financial requirements, and prospect its potential return on investment financing.
This will also help them get to know more about what you're trying to accomplish with their money, so they're more likely to aim to support it and do the film financing, making it easier for you to feature films.
Shortly, it is a presentation that entrepreneurs make to gain funding for the project by convincing sponsors that the project is a good investment, presenting them with everything they need to know to accomplish that.
The idea is to entice them so they feel the need to come back and attend the next pitch meeting.
What Goes Into This Type Of Pitch Deck?
The deck will usually include a summary of the project, the logline, a plot synopsis, a slide with information about the creative team members, collaborators, and financial projections.
In general, there are four main components:
A brief description of the project (including intended genre, budget range, release date, etc.)
A high-level breakdown of each major component (storyline/interactions/setting)
A list of the top talent involved in the project (writer/director/cast/crew)
An overview of how you can help make this project a success and what benefits that could bring to your company or organization
Things to keep in mind when creating your deck are: using strong cinematic imagery to grab attention, keeping your deck concise and organized, and making your points quickly and effectively.
Additionally, it is helpful to use templates created by professionals to ensure that your deck is up to industry standards and captures all the key elements.
You could even create a poster that summarizes the entire pitch deck onto one page and hand some copies to the audience as promotional materials.
How To Make Your Film Pitch Deck Stand Out?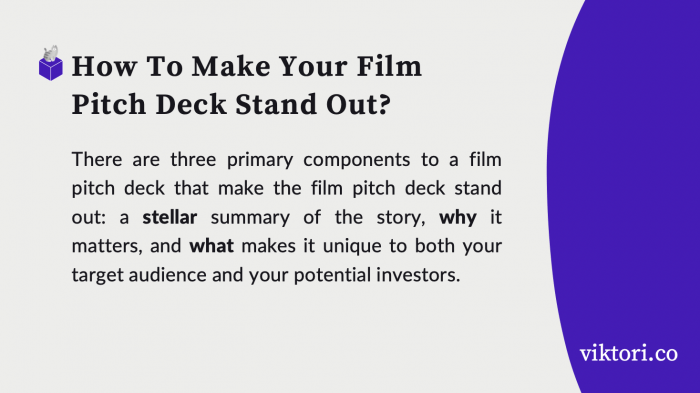 There are three primary components to a film pitch deck that make the film pitch deck stand out: a stellar summary of the story, why it matters, and what makes it unique.
You also want to include some statistics on the audience that will potentially watch your movie, attached to the project slides.
It would be great if you could provide examples of previous films that have similar themes but did not meet expectations due to poor marketing or lack of funding – which will help convince investors that this project has potential!
Focus on what makes your project unique, its keynote, and why it would be of interest to investors or distributors.
5 Tips for Creating a Great Film Pitch Deck
A crucial element of any effective movie pitch is a clear, short, and compelling elevator pitch. Here are five tips for creating a great pitch deck for your film:
1. Keep it short and sweet, similar to a bio.
You want to be able to deliver your pitch in a concise and engaging way.
2. Use strong visuals.
A picture is worth a thousand words, so make sure your visuals are clear and impactful.
Hold on. You might want to check my list on the best presentation books. Why?
It's 1O crucial books that will help you improve the design and structure of your presentations, besides improving its delivery. Check it out below.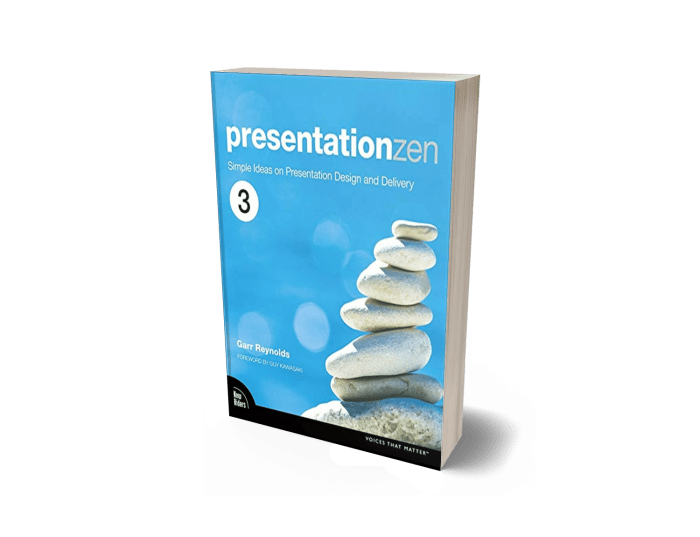 3. Tell a story.
A good story will help you sell the idea and make it more memorable. To help you improve your narrative, check this selection on the best books for pitching.
4. Highlight the key points.
Don't try to cram too much information into your pitch – focus on the most important aspects of your star – project and make a logical layout.
5. Be prepared to answer questions.
Have a solid understanding of your project so you can answer any questions that come up during the actual pitch deck presentation.
The Exact Film Pitch Deck Slide Structure You Can Steal (Thanks Viktor)
Title Slide:
Film Title
Logline (one-sentence summary)
Date
Presenter Name & Title
Slide 1: Introduction
Brief introduction to the film concept
Explain the inspiration or motivation behind the film
Mention the film's genre and target audience
Slide 2: Logline & Synopsis
Expand on the logline, providing a clear and concise synopsis of the film's plot
Introduce the main characters and their roles in the story
Describe the film's setting and time period
Slide 3: Themes & Tone
Outline the key themes and messages of the film
Describe the intended tone, atmosphere, and visual style
Explain how the themes and tone will resonate with the target audience
Slide 4: Comparable Films
List 3-5 films with similar themes, genre, or style
Share their box office results or critical success to demonstrate potential market interest
Explain how your film differs from these comparables and what makes it unique
Slide 5: Director's Vision
Share the director's vision and creative approach to the project
Include any visual references, concept art, or mood boards to help convey the vision
Explain the director's experience and past work, if applicable
Slide 6: Cast & Crew
Introduce the main cast members and their respective roles
Share relevant past experience, awards, or recognitions for each cast member
Present key crew members, such as the cinematographer, editor, and production designer, and their credentials
Slide 7: Marketability & Distribution Strategy
Discuss the film's target audience and potential market reach
Explain the planned distribution strategy, including theatrical release, streaming platforms, and film festivals
Describe any marketing efforts and promotional strategies to create buzz around the film
Slide 8: Budget & Financials
Provide a breakdown of the film's estimated budget, including production, post-production, and marketing costs
Share any secured funding, grants, or tax incentives
Outline any additional funding requirements and how they will be utilized
Slide 9: Production Timeline
Present a timeline of key production milestones, including pre-production, principal photography, post-production, and release
Share any progress made thus far, such as script completion, location scouting, or casting
Mention any anticipated challenges and contingencies
Slide 10: Investment Opportunities & ROI
Detail investment opportunities available, such as equity, profit participation, or other investment structures
Present potential return on investment (ROI) scenarios based on comparable films and market trends
Explain any additional perks or benefits for investors, such as credits, premiere invitations, or set visits
Slide 11: Closing & Contact Information
Summarize the main selling points of the film and reiterate its potential for success
Invite potential investors or partners to get in touch for further discussions
Provide contact details, such as email, phone number, and social media handles
Film Pitch Deck Template
A film pitch deck template can be a helpful tool for filmmakers who are looking to raise money for their projects. It can provide a structure for the presentation and help ensure that all of the important information is included.
Moviemakers can get templates for film pitch decks from several different sources.
There are many different types of film pitch decks, but most follow a similar outline.
However, a deck can always be modified to meet the unique requirements of each project.
These decks can be created using various software programs or online models.
Some popular options include online template databases, such as Canva, and software programs like PowerPoint.
You can find tons of templates on sites like Canva, Slidesgo and Google Slides, but none of them will be in line of the brand you represent. What will happen is you'll need to spend hours adjusting these templates to fit your brand guidelines. There's a better way. My clients have used my written template to craft a stellar pitch in half the time and designed decks that secured their investments.
Also, you need to able to narrate your deck efficiently, just like Steve did.

That's why I tell my clients to use AirDeck, a super intuitive pitch deck narration platform (think Zoom, but prerecorded, customized pitch sessions sent off to clients) that allows you to record and narrate your slides and send a video pitch deck instead of sending JUST a deck (which doesn't work without your cool voice narrating it).

They have a lifetime offer that you can't miss out on.
Examples of Movie Pitch Decks
2018 psychological thriller "Don't Go" received funding only a few weeks following the creation of its feature pitch. To aid in obtaining finance for the project, the director and producer recruited a graphic designer to create this pitch deck. The designer discusses creating the pitch deck and some of the ideas that went into it in the mentioned link. This deck features excellent cinematic images that give you an accurate feel of the movie. It serves as a good illustration of the kinds of details pitch decks frequently include.
This pitch deck does a fantastic job of describing the show's visual environment and its essential components. It gives us a glimpse into the characters, explains the plot of the show, and is just beautiful to look at! Since the show is animated, it seems sensible that the pitch deck is visually heavy. Live-action pitches should completely engulf the reader in a visual experience. Pitch decks should not have a lot of text. Let the graphics take the lead in a pitch deck!
Conclusion
It's time to get to work now!
Here are some tips for using the deck to find investors and make your movie a reality:
1. Use the templates. It's a simple way to make sure you have all the information you need to convince potential investors that your movie will be a success.
2. Use the examples. They will give you ideas on how to present an idea in an engaging way that will show off what makes your movie unique and worthwhile.
If you're still unsure if you can pull this off…
Consider doing what others like you did. Let me help you develop a killer pitch deck and save 10 hours of your time for a fraction of the cost. All it takes to start is a free 30 min call with me.
The least you will get is 10 actionable tips & strategies to own that next presentation, worth $599, for free.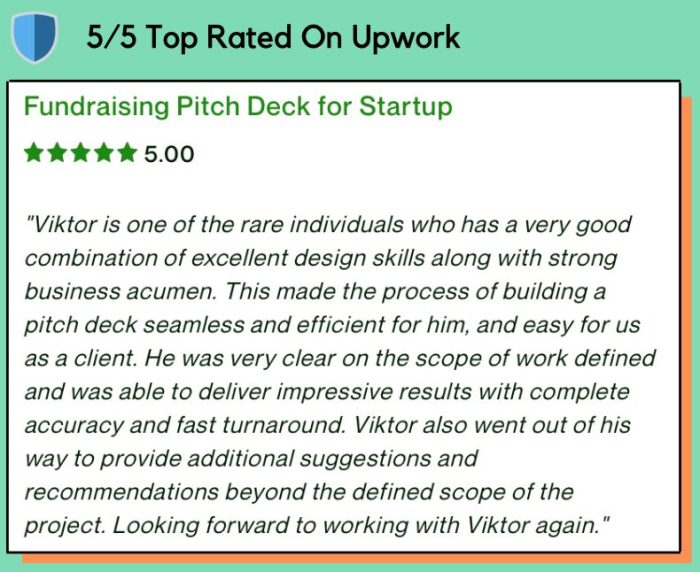 More Resources For You
If you're specifically looking to create a startup pitch deck, check my cornerstone guide on pitch decks that helped my clients win more than 4,000,000$ in funding:
You'll learn how to create an investor pitch deck by following my bulletproof step-by-step guide that helped my clients get $4+mill in funding. It includes information on:
Building each slide (including elevator pitch slide, financials slide, and more)
Best startup pitch deck examples
What investors want to hear
What a pitch deck is
What a pitch deck isn't
Best practices when creating a pitch presentation
Also, these resources on pitch decks: