If you can explain your idea in one sentence and have it trigger the "unicorn feeling", it's worth an investment.
This statement should be the golden rule when creating solid pitch decks.
Unfortunately, it's not.
This is why I'm posting this guide.
I've seen too many mediocre decks that use fluff and vanity metrics to prove the value of an idea. I've also seen great designs that don't use numbers or explain what the idea is.
There are too many self-proclaimed experts that are nothing more than designers who learned a bit of copywriting or copywriters that learned a bit of design.
It's simple: You need to be or think like a creative strategist to create a winning pitch. You need to understand numbers, the big picture, and how each piece of the big picture relates to the other.
Above all, you need to understand WHO is it that you're pitching.
Most important of all, you need to know what to say and know how to say it.
A fancy pitch deck template from SlidesGo or Canva won't do much good if the content within is just a sequence of unrelated messages created to serve the purpose of the slide rather than the overall picture.
In this guide, I'm sharing my personal approach to creating pitches.
An approach that has helped my clients win $4mill+ worth of pitches, and helped 100+ companies develop decks that are currently helping them raise investments and close deals.
I'm a pitching expert and I can help you create a pitch deck. With this guide, you will learn how to create a pitch deck.
Let's start with the basics.
Hold on. Before you go and spend 20 hours building a deck…
Consider doing what 100s of others like you did. Let me help you develop a killer pitch deck and save 20+ hours of your time for a fraction of the cost. All it takes to start is a free 30 min call with me.
The least you will get is 10 actionable tips & strategies to own that next presentation, worth $599, for free.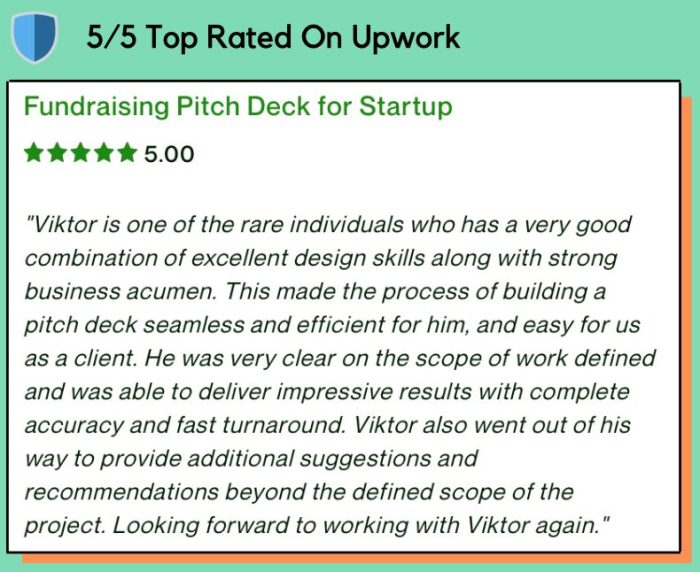 What Is A Pitch?
The act of convincing someone to accept (buy) your idea is pitching.
Sometimes the term elevator pitch is used and misinterpreted, so let's clear the air about that.
The Origins Of The Phrase Elevator Pitch
The phrase comes from the studio days in Hollywood when a screenwriter would "supposedly" catch an unsuspecting executive on an elevator ride, and try to sell his script.
This means that they would have had 15-30 seconds to present themselves or their idea.
What Is A Pitch Deck?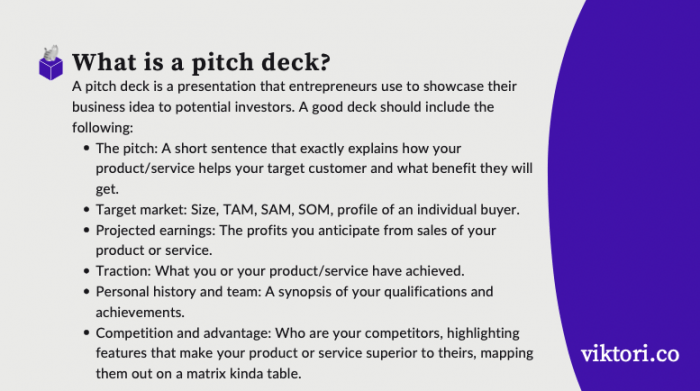 A pitch deck is a presentation that entrepreneurs use to showcase their business idea to potential investors.
A good deck should include the following:
The pitch: A short sentence that exactly explains how your product/service helps your target customer and what benefit they will get.
Target market: Size, TAM, SAM, SOM, profile of an individual buyer.
Projected earnings: The profits you anticipate from sales of your product or service.
Traction: What you or your product/service have achieved.
Personal history and team: A synopsis of your qualifications and achievements.
Competition and advantage: Who are your competitors, highlighting features that make your product or service superior to theirs, mapping them out on a matrix kinda table.
And some other key points which we'll get to in a bit.
Why Is A Pitch Deck Important?
It's important to have a good deck in order to successfully raise money.
Whether it's for securing a round, fundraising, pitching a potential client, or just convincing your spouse to give you some change to go out with your friends, a great deck is a must.
What Is The Purpose Of A Pitch Deck?
The purpose of a pitch deck is to convince investors to fund your business.
What Is A Great Pitch Deck?
A great pitch deck will spark the "unicorn feeling" within any investor. To make one, you need to have more than just an in-depth and thorough knowledge of your industry and the idea that you are selling.
You need to have the knowledge of the particular problem that your idea is solving, your target market, the competition, rival products, anticipated revenues, and the uniqueness of your idea.
You need a total breakdown of your pitch, meaning, you need to explain each part in as much detail as possible, in the shortest amount of time available.
You need to know your numbers, the downsides, the upsides, worst/best case scenarios, ins and outs of your industry and the color of your target audiences toothbrush.
Most importantly, you need to know how to weave in a story narrative worthy of a movie trilogy.
If you plan to present in front of investors, your idea should create a feeling with your investor that their money is not just in safe hands but will at least quadruple within a certain period of time.
Here's my template for creating a great pitch deck:
My Startup Pitch Deck Template: Pitch Deck Slides To Include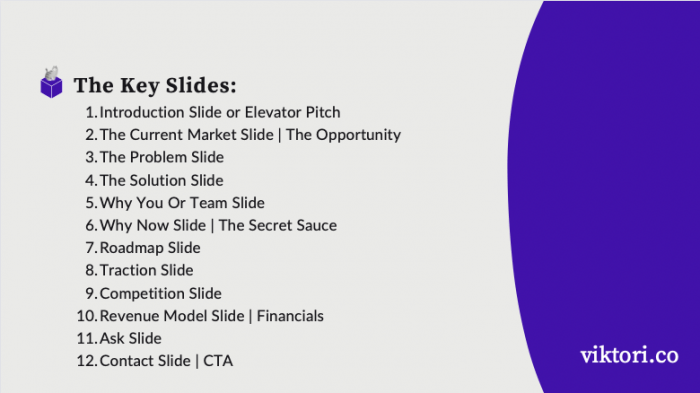 If you follow this template, you'll create a deck that gives that unicorn feeling. Let's start with the first slide:
Introduction Slide or Elevator Pitch
A good introduction slide will give the audience a brief overview of who you are, what you do, and how you solve a particular problem. It should be concise and to the point, and it should leave the audience wanting to know more about you and your business.
Things to think about when creating the introduction slide:
What's my elevator pitch?
What am I trying to solve?
Can I make it shorter?
Does it have actionable data?
Is it clearly stating that it's solving a problem?
Is it clearly stating for whom the solution is intended?
The Current Market Slide | The Opportunity
This slide is crucial. If you fail to paint the picture of how the market is ripe for the taking, and that there's an opportunity within it, you're essentially trying to sell an ice cream idea to Eskimos. Research is what will save this slide and knowing exactly how big the market is, the opportunity within the market, is what will make or break the whole presentation.
Things to think about when creating the current market slide:
Do I know my market?
Have I visualized it's size?
Is the opportunity sparking a flame within the audience or no?
The Problem Slide
The problem slide is where you need to clearly and concisely articulate the problem that your startup is solving. This is your one chance to really hook the audience and make them understand why your startup exists and why it is worth investing in. The problem has to be very closely related to the opportunity slide because
Things to think about when creating it:
Do you have a clear problem to solve, ideally one that investors will understand immediately, and relate to?
How many people/buyers have the problem and how much is the solution worth, is there a new market opportunity?
Is it really a problem?
Can people live without it and use a similar solution?
The Solution Slide
The solution slide outlines the solution that the startup is proposing and how it is the best possible option on the market.
Things to think about when creating it:
Is the solution simple enough to understand?
Did I explain the solution in simple terms?
Does it relate to the problem?
Does the info provided make people ask more questions about what the solution is?
Have I shown actual instances of my product in action?
Why You Or Team Slide
Investors want to know who you are and why you'd be the best team to solve the problem. You need to create a very clear image about who you are in those few seconds.
Things to think about when creating this one:
Have we showcased relevant experience?
Is the problem something we've experienced and can relate to?
Why Now Slide | The Secret Sauce
If you don't show investors why there's a burning need right now at this moment for your solution, you're not getting any investments.
Think about it, if the need is not that big and your audience can go on living and working without experiencing much pain while using existing solutions that solve the problem, why would they use yours? Your target audience should be suffering right now, be in pain and degrade because of the lack of proper solutions.
Good reasons why now is important:
You've finally got the tech to enable a solution (think penicillin)
Market conditions are right
Right team
You decide what to highlight here, depending on the audience. Investors and business plan contest judges want to see technology, trade secrets, existing market position, or some other fact that helps you establish barriers to entry and protect your competitive advantage – or in this case, prove why now.
Things to think about when creating the why now slide:
Really, why now?
Why not 1 year ago?
Why not 1 year from now?
How big is the pain and is it vividly shown on the slide?
Roadmap Slide
A roadmap slide is an important part of any deck because it gives investors a clear idea of where the company is going and how it plans to get there. This slide should include a timeline of milestones and key events, as well as any major partnerships or financing rounds.
PRO TRICK: Add the exit strategy here and show investors that you know upfront what will happen to your startup in the near future and who will you sell it to. Assuming you want to sell it, of course.
Things to think about when creating it:
Is the roadmap clear and unambiguous?
Do I have an end goal in mind which is clearly marked on the roadmap?
Are the milestones achievable?
Have you shown how you're going to implement marketing and sales?
Traction Slide
If you're looking to add some extra oomph to your deck, consider adding a traction slide. It highlights your company's key traction metrics, such as user growth or revenue. It's a great way to show investors that your business is on the right track and gaining momentum.
Things to think about when creating it:
What traction is considered good in your industry? Have you achieved it?
How do you measure your traction?
Competition Slide
This slide should show who the competition is; direct and indirect, how you differentiate from it, and what things you have in common. Don't fall into thinking that there's nobody out there like you. There always is.
Things to think about when creating it:
Have you clearly mapped out all major competitors?
Have you visualized the competitive landscape clearly?
How does your product fit the competitive landscape?
Have you mentioned direct and indirect competitors?
How different are you from your competitors?
Revenue Model Slide | Financials
A revenue model slide is used to show how a company plans to generate revenue. This can include information on pricing, sales channels, and target markets.
Pro Trick: Combine it with the traction slide and show investors that your model is actually working and bringing in $$$
Things to think about when creating it:
Are the numbers realistic?
Are the predictions realistic?
Ask Slide
Plain simple, state how much you're asking from the investors and how you'll invest that money. If you already have an investment, mention it too.
Things to think about when creating it:
How are you going to spend that money?
Is what you're proposing your idea or just copied from somewhere else?
Contact Slide | CTA
This slide serves a few purposes, to leave your contact details and let people know how to reach you, to ask them to join you in your revolution and journey to solve a problem, and to say thank you.
Pro tip: Combine it with the ask one. This way you're reinforcing the ask with a clear CTA and you shave a few seconds off the clock.
Things to think about when creating it:
Have I created a powerful enough CTA?
All the rest: Flesh it out as needed, depending on your specific case, with highlights investors will look for. Exit strategies, competition, market strategy. Be sure to have projected P&L as a bar chart and have solid projected P&L, Balance, and Cash Flow to back it up.
My view on things: I made the above breakdown to try and give you a general feel of what the deck should include. Sometimes you can do more with just a few of these slides. Other times, you can do more by including all slides. My personal preference is to mix and match them because sometimes individual slides are more powerful when merged with others to make a certain point. It all depends on the situation and that's why you should reach out to me and do a quick 30-minute brainstorming session. This session will save you hours of unsuccessful pitches.
The Two Decks You Need To Convince Investors
Guy Kawasaki made a great point when he said that the purpose of the initial deck is to stimulate interest, not to close a deal.
That's why there are two kinds of decks — the deck intended for the presentation itself and the leave-behind presentation. This part of the guide explains both of them briefly:
Pitch Deck
That's the one you read about most often. It's a classic presentation—almost entirely images, each slide with a title and an image, but very little text.
The images are photographs, business charts, and diagrams. It keeps the focus on the speaker, not the deck. It doesn't encourage the audience to read the text.
Last but not least, It doesn't have bullet points people will read.
Leave-behind Presentation
This is the standalone deck. It needs to be read, not presented. This is one of those presentations that are rich in content—it has more text and statistics and doesn't have a lot of videos and images because of its business purposes.
20 Tips To Help You Create A Pitch Deck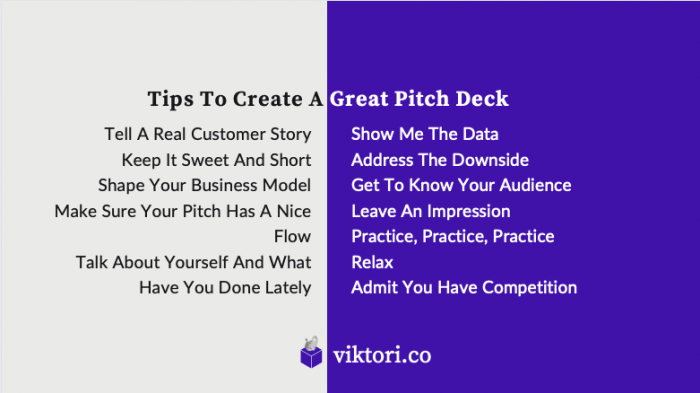 Tell A Real Customer Story
One of the rules of an opening speech is "start with something shocking, or a good story". So why not use that rule when presenting your idea? It's best to start your presentation with a shocking fact and a good customer story that addresses the problem you or your product is trying to solve.
Try to use real names and real customer challenges. Keep it simple and realistic. Avoid buzzwords and tech talk. After all, the people will remember the stories that you tell, not the exact words you use.
Keep It Sweet And Short
Note that when presenting, less is more. Prioritize the most important things you want to share and stick to them.
Take a nice big breath before you speak, it will help you deliver a more compelling and thoughtful presentation.
Shape Your Business Model
Your business strategy tells someone how your idea converts into something economically valuable. The best way to communicate that is to show a good business strategy and show an overview of your business model.
Make Sure Your Pitch Has A Nice Flow
Keep your presentation short, sweet, and to the point. When making your presentation, try not to jump from one subject to another, but connect the dots.
The best way to do this is to have a compelling story narrative that will hook your audience.
Talk About Yourself And What Have You Done Lately
It is important to know that investors invest in people first. If people are good, they will invest in an idea. So, don't be afraid to talk about your and your team's accomplishments.
They want to hear about your first customers, key achievements, key hires, etc. People want to hear stories—give them a story that will make them choose you.
Admit You Have Competition
The biggest mistake people make is saying they don't have any competition. The truth is—everyone has competition, even if it is indirect. When you talk about your competition, one of the best ways to illustrate that you understand your rivals is to present it in a simple matrix form.
Show Me The Data
Try not to brag about how you're going to be a $60 billion business in three to five years, because no one is going to believe you—unless, of course, you've done it before. Show them exactly how you will reach those billions instead.
Address The Downside
If you don't, someone else in the audience will. You might think that keeping it a secret will let the downside pass by, but trust me, it won't.
Knowing your downside is a mark of a great leader because it shows that you've considered the worst-case scenarios too. No general in history said, "We're in the best possible position to win this and they have no way to flank us nor surprise us". Oh, wait.
Get To Know Your Audience
Understanding your audience is a must.
You need to know what roles the people you are talking to play in the decision to invest in you and your idea.
You need to give a presentation that will make them enthusiastic and in order to do that, you need to understand how they want to hear things.
Leave An Impression
The most important part of the presentation is you. If you can't clearly and effectively communicate, even the best ideas fail.
Make sure you leave the impression you want—as a grounded and smart individual. Of course, watch your body language; your posture, tone of your voice, hand gestures, strong eye contact and appropriate pauses.
Practice, Practice, Practice
The best way to make a perfect presentation is to practice.
Time how long it takes for you to get your key point across. Stand in front of a mirror and pay attention to your body language. After that, give the presentation to your friends and family and ask them to point out any mistakes they notice.
Relax
A common, yet cardinal mistake people make before their presentation is not giving themselves time to relax.
There is no point in being all stressed out—it can only make things worse.
Best Practices: 13 Tips To Help You Create A Winning Pitch Deck
Be Grounded
If you plant your feet you will look and feel more grounded. Stay in that position for three minutes to calm yourself down, then feel free to move around.
Take It Slow
This is a piece of traditional advice, but it's even better to pause from time to time.
Catch your breath, think of your next point and move on. Not only does the pause help you recollect your thoughts, but it also exudes confidence—you've got time on your hands and you're in control, there is no rush.
If they wait for you, that means you're important – Chilli Palmer (Travolta in "Get Shorty")
Be Specific And Keep To The Main Point
Often people get so carried away in explaining and stuffing their presentation with fancy words that they forget to share their main point. Don't forget to pull out fresh information and at the end add a compelling call to action.
Raise Your Voice
When presenting, you need to make sure everyone can hear you. Try to project your voice as if you are talking to the person sitting in the last row. You may think you are loud, but don't worry—you are not.
PRO TIP: After you're done, ask the following 3 questions:
Did I get through?
Was my message well received?
Does the target want to buy my product, or invest in my idea?
The main reason I ask these questions is: analysis is key to improving your next pitch.
Tell A Relatable Story And Engage With People Emotionally
Everyone loves to hear stories, even business people. So, tell an exciting story about your company. It is best to share three stories with the audience—the first should demonstrate why you care and why the audience should, too. The second story should describe the solution to action. And the last story should exemplify the benefit of implementing your solution.
Prepare To Make A Great First Impression
First impressions are powerful. Use the first 2–3 minutes to make your impression, and if you do it well, half of your problems during the pitching are solved.
Show The People Behind Your Idea
Try to focus on each person's significant and relevant accomplishments on your team. When presenting them, present them as winners.
Know Your Metrics Better Than Anyone
We all know traction speaks louder than words, so know your metrics and present them to your audience.
Get To The Point Fast
It's a well-known fact that attention spans are getting shorter and shorter. Don't waste time with preambles.
Give the audience an overview of your compelling composition quickly and capture their attention at the beginning. Then move to the next point.
Establish The Need And Use A Message Map
One of the questions that go through your listener's mind is "What problem are you trying to solve?" Therefore, give them a reason to believe that there is a need. State the problem and illustrate the need, then follow up with your solution to address the necessity.
Know Your Next Steps
Come prepared for the next steps. What happens if you get a negative response? What do you want your audience to do? Preparation will help you move forward with confidence.
5 Pitch Deck Design Tips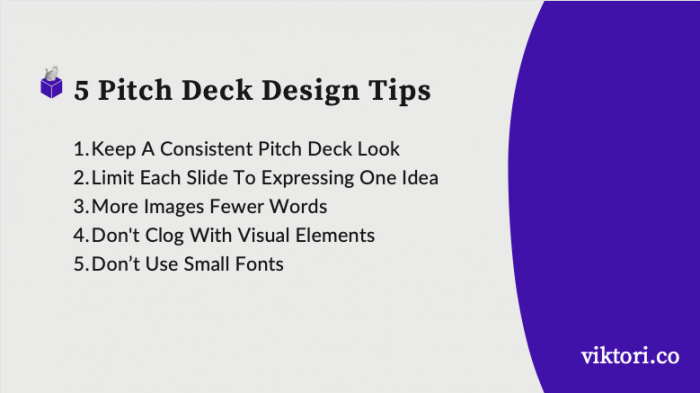 Keep A Consistent Pitch Deck Look In The Presentation
Mixing different fonts does not look good when doing a presentation. Use the same font, size, brand colors, and capitalization format across the board.
Limit Each Slide To Expressing One Idea
You would like to keep your entire audience on the same page here. Be short and clear in expressing your ideas.
More Images Fewer Words
Imagine that the presentation is like the background visuals to a movie. They enhance the movie, giving it various effects and making it more impactful, yet still, letting the characters be in focus.
Using images will help you achieve exactly that, keep your pitch deck focused.
Don't Clog With Visual Elements
One graph. One paragraph. One pie chart. One Heading. One illustration. Keep it simple with elements. You don't want your audience to search for the information. You serve it to them instead. The purpose of the pitch deck is to get funded, not get your audience confused.
Don't Use Small Fonts
Use fonts that can be seen by all audience members. Use 32 to 44 for titles, and no smaller than 28-point for the text or points.
Get to know your audience. I mean, really really get to know them. Find out what their names are, what they work for, and what they want and need in life.
Use this information throughout and get amazing rapport that will make them your best friends for the moment.
Areas To Master In Order To Win Every Presentation​
Pitching is part of a larger communication process and this guide wouldn't be complete if I didn't show you all the parts of the process.
As you know, communication is made up of two parts—verbal and non-verbal.
The verbal component of communication is only 7%. The other 93% contains the non-verbal element and is made up of body language—55%, and tone of voice—38%.
So, if you want to get invested, maybe it is time to master all 100%, containing the two key areas—body language and tone of voice.
3 Tips To Help You Master Body Language
You need 4–7 seconds to leave an impression. And 30 seconds after that, the judgment will be finalized. The biggest influence on the communication process falls down to body language.
When you first show up in front of people, your appearance sends a certain message—the way you walk, your posture, your facial expressions, and even your clothes.
So, what are the things you need to pay attention to in order to master body language?
Posture – Being powerful and confident, or at least looking like that, is a must when pitching in front of people who are about to make a decision on the future of your company.

Take a lot of space—do that by taking power poses. Stand up straight with your shoulders back. Include open palm gestures, lean slightly forward, and mirror your audience's posture/gestures.

Face Expressions – You're never fully dressed without a smile. Show people your charisma. Walk into the room with bright eyes and an easy smile, and allow your vibe to consume all the people in the room.
Make Sure Your Verbal And Nonverbal Messages Are Aligned – If your body language doesn't match your words, your message will be lost. It's like thinking about one thing, but talking about something else. If you express a concern, be careful not to tell that with a smile—your face needs to show that you are troubled. If you are proud of the numbers you are presenting—show it. When you tell a joke—smile. Communicate your messages in the right way.
3 Tips To Help You Improve Your Voice When Presenting
Tone Of Voice – What does the tone of your voice communicate? What does it sound like? Does it express confidence? Assurance? Strength maybe? Or fear? How about boredom? Find out what you tell with your voice and practice until you get the desired effect.
Voice Inflection – Make sure the inflection of your voice emphasizes the things you are speaking and thinking about. Inflection alone can change the meaning of a sentence.
Sound And Energy – Authoritative? Joyful? How do you sound? Use a recorder to hear how you sound and what others hear. Make them feel like they are in the same room with you with the energy of your voice. Watch the speed at which you speak. Breathe, think about what point you want to make, and use the right energy in the sentence to do that.
Persuasion IQ is a masterpiece of a book that can help you improve your persuasive skills. I've made a summary of the book here, feel free to use the findings and abuse them.
Presentation Software Tools To Help You Create A Good Pitch Deck For Investors
There are a plethora of tools to help you create a presentation deck and get investors to call you for that next meeting. These are the most popular ones:
Powerpoint
Google Slides
Canva
Prezi
Keynote
20 Pitch Deck Mistakes To Avoid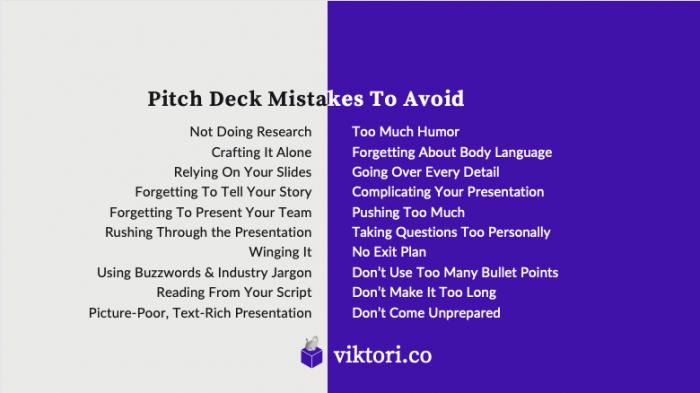 (Check out my list of the 19 pitch deck mistakes you are making but don't realize it. Otherwise, continue on with the following quick-to-implement list)
Pitches can be tough, especially when you're presenting to an audience that has seen an enormous number of them (it's just hard to make an impression).
Because your prep work is the most important part, you need to be careful not to make some of the most common mistakes and this part of the guide shows some of them.
Not Doing Research
Research is the first thing you need to do when doing anything in business. You have to know who you are meeting with and where they place their interest.
The research is also important — you need to know exactly what you are talking about when presenting in front of an audience and know who you're presenting to.
(link up the FAQ for the post on remembering people's names)
Crafting It Alone
The worst thing you can do when preparing your presentation is to not ask for a second opinion. A bit of guidance, encouragement and even love from your close ones can be crucial for delivering the right message.
Relying On Your Slides
Relying on your slides too hard when presenting is the worst idea. People should have an impression that your presentation is unique, not like you've fed the same lines to thousands of listeners before.
To achieve this, use slides as supporting visuals, and use yourself and your verbal pitch as the number one weapon to present your idea.
Forgetting To Tell Your Story
You already know that telling a story is one of the key ingredients when pitching. Stories are emotional, and should definitely be a part of your presentation. They will pique interest and prepare the stage for the numbers.
Forgetting To Present Your Team
Investors are eager to know what your team can do. They want to invest their money in people who can pull it off. The best way to do this is to present each person's strengths and split the presentation up by expertise.
Rushing Through the Presentation
Even if you notice you're running out of time, try not to rush through the presentation. It is essential for people to really understand your idea.
Winging It
Don't make it up as you go. Failing to practice prior to the presentation shows how little dedicated you are to your idea and business.
Using Buzzwords And Industry Jargon
Keep the presentation genuine using proof points, metrics, and anecdotes that the audience can grasp in a meaningful way.
Similarly, steer clear of using too much industry jargon. Speak in layman's terms so that the audience is actually listening to the description and not trying to figure out what was just said.
Too Much Humor While Doing The Presentation
A sense of humor is great, but using it too much can make things awkward. These people are professionals and they don't know you too well to get your sense of humor.
Forgetting About Body Language
Some people forget about their body language—don't be one of them. Body language matters—stand up straight with your shoulders back, smile and show some passion for what you're doing.
Going Over Every Detail
Too much information will do you no favor. People will get bored and maybe won't receive the message right. Once you have your message down, make sure your deck is visually appealing so you can keep them interesting.
Complicating Your Presentation
Try not to complicate your presentation or make it too long and full of information. Keep it simple. Remember—less is more.
Pushing Too Much
If the audience feels that they are being force-fed a value proposition to which they can't relate, their shield will go up and your presentation will be a disaster (don't be salesy).
However, by piquing their curiosity in a less forward way, you could leave them wanting more.
Taking Questions Too Personally
Try not to be offended or take a persistent line of questions personally. Try not to argue, as well. It is not the point to prove them wrong, yet to educate them on your opportunity and get valuable feedback in return.
No Exit Plan
Investors would like to see an ROI within a reasonable timeframe and you need to show them how it is going to happen.
Don't Use Too Many Bullet Points
Too many bullet points will kill the presentation. Try to limit the bullets.
Don't Make It Too Long
Imagine you are the audience and someone is doing a presentation with 100 slides and it takes 50 minutes.
Hopefully, they brought some nice pillows.
Don't Read From Your Script
Making eye contact with your audience is important. If you read from your script all the time, you will miss the all-important communication with your audience.
Don't Create A Picture-Poor, Text-Rich Presentation
Note that people can't read and listen at the same time. Use more pictures. People will listen and you can engage and inspire them emotionally.
Don't Come Unprepared
When preparing your pitch, make time to think of all the questions your audience might have and be prepared to explain the matter.
8 Famous Pitch Decks
Let's see some of the most iconic decks of all time:
MaterMark Pitch Deck
Square Pitch Deck
Uber Pitch Deck
AirBnB Pitch Deck
Peloton Pitch Deck
Mint Pitch Deck
Foursquare Pitch Deck
6 Legendary Presenters
People that inspired us, and (in a way) mentored us to become better presenters, speakers and overall leaders. Enjoy!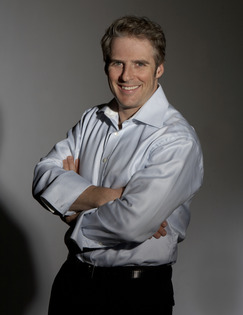 Oren Klaff
An investment banker, bestselling author, and a genius pitcher. His book Pitch Anything is the bible of all pitching books.
Steve Jobs
Is it really necessary to say anything here? Remember the iconic iPhone speech? The master of stage presence and delivery.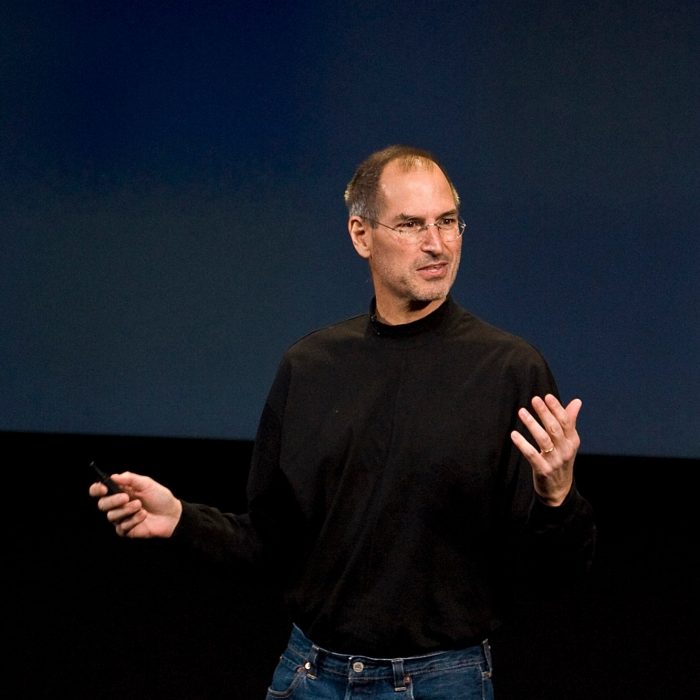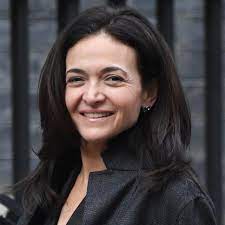 Sheryl Sandberg
FACEBOOK COO
If someone can make people take action in just 18 seconds, then that's some mighty persuasion skills that even Aristotle would envy. Check her out.
Winston Churchill
Historical Badass
Being bombarded day and night, and still being able to get up and raise the morale of a whole freaking country, is a trait of someone who has courage and amazing oratory skills.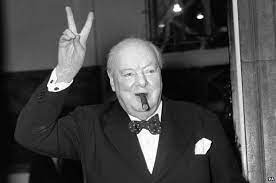 Tony Robbins
Inspirational Guru
Janitor turned rockstar inspirational speaker. I think that's enough to signify the type of pitching and presenting skills you need in order to succeed in life.
Socrates
Founder
Don't let the marble head fool you. One of the founders of the Western civilization, Socrates was sentenced to death after kicking ass at a public hearing and destroying his accusers. What a way to go, eh?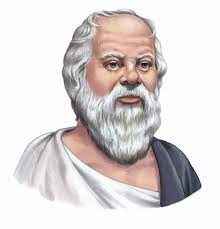 Bonus: How Buddy Guy Uses Stage Control To Dominate His Audience
Types Of Pitch Decks
It is known that the word "pitch" has a different meaning depending on the context. However, speaking of business and presenting your idea as such, there are different varieties of pitches and the following ones are amongst the most popular:
Sales Pitch Deck
The sales pitch needs to be the "more conversational type."
If you want to close the sale, you need to provoke a dialog and ask your buyer about what they need.
The next thing you need to do is to create a connection with your buyer. Naturally, the best way to do that is, again—to tell them a story.
If they can relate to your brand on a personal level, they will have one more reason to buy from you.
Advertising Pitch Deck
Advertising pitch presentations are something you are in touch with every single day.
pitch/" target="_blank" rel="noreferrer noopener">how to create an advertising pitch.
Then they would come back to you with their ad pitch, which is essentially the creative strategy that the agency would use to execute the campaign.
Startup Pitch Deck
The main goal of the startup pitch is to attract investors.
This type of pitch needs to be strong, and compelling so that it convinces investors to back up your startup.
Keep it to the point, tell your startup story and manage your timing well.
Pitch Deck For Investors (Investor pitch deck)
For starters, despite what some of the investors say when they are asking you to send them a pitch deck, they usually mean an investor deck.
You should know that those are two different things—the first slide deck needs to be supported by a presentation, to tell a story and to focus on the problem, whereas the investor deck can be read by itself, and only presents the problem, talking about your vision in mostly business terms.
The investor deck basically puts to attention the information investors need to make a decision.
PITCH DECK FAQ
Why do you need a pitch deck?
A deck is a critical tool for any startup. It allows you to articulate your business model and value proposition in a concise, visually-compelling way. A good one will help you win over investors and customers, and can be used to secure funding and partnerships.
What are investors looking for in a pitch deck?
Investors want to see the following things:
An overview of the problem you're solving and the market opportunity
Your solution and how it's different/better than others in the market
Your business model and how you plan to make money
Your team and their relevant experience/expertise
Your traction to date – this could be customers, revenue, user growth, etc.
Your go-to-market strategy
Your financial projections for the next few years
An overview of the risks and challenges you face
Investors are looking for a clear and compelling story that outlines a large market opportunity and how your business can tap into it.
They want to see that you have a great team in place with the skills and experience necessary to execute your plans. And they want to see that you have some traction – whether that's customers, revenue, or user growth – to show that there's already a demand.
How do you structure a pitch deck?
When creating a pitch deck, it is important to structure it in a way that is clear and easy for the audience to follow.
This means starting with an introduction, followed by a section on the problem that your product or service solves, then delving into your solution. After this, you should provide some information on your team and your business model.
Finally, you should end with a slide on your financials and how much investment you are seeking.
For more questions and answers, visit my Final Words

Thanks for reading through this massive guide on how to create a pitch deck and attract investment.

Ultimately you want investors to get your product funded. You want to raise funding, get some venture capital, and reach that unicorn phase.

One of the main goals I have here at Viktori is to teach people how to become better at communicating with others and learn how to create a successful deck because I believe it's one of the most important skills that people can have if they want to succeed in any area of their lives.
Additional Pitch Resources
Also, these resources on pitch decks:

If you want to learn how to create a pitch, check out some of these resources:

Random post: