A game pitch deck is an essential tool for any game developer hoping to secure funding and make their project a reality.
But how do you create a game pitch deck that clearly reflects the value and brilliant lore your game has?
This game pitch deck presentation guide, as well as the examples and the template, will provide creators with the information they need to create a compelling pitch highlighting their game's most important aspects.
I'm Viktor, a pitch deck expert, creative strategist and strategy gamer with 33 years of experience playing games. My work has helped my clients win $4mill+ worth of pitches and helped 100+ companies develop decks that are currently helping them raise investments and close deals.
I'm jealous but in a good kinda way because I've always wanted to make my own game.
Instead, I ended up running businesses and helping gamers sell their own games.
I've chosen the path of the nobler cause.
This guide specifically aims at helping you understand what a game pitch deck is and how you can create one.
Don't worry, you won't start from scratch.
Let's dive in.
Hey, before you read on and spend about 10 hours making a pitch deck:
Consider doing what others like you did. Let me help you develop a killer pitch deck and save 10 hours of your time for a fraction of the cost. All it takes to start is a free 30 min call with me.
The least you will get is 10 actionable tips & strategies to own that next presentation, worth $599, for free.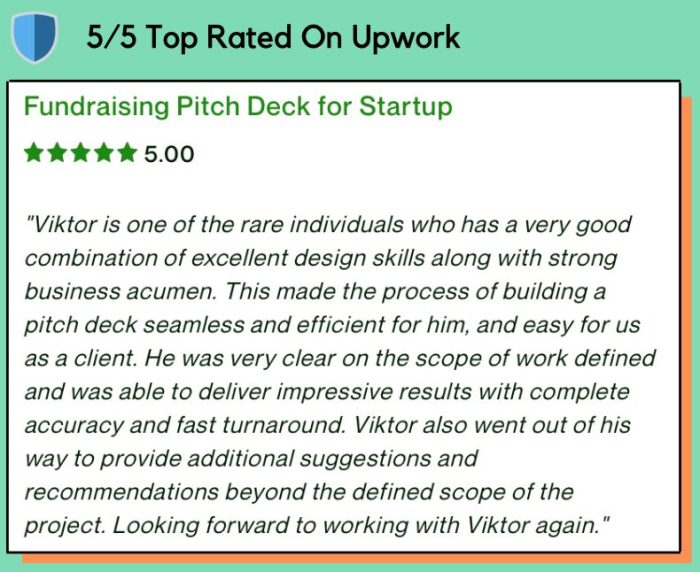 What is A Game Pitch Deck?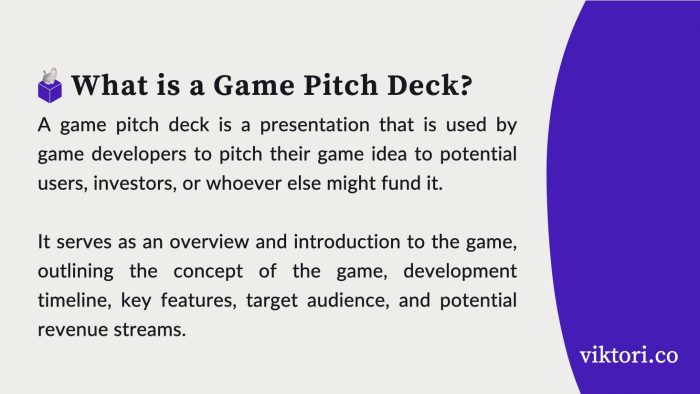 A game pitch deck is a presentation that is used by game developers to pitch their game idea to potential users, investors, or whoever else might fund it.
It serves as an overview and introduction to the game, outlining the concept of the game, development timeline, key features, target audience, and potential revenue streams.
What's The Goal Of The Gaming Pitch Deck?
The goal of the deck is to get funding for the game idea, by providing enough information to convince investors that it is worth their investment.
What Should You Include in Game Pitch Deck Slides?
I've seen thousands of decks and they all follow more or less the same structure (you can find the structure at the end of this article). The difference is that you'll have to put a bit of emphasis on the storyline because that's what separates great games and good games – a narrative that can keep the player stuck to his chair for hours at a time (think Skyrim).
As with any pitch deck, the game pitch deck should include visual elements such as in-game screenshots, and videos, as well as text that can be quickly read and understood.
The game deck should also include:
a brief overview of the concept
financial projections
market research data
target market
artwork and visuals
an outline of the proposed features
development timeline
how you differ from your competitors
information about the team behind the project.
and any other relevant information that can help demonstrate the viability of the project such as:
explaining information in regards to the platform, whether you are planning on building a mobile gaming app that people can use just from their smartphone, a pc game, or something very different than that.
explaining whether the game is multiplayer and things like the type of subscription available, such as regular and premium subscription options, if the users will be able to download the game if it is a virtual one, etc.
including details on how you plan to promote and distribute your game. It's rare for game developers to know how to distribute games unless they're a renowned studio, so including this info will definitely itch the investor's pocket.
including appendices that provide additional detail on topics such as marketing strategies or detailed technical implementation plans.
demonstrating traction with metrics such as user engagement or revenue can help illustrate the game's potential success.
This presentation is key for the image of the product. It's where you go when you want to understand what is the game about (without having to play the game) and more information explaining the commercially most important aspects of it.
Finally, be sure to leave space for questions so that your presentation can be interactive and engaging.
With all this information on hand, you'll easily be able to convince users and investors that your game is worth their time and money while gaining knowledge on how to pitch potential games in the future.
The Exact Game Pitch Deck Structure You Can Steal Without A Thank You
Title Slide:
Game Title and Logo
Tagline or Slogan
Presenter's Name and Title
Date
Slide 1: Game Concept
Describe the core gameplay mechanics and genre
Introduce the game's setting and story premise
Explain the unique selling points of the game
Slide 2: Target Audience
Identify the primary demographic for the game
Describe the characteristics and preferences of your target players
Present any market research or data supporting your audience analysis
Slide 3: Gameplay Overview
Explain the key features and mechanics of the game
Describe the game's controls and user interface
Provide examples of in-game scenarios or challenges
Slide 4: Art and Design
Showcase the game's visual style and art direction
Include concept art, character designs, and environment illustrations
Explain how the art and design contribute to the overall game experience
Slide 5: Development Roadmap
Outline the stages of the game's development process
Present a timeline for development milestones and launch
Describe any risks or challenges and how you plan to address them
Slide 6: Monetization Strategy
Detail your plans for generating revenue from the game (e.g., premium, freemium, in-app purchases, etc.)
Discuss your pricing strategy and distribution channels
Present any partnerships or marketing collaborations
Slide 7: Marketing and Promotion
Describe your marketing strategy, including target channels and tactics
Provide examples of promotional materials (e.g., trailers, posters, social media content)
Outline any planned events or promotional activities (e.g., game conferences, expos, beta tests)
Slide 8: Competitive Analysis
Identify similar games or competitors in the market
Analyze their strengths and weaknesses
Explain how your game differentiates from the competition
Slide 9: Team and Experience
Introduce the key members of the development team and their roles
Highlight their relevant experience and expertise
Describe any industry experts or advisors involved
Slide 10: Financial Projections
Provide a summary of key financial metrics (development cost, revenue, profit, etc.)
Present a 3-5 year financial forecast
Explain any assumptions or risks associated with your projections
Slide 11: Funding Request and Use of Funds
State the amount of investment you are seeking
Detail how the funds will be allocated (e.g., development, marketing, hiring, etc.)
Explain how the investment will help your game achieve its goals
Slide 12: Thank You and Contact Information
Express gratitude for the audience's time and consideration
Provide contact details for further discussion or follow-up
Include any relevant social media handles or website URLs
Game Pitch Deck Example Ideas To Help You Kickstart Things
Alright, if you're stuck in a ruth, here are a few ideas to help you get unstuck and get that inner gamer spewing ideas:
"Galactic Conquest": A Space-Themed Strategy Game
Slide 1: Logo and tagline – "Galactic Conquest – Command. Strategize. Conquer."
Slide 2: Game introduction – A captivating overview of the game's premise and unique features.
Slide 3: Storyline – A brief introduction to the narrative that drives the game's action.
Slide 4: Characters and Factions – Description and visuals of the main characters and factions players can command.
Slide 5: Gameplay Mechanics – Explanation of core gameplay elements, complemented by screenshots or short video clips.
Slide 6: Art Style – Showcase of the game's art style, displaying key scenes, characters, and spacecraft designs.
Slide 7: Target Audience – Breakdown of the intended demographic, supported by market research.
Slide 8: Monetization Strategy – Clear explanation of how the game will generate revenue.
Slide 9: Development Timeline – Key milestones for the game's development and projected launch date.
Slide 10: Team – Introduction to the game development team, with emphasis on their skills and previous successful projects.
Slide 11: Budget and Financial Projections – Detailed financial information, including development costs and expected revenue.
Slide 12: Call to Action – Invitation to invest, with reasons why this game promises a good return on investment.
"Mystic Quest": An Adventure Role-Playing Game (RPG)
Slide 1: Logo and tagline – "Mystic Quest – Embark on a Journey of Destiny and Magic."
Slide 2: Game Concept – Brief overview of the game idea, highlighting its unique aspects.
Slide 3: Storyline – Summary of the game's narrative, focusing on the epic journey of the protagonist.
Slide 4: Characters – Introduction to the main characters, showcasing their design and detailing their roles.
Slide 5: Gameplay Mechanics – Description of how the game is played, along with gameplay visuals.
Slide 6: Game World – Presentation of the game's immersive world and its variety of environments.
Slide 7: Target Audience – Analysis of the game's target demographic and reasons for its appeal.
Slide 8: Monetization Strategy – Outline of how the game will generate income.
Slide 9: Development Timeline – Roadmap of the game's development process and anticipated launch date.
Slide 10: Team – Profile of the development team, highlighting their expertise and experience.
Slide 11: Financials – Overview of the project's budget, expected costs, and projected earnings.
Slide 12: Call to Action – Final slide encouraging investment, stressing the potential success of the game.
And, a few compressed ones:
"Adventure Valley": A Farming Simulation Game
The pitch deck would start with an engaging introduction about the enchanting world of Adventure Valley. It would then move into the unique gameplay elements that combine traditional farming simulations with adventure and puzzle-solving.
Character designs and concept art would bring the game's aesthetic to life. Key market demographics would be identified, emphasizing the wide appeal of simulation games. The deck would detail monetization through in-game purchases and partnerships. Finally, the potential growth and return on investment would be presented, making a compelling case for investment.
"Chronos Quest": A Time-Travel RPG
This pitch deck would open with a captivating summary of the game's time-traveling mechanic, allowing players to experience different eras and civilizations. It would feature character designs and game art to illustrate the diverse settings. The game mechanics would be explained, focusing on the unique time-manipulation aspect.
The pitch would then address the target audience: core gamers who enjoy immersive narratives and intricate gameplay. The monetization strategy would involve premium game sales and potential DLC expansions. The deck would conclude with the development timeline, team overview, and financial projections.
"Battle Bots: Arena": A Multiplayer Battle Royale Game
This pitch deck would start with a gripping introduction to the high-energy world of Battle Bots: Arena. It would present a detailed overview of the gameplay mechanics, highlighting the customizable bots and destructible arenas.
High-quality renders of bot designs and action-packed scenes would illustrate the game's visual style. The pitch would then discuss the target audience: competitive gamers and esports enthusiasts. The primary revenue model would be a freemium model with in-game purchases for bot customization. The pitch would close with a discussion on market potential, development timeline, and a call for investment.
You're welcome.
Successful Gaming Pitch Decks Examples
A successful game pitch deck is an essential tool for anyone seeking to secure funding or attract an audience for their game.
For the pitch deck to be successful, it should present the concept of the game in a concise and engaging manner that will capture the attention of potential users, partners, or investors.
Having in mind that there are a lot of shows for gaming and entertainment in the game industry nowadays, it's no surprise that there are many gaming pitch deck examples, but only a few I know have gotten that elevator pitch AKA the perfect pitch moment.
Here are 5 really good pitch decks:
10 Tips To Create a Great Game Pitch Deck
Creating a gaming pitch deck can be a unique challenge due to the creative and technical aspects involved. Here are some tips to help you create a compelling gaming pitch deck:
Game Concept: Start with a powerful introduction to your game concept. This should capture the essence of the game, its genre, and what makes it unique.
Storyline and Characters: If your game has a narrative, provide a compelling overview of the storyline and the main characters. Use powerful imagery and narrative to create an emotional connection. To help you improve your narrative, check this selection on the best books for pitching. The authors have won billions in $ thanks to their ability to create stories when pitching and are sharing their methods with you.
Artwork and Visuals: Games are highly visual, so include concept art, character designs, and in-game screenshots. These can help potential investors understand the look and feel of the game.
Gameplay: Describe the gameplay mechanics in detail. How will the player interact with the game? What are the core gameplay elements? If possible, include a short gameplay video.
Target Audience: Identify your target audience and explain why your game will appeal to them. Use market research to back up your claims.
Monetization Strategy: How will you make money from the game? Whether it's through in-app purchases, ads, a subscription model, or selling the game outright, be clear about your strategy.
Development Timeline: Provide a timeline for the game's development. This should include key milestones like alpha and beta testing, as well as the projected launch date.
Budget and Financial Projections: Be clear about how much money you need, how it will be used, and what the return on investment could be. Provide realistic financial projections based on similar games in the market.
Team: Highlight the key members of your development team. Include their experience and previous work to show why they're the right people to bring this game to life.
Demo or Prototype: If possible, include a playable demo or prototype of the game. This can be a powerful way to show off your game's potential and get investors excited about the project.
Remember, your pitch deck should be a balance of creativity and business acumen. It needs to captivate with its vision for the game, but also convince with its market understanding and financial viability.
Hold on. You might want to check my list on the best presentation books. Why?
It's 1O crucial books that will help you improve the design and structure of your presentations, besides improving its delivery. Check it out below.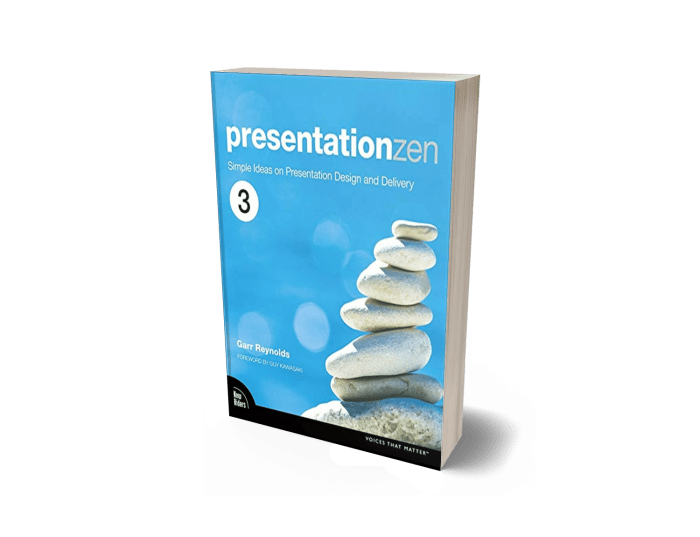 Where Do You Find Investors To Present Your Gaming Decks?
Besides the usual online search for VCs that invest in games in your specific niche or startup events near you, the best way to present your idea is:
Go straight to the publisher studios and ask for a meeting
Visit game conferences where other game designers and studios come together to brag and do some damage
Visit game events and shows, where gamers battle each other. Most often than not, the audience will be filled with scouts, publishers, and other people that could potentially help you get invested.
Game Pitch Deck Template For Gaming Startups
With the help of this template, you can essentially take a bite of the pie and get your perfect game pitch deck created and ready for your platform.
You can then modify and personalize this however you want, but I bet that you won't need to.
Also, a template needs to look good. That's why I tell my clients to use Decktopus, a super intuitive pitch deck creation platform (like Canva but better). They have a lifetime offer that you can't miss out on.
Frequently Asked Questions By Game Designers
What do you put in a game pitch?
A good pitch should include enough information to give the audience a full understanding of the product's concept, its gameplay, and its target audience.
When crafting a game pitch, there are several essential elements that must be included. First and foremost is a thorough description of the concept behind the game—this includes elements such as genre, visuals, themes, characters, setting, etc. Additionally, it should provide details on unique features or mechanics that will set it apart from other games in its genre. Finally, it should also explain what platforms it will be released on and any plans for post-release content updates or expansions.
How do you present a game pitch?
Creating a compelling game pitch is essential for getting greenlit and will help you secure the resources needed to bring your vision to life. The presentation of your pitch should be professional, well-structured, and concise. A game pitch deck is an effective way to get your point across in a visually appealing format.
A game pitch deck typically consists of slides that showcase the main elements of your project: from concept art, gameplay mechanics, target audience, marketing plan and more. Keep the slides brief and make sure they are supported by relevant data or visuals – this will help keep the focus on what's important. Additionally, any associated documents that provide further details about the project should also be included with the deck for reference during meetings.
Last Words
The gaming world is huge and there are more games (indie, virtual reality, etc) being produced than you can count. Which could mean that getting capital for your gaming idea might be difficult.
That's the good part. If it's difficult it means there's a lot going on.
As long as you got your idea, storyline, and good financials, you'll make a killer gaming pitch. If not, let me know and I'll help you out. Schedule a free 30 min call with me here, and let's take a look at your needs together. Or visit my pitch deck service page for more info.
You got this!
But if you don't got it:
Consider doing what 100s of others like you did. Let me help you develop a killer pitch deck and save 10 hours of your time for a fraction of the cost. All it takes to start is a free 30 min call with me.
The least you will get is 10 actionable tips & strategies to own that next presentation, worth $599, for free.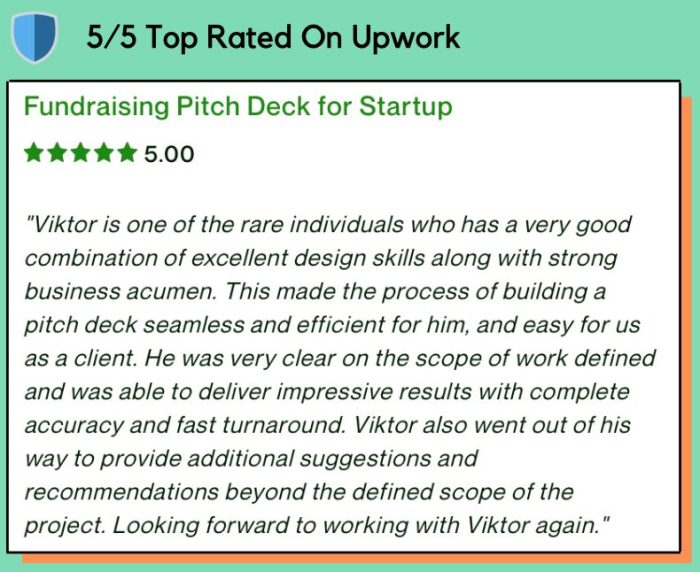 More Resources
If you're looking for more in-depth information on pitch decks, check my cornerstone guide on pitch decks that helped my clients win more than 4,000,000$ in funding:
You'll learn how to create an investor pitch deck by following my bulletproof step-by-step guide that helped my clients get $4+mill in funding. It includes information on:
Building each slide (including elevator pitch slide, financials slide, and more)
Best startup pitch deck examples
What investors want to hear
What a pitch deck is
What a pitch deck isn't
Best practices when creating a pitch presentation
Also, these resources on pitch decks:
If you want to learn how to create just a pitch, check out some of these resources: