Crypto is dead, long live crypto? This sentence perfectly sums up the current crypto landscape and how easy investors will judge your revolutionary web3 project. Depending on how well you present it, they will either buy, or don't.
So, if you want to make a crypto pitch deck that has investors believe in the later part of the initial sentence of this article, then you need to read my guide.
Sup, I'm Viktor, a pitch deck expert, creative strategist and burger lover. I've been a pitch deck expert for the past 10 years and helped clients raise millions and win pitches, with my unique approach to creating pitch decks.
With this guide, you'll be able to create a killer crypto pitch deck, or use my own template, depending on how fast you need to get funded.
Let's start with the simple stuff.
Hey, before you read on and spend about 10 hours making a pitch deck:
Consider doing what other like you did. Let me help you develop a killer pitch deck and save 10 hours of your time for a fraction of the cost. All it takes to start is a free 30 min call with me.
The least you will get is 10 actionable tips & strategies to own that next presentation, worth $599, for free.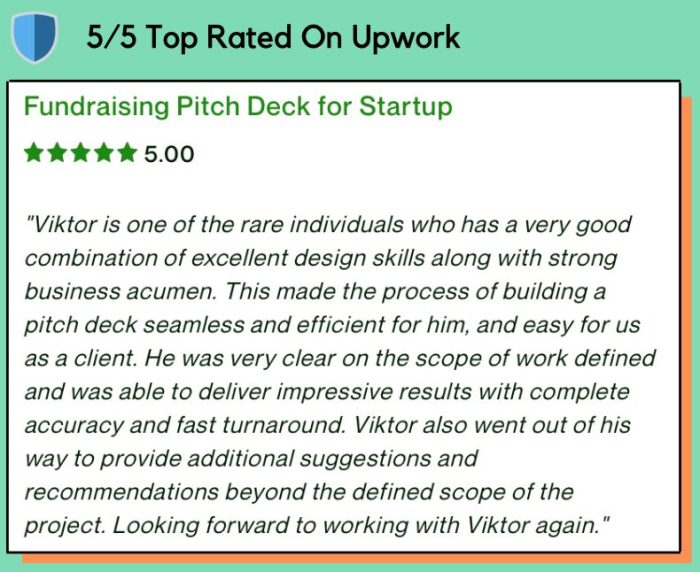 What is a Crypto Pitch Deck?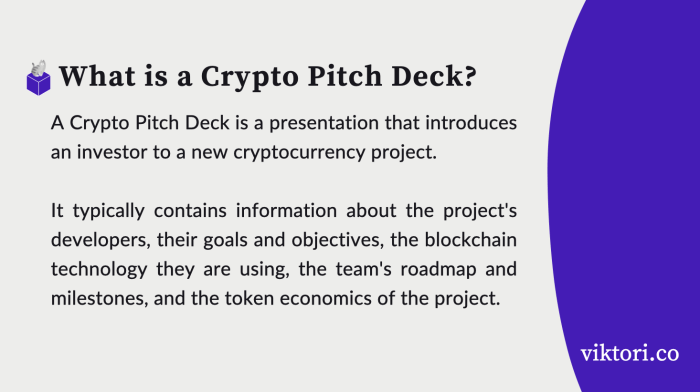 A Crypto Pitch Deck is a presentation that introduces an investor to a new cryptocurrency project.
It typically contains information about the project's developers, their goals and objectives, the blockchain technology they are using, the team's roadmap and milestones, and the token economics of the project.
It also includes charts, graphs and visuals to help explain the concept of the project in a clear and concise way.
The goal of a Crypto Pitch Deck is to give investors enough information to make an informed decision on whether or not they want to invest in a particular cryptocurrency project.
How to Create a Crypto-Related Pitch Deck Presentation For Your Startup?
Creating a crypto-related pitch deck can be daunting, but it's essential for any cryptocurrency startup looking for investors.
To start, you need to define your company's mission and vision as it relates to the crypto space.
You should also include information about the types of currency and assets you will use, how users can securely exchange cryptocurrencies, and how blockchain technology will decentralize transactions.
Once the basic outline is established, focus on topics such as market size and potential user base, competitive advantages over other crypto projects, scalability and security plans, team members and their qualifications, and milestones that have been achieved or plan to be achieved in the near future.
Finally, make sure you research carefully so you can accurately explain why your project has value and how it could potentially affect the world.
With this in mind, create a comprehensive pitch deck presentation that will help investors discover why they should invest in your project.
What Slides Should A Successful Crypto Startup Pitch Deck Include?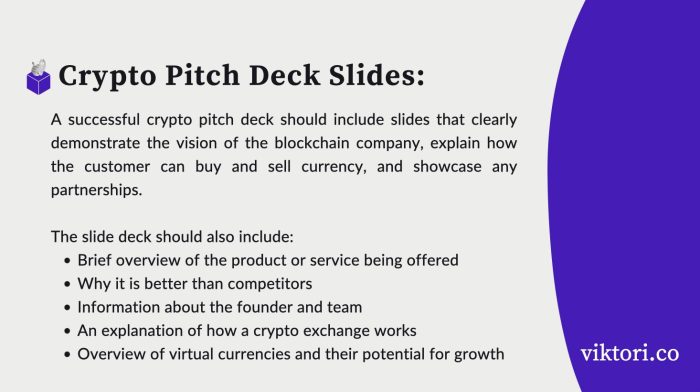 A successful crypto pitch deck should include slides that clearly demonstrate the vision of the blockchain company, explain how the customer can buy and sell currency, and showcase any partnerships.
Along with this, the deck should also provide examples of successful pitch decks from other high-growth startups in the web3 space.
The slide deck should also include:
Brief overview of the product or service being offered
Why it is better than competitors
Information about the founder and team
An explanation of how a crypto exchange works
Overview of virtual currencies and their potential for growth
PowerPoint is often used to create a crypto pitch deck; however, other presentation tools can be used depending on your preference.
Ultimately, a successful crypto pitch deck should be comprehensive yet concise and provide an excellent foundation for investors to understand what makes your blockchain startup unique.
Crypto Pitch Deck Examples:
Crypto Owners Also Ask:
How much time does it take to create a Blockchain Pitch Deck?
Creating a Blockchain Pitch Deck can take anywhere from a few days to a couple of weeks. The exact time depends on various factors like the complexity of the project or idea, the target audience, and the research needed to create the content for the deck.
It is important to ensure that the deck is engaging, informative, and persuasive to make a strong impression on potential investors or stakeholders.
The deck should include a summary of the project, the problem it solves, its unique selling points, and the team behind it. It is also essential to include a clear and concise explanation of the technology behind the project and its potential impact on the industry or market.
Overall, crafting a compelling Blockchain Pitch Deck requires significant effort and attention to detail to present a project effectively and attract interest from potential investors.
How many slides are there in a Blockchain pitch deck?
The number of slides in a Blockchain pitch deck can vary depending on the purpose and audience of the presentation. Generally, a pitch deck should have a maximum of 20 slides to avoid overwhelming the audience with too much information.
However, some Blockchain pitch decks may have as few as 10 slides, while others may have up to 30. The key is to include only the most crucial information that will effectively communicate the purpose and potential benefits of the Blockchain project.
Common slides in a Blockchain pitch deck may include a problem statement, a description of the solution, market opportunity, competitive landscape, target audience, business model, team members and roadmap. It's important to ensure that the pitch deck is well-structured, visually appealing, and easily digestible for all members of the audience.
Get Your Copy Of My Pitch Deck Template That Helped Clients Get $4mill+ In Funding
If you're pitching a crypto-related product or service, you need a precise and comprehensive pitch deck to grab the attention of buyers and investors.
The good news is you don't have to make decks from scratch.
Creating an effective crypto deck is all about knowing what slides to include.
You can find tons of templates on sites like Canva, Slidesgo and Google Slides, but none of them will align with the brand you represent.
What will happen is you'll need to spend hours adjusting these templates to fit your brand guidelines.
There's a better way.
My clients have used my written template to craft a stellar crypto pitch deck in half the time and designed a deck that secured their new funding round.
Get the template that helped companies win $4,000,000+ in funding, deals and investments:
Final Thoughts
A deck is an essential tool for any digital or crypto startup looking to secure a payment partner.
It provides step-by-step guidance on how to create a successful pitch deck, from researching and understanding the target audience to understand how to effectively communicate the features of your product or service.
I highly recommend this guide for anyone looking to create their own crypto pitch deck.
For more details about creating and structuring the ideal and effective deck, feel free to check out the main page. I got tips, tricks, mistakes and more for you to use and abuse!
You got this!
But if you don't got it, and you prefer to have your pitch deck done by a pro, let's talk. Schedule a free 30 min call with me here, and let's take a look at your needs together. Or visit my pitch deck service page for more info.
More Resources
Check my cornerstone guide on pitch decks that helped my clients win more than 4,000,000$ in funding:
You'll learn how to create a pitch deck by following my bulletproof step-by-step guide that helped my clients get $4+mill in funding. It includes:
How to build the slides (including elevator pitch slide, financials slide, and more)
Startup pitch deck examples
What investors need to see
What a pitch deck needs to be
What a pitch deck can't be
Tips and tricks when creating a pitch presentation
Check out all the other pitch deck guides here: