You got a new idea about helping dispensaries get more clients online, or growers improve their quality, but you can't seem to make a stellar deck to showcase the brilliance of your idea?
I'll be blunt with you. The cannabis industry is skyrocketing in growth and startups are popping up like crazy so getting a good investment is becoming increasingly difficult.
Sup. I'm Viktor, a pitch deck expert, creative strategist and burger lover. I've been a pitch deck expert for the past 10 years and helped clients raise millions, and win pitches, with my unique approach to creating pitch decks.
I've been working with successful cannabis companies like Ganja Queen from Thailand, so I know the industry inside out and what works and what doesn't when it comes to making a cannabis pitch deck.
With this guide, you'll be able to create one too, or use my own template, depending on how fast you need to get funded.
Let's roll.
Hey, before you read on and spend about 10 hours making a pitch deck:
Consider doing what others like you did. Let me help you develop a killer pitch deck and save 10 hours of your time for a fraction of the cost. All it takes to start is a free 30 min call with me.
The least you will get is 10 actionable tips & strategies to own that next presentation, worth $599, for free.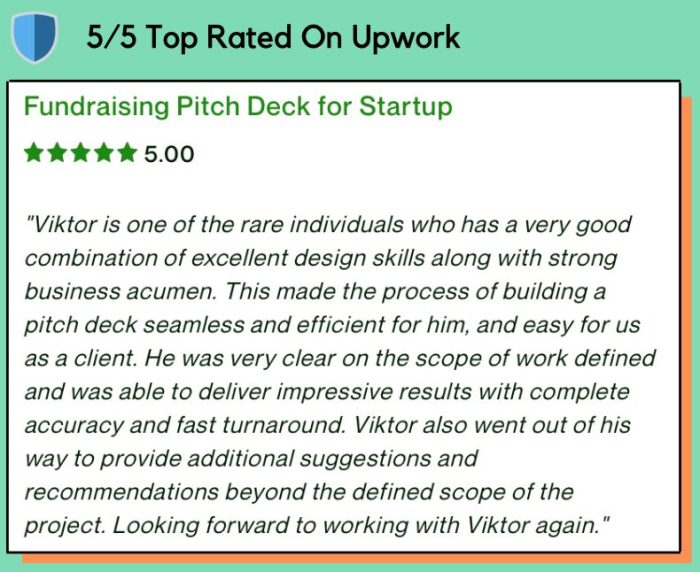 What is a Cannabis Pitch Deck?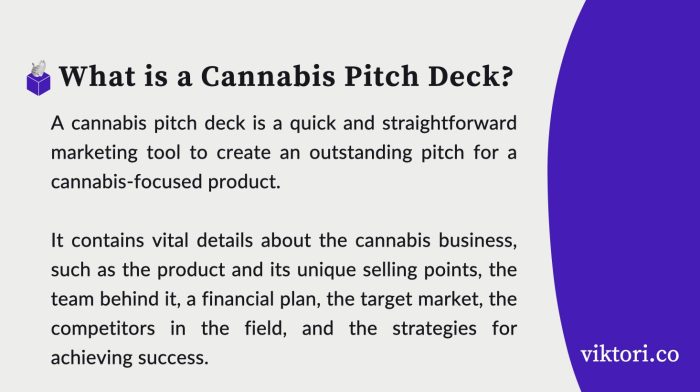 A Cannabis Pitch Deck is a quick and straightforward marketing tool to create an outstanding pitch for a cannabis-focused product.
It contains vital details about the cannabis business, such as the product and its unique selling points, the team behind it, a financial plan, the target market, the competitors in the field, and the strategies for achieving success.
All of this information should be presented in a clear and concise way so that potential investors, collaborators or buyers, so they can easily understand what you are offering.
Usually, the aim is to create a compelling pitch that will convince investors to invest in your cannabis business. This is why having an outstanding Cannabis Pitch Deck is essential for any cannabis entrepreneur looking to secure funding.
What Information to Include in Your Cannabis Investor Pitch Deck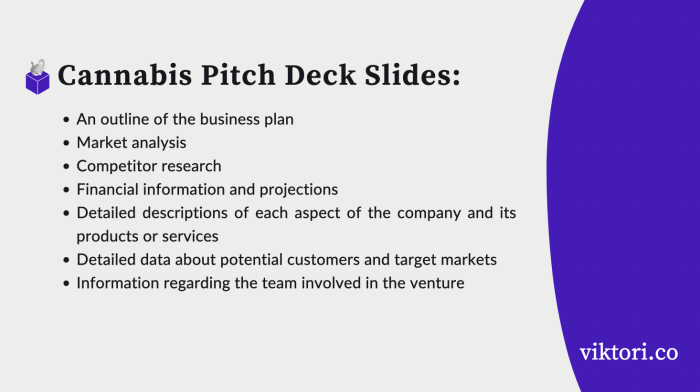 Creating a cannabis pitch deck is an integral part of running a successful cannabis business. It should include all the essential information regarding your product, services, and goals.
The most critical pieces of information to include in your cannabis pitch deck are:
An outline of the business plan
Market analysis
Competitor research
Financial information and projections
Detailed descriptions of each aspect of the company and its products or services
Detailed data about potential customers and target markets
Information regarding the team involved in the venture
By providing this comprehensive overview of your cannabis business in a concise and organized manner, you will be able to ensure that your investors have all the pertinent information they need to make an informed decision about their investment, the collaborators about the space for collaboration, as well as the potential buyers about buying your product or service.
The Exact Cannabis Pitch Deck Structure You Can Steal
Title Slide:
Company Name and Logo
Tagline or Slogan
Presenter's Name and Title
Date
Slide 1: The Problem
Define the challenges or gaps in the current cannabis market
Highlight the pain points experienced by your target customers
Use statistics or real-life examples to emphasize the magnitude of the issue
Slide 2: The Solution
Introduce your cannabis product or service as the answer to the problem
Describe its unique features and benefits
Explain how it differentiates from existing solutions in the market
Slide 3: Market Opportunity
Present the size of the target cannabis market
Explain the growth potential and trends within the industry
Identify your target customer segments
Slide 4: Business Model
Describe how your company generates revenue
Outline your pricing strategy and sales channels
Provide an overview of any partnerships or strategic alliances
Slide 5: Regulatory Compliance
Detail the relevant regulations and licensing requirements for your business
Explain your strategy for maintaining compliance and managing regulatory risks
Highlight any existing licenses, permits, or certifications held by your company
Slide 6: Traction and Milestones
Share key metrics that demonstrate market validation and traction
Highlight notable customer successes or testimonials
Outline significant milestones achieved and future milestones planned
Slide 7: Marketing and Sales Strategy
Detail your customer acquisition strategy, including marketing channels and tactics
Describe your sales process and customer retention initiatives
Provide an overview of your marketing budget and expected return on investment
Slide 8: Competitive Landscape
Identify your main competitors in the cannabis industry
Analyze their strengths and weaknesses
Explain how your product or service differentiates from the competition
Slide 9: Management Team
Introduce key team members, their roles, and their relevant experience
Highlight any industry experts or advisors involved
Describe how the team is positioned to lead the company to success
Slide 10: Financial Projections
Provide a summary of key financial metrics (revenue, profit, expenses, etc.)
Present a 3-5 year financial forecast
Explain any assumptions or risks associated with your projections
Slide 11: Funding Request and Use of Funds
State the amount of investment you are seeking
Detail how the funds will be allocated (e.g., product development, marketing, hiring, etc.)
Explain how the investment will help your company achieve its goals
Slide 12: Exit Strategy
Outline potential exit scenarios for investors (e.g., acquisition, IPO, etc.)
Provide examples of recent exits within the cannabis industry
Estimate a timeline for a potential exit
Slide 13: Thank You and Contact Information
Express gratitude for the audience's time and consideration
Provide contact details for further discussion or follow-up
Include any relevant social media handles or website URLs
Here's an Example Cannabis Pitch Deck To Inspire You:
Slide 1: Title Slide
Podcast Name: "CannaSense"
Subtitle: "Exploring the World of Cannabis with Expert Insights"
Slide 2: Podcast Concept
Problem: Lack of reliable and comprehensive information about cannabis and its potential benefits.
Solution: "CannaSense" provides evidence-based information, interviews with industry experts, and personal stories to educate and empower listeners.
Format: Each episode covers topics such as cannabis science, medicinal uses, legal landscape, and responsible consumption practices.
Slide 3: Target Audience
Demographics: Cannabis enthusiasts, medical cannabis patients, and individuals curious about the industry.
Potential Reach: Over 250,000 active listeners within the first year through targeted marketing and collaborations with cannabis communities.
Slide 4: Unique Selling Proposition (USP)
USP: "CannaSense" offers a balanced and informed perspective on cannabis, cutting through the stigma and providing accurate information.
Competitive Advantage: Exclusive interviews with leading cannabis researchers, doctors, and industry professionals, delivering unique insights to the audience.
Slide 5: Monetization Strategy
Sponsorship Opportunities: Collaborate with cannabis brands, dispensaries, and cannabis-related products for sponsored segments and advertising.
Affiliate Marketing: Partner with online cannabis marketplaces and earn a commission for referring listeners to their platforms.
Educational Workshops: Conduct live workshops and webinars, providing in-depth education and generating revenue from ticket sales.
Slide 6: Sample Episode Topics
Cannabis and Pain Management: Exploring the role of cannabis in alleviating chronic pain.
Cannabis and Mental Health: Discussing the potential benefits and risks of cannabis for various mental health conditions.
Cannabis Legalization: Analyzing the impact of cannabis legalization on the economy, social justice, and public health.
Slide 7: Team
Experienced Hosts: Dr. Rachel Thompson (Cannabis Researcher) and Sarah Johnson (Cannabis Advocate).
Production Team: Skilled audio engineers and content producers ensuring high-quality episodes.
Slide 8: Listener Engagement and Potential Reach
Engaging Community: Active presence on cannabis-focused online forums and social media channels, encouraging listener participation and feedback.
Potential Reach: Projected growth of 15% in listenership within the first six months.
Slide 9: Visual Design
Branding: Dynamic and modern logo with a color palette reflecting the vibrant nature of the cannabis industry.
Visuals: Images of cannabis plants, educational diagrams, and industry-related visuals to enhance the educational experience.
Slide 10: Next Steps
Call to Action: Schedule a meeting to discuss potential sponsorship opportunities and explore collaborations with cannabis brands, industry experts, and medical professionals.
Remember, these examples are purely hypothetical, and you can customize them based on your specific cannabis business idea. The key is to demonstrate the value of your podcast, highlight your expertise, and outline your monetization strategies. Good luck with your pitch deck!
How To Create a Successful Cannabis Pitch Deck for Your Product
Creating a successful cannabis pitch deck for your product requires effort and dedication.
It is not an easy task, but it can be done with the right process in place.
Gathering data from various sources to support your product's claims is essential when making the pitch. Include visuals like graphs and charts to help engage potential investors and make sure to be concise in your presentation.
The more organized and quick you are, the greater your chance of success.
Be sure to focus on the unique benefits of your product or service and address any questions or concerns that may arise during the process.
A successful cannabis pitch deck should include a concise executive summary outlining the company's mission and objectives and key points of differentiation from competitors.
It should also include an in-depth market analysis that highlights the size of the opportunity within the industry and provides an overview of key players and trends.
Additionally, it should contain information about licenses, regulatory compliance, product offerings, pricing strategies, and marketing plans.
Finally, it should showcase how the cannabis brand will measure success with data-driven metrics such as sales growth, customer retention, or profitability. All these elements will help to make a complete and convincing story for potential investors or partners.
Hold on. You might want to check my list on the best presentation books. Why?
It's 1O crucial books that will help you improve the design and structure of your presentations, besides improving its delivery. Check it out below.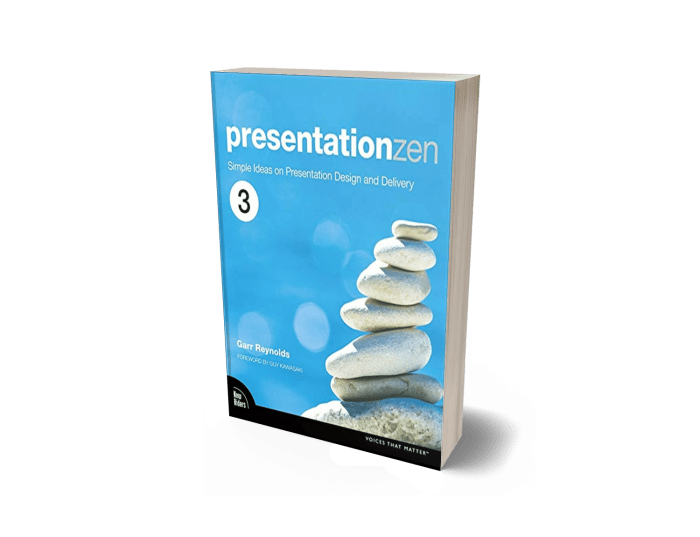 My Cannabis Pitch Deck Template
If you're pitching a Cannabis-related product, you need a nice and tidy pitch deck to grab the attention of buyers and investors.
The good news is you don't have to make the deck from scratch.
Creating an effective cannabis deck is all about knowing what slides to include.
You can find tons of templates on sites like Canva, Slidesgo and Google Slides, but none of them will precisely align with the truth of the brand you represent.
What will happen is you'll need to spend hours adjusting these templates to fit your brand guidelines.
There's a better way.
With my template's help, you can take a bite of the pie and get your perfect cannabis pitch deck created and ready for your platform.
You can then modify and personalize this however you want, but I bet you won't need to.
Get the template that helped companies win $4,000,000+ in funding, deals and investments just with one click!
Cannabis Pitch Deck Examples
The names just crack me up (no pun intended).
Canndescent
Baker Technologies
Dutchie
Get Your Copy Of The Deck Template
If you're pitching a Cannabis startup, you need a strong pitch deck to grab the attention of buyers and investors.
The good news is you don't have to make decks from scratch. Creating an effective cannabis startup pitch deck is all about knowing what slides to include. You can find tons of templates on sites like Canva, Slidesgo and Google Slides, but none of them will align with the brand you represent.
What will happen is you'll need to spend hours adjusting these templates to fit your brand guidelines.
There's a better way.
My clients have used my written template to craft a stellar cannabis startup pitch deck in half the time and designed a deck that secured their new investment.
Final Thoughts
This Cannabis Pitch Deck Guide has everything you need to know to make it easy to create a successful and creative pitch deck that you will be proud of. I've covered all the essential elements and provided helpful tips on how to make your presentation appealing.
For more details about creating and structuring the ideal and effective deck, feel free to check out the main page. I got tips, tricks, mistakes and more for you to use and abuse!
You got this!
But if you don't got it:
Consider doing what 100s of others like you did. Let me help you develop a killer pitch deck and save 10 hours of your time for a fraction of the cost. All it takes to start is a free 30 min call with me.
The least you will get is 10 actionable tips & strategies to own that next presentation, worth $599, for free.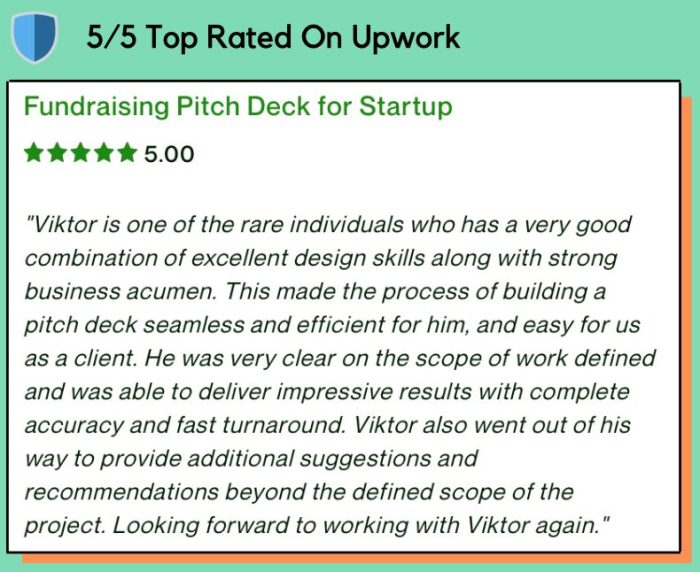 Or visit my pitch deck service page for more info.
More Resources
Check my cornerstone guide on pitch decks that helped my clients win more than 4,000,000$ in funding:
You'll learn how to create a pitch deck by following my bulletproof step-by-step guide that helped my clients get $4+mill in funding. It includes:
How to build the slides (including elevator pitch slide, financials slide, and more)
Startup pitch deck examples
What investors need to see
What a pitch deck needs to be
What a pitch deck can't be
Tips and tricks when creating a pitch presentation
Check out all the other pitch deck guides here: