You've written and created a ton of content where you share you expert opinion, but now, IT'S TIME FOR YOUR VOICE TO BE HEARD!
You know you got a rich podcast strategy and guests lined up, but you're just missing that tiny thing called funding to help you skyrocket the iTunes and Spotify lists.
You're in the right place.
Whatup, I'm Viktor, a pitch deck expert, creative strategist and burger lover. I've been a pitch deck expert for the past 10 years and helped clients raise millions and win pitches, with my unique approach to creating pitch decks.
With this guide, you'll be able to create a killer podcast pitch deck, or use my own template, depending on how fast you need to get funded.
Let's start with the basics.
Hey, before you read on and spend about 10 hours making a pitch deck:
Consider doing what other like you did. Let me help you develop a killer pitch deck and save 10 hours of your time for a fraction of the cost. All it takes to start is a free 30 min call with me.
The least you will get is 10 actionable tips & strategies to own that next presentation, worth $599, for free.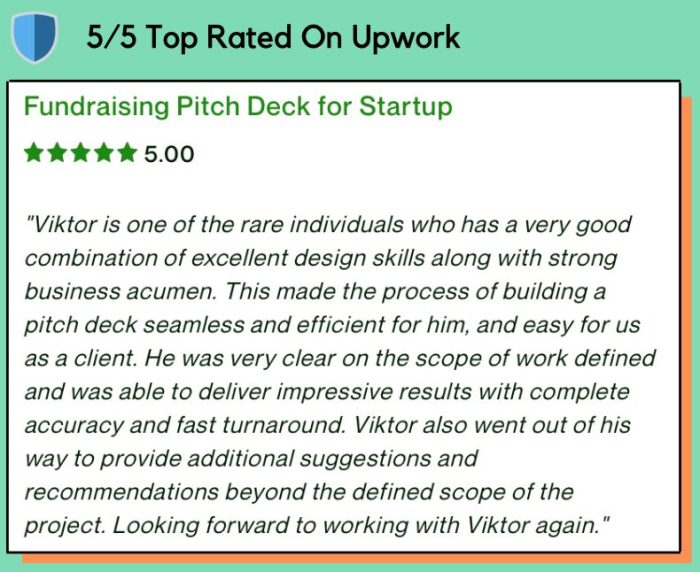 What is a Podcast Pitch Deck?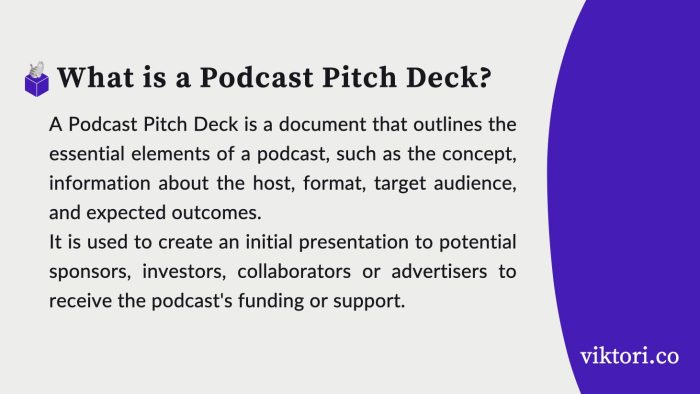 A Podcast Pitch Deck is a document that outlines the essential elements of a podcast, such as the concept, information about the host, format, target audience, and expected outcomes.
It is used to create an initial presentation to potential sponsors, investors, collaborators or advertisers to receive the podcast's funding or support.
What Does A Podcast Pitch Deck Include?
The deck usually includes an overview of the idea or concept behind the podcast, including information on why it's unique and different from other podcasts in its space.
It should also include a breakdown of how long each episode will be and what topics the podcast will cover.
Additionally, it should provide detailed analytics on who the target listeners are and how many people are tuning in. A good podcast pitch deck can help ensure that your podcast stands out from the crowd and has a better chance of getting accepted by sponsors and advertisers.
How to create a Podcast Pitch Deck?
Creating a Podcast Pitch Deck is essential in getting your podcast noticed..
The best way to create it is first to brainstorm all the things connected to it, how it started and why, what is the main goal and intention of the podcast, as well as the results it is giving, and an overall overview of your podcast.
A good pitch deck should provide a brief introduction to your show and the topics you plan to cover, a list of guests you plan to do interviews with, links to any previous episodes, and a description of how you would like potential listeners to interact with your show, connect with each other etc.
You should also provide statistics on the number of downloads or listens each episode has received and any awards or recognition that the podcast has earned.
Lastly, include examples of press coverage, articles that have covered the podcast or reviews that have been written about the podcast.
By providing this information in a concise presentation format, potential sponsors will be able to quickly get an understanding of what your podcast is all about and if it's something they'd like to support this is sure to be successful if you have a great podcast that is designed professionally.
Slides that a Podcasts Pitch Deck should include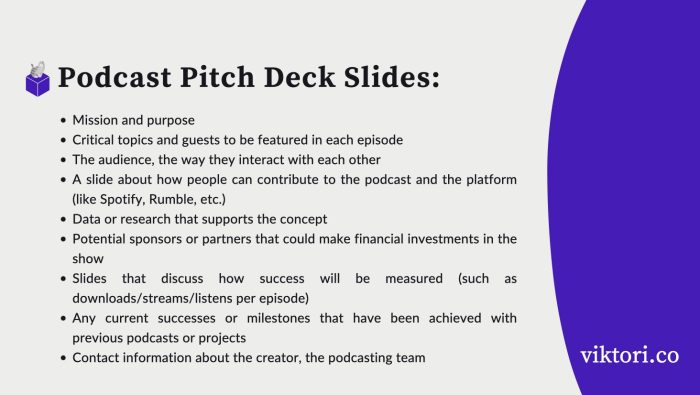 When creating a Podcasts pitch deck, it is important to include a slide presentation that effectively communicates the concept and value of the podcast.
This can include:
A slide about the show's mission and purpose
An outline of critical topics and guests to be featured in each episode
A summary of the audience, the way they interact with each other
A slide about the way people can contribute to the podcast, the platform that the podcast (like Spotify, Rumble, etc.) is being shared on and why
Data or research that supports the concept
An overview of potential sponsors or partners that could make financial investments in the show
Slides that discuss how success will be measured (such as downloads/streams/listens per episode)
Any current successes or milestones that have been achieved with previous podcasts or projects
Contact information about the creator, the podcasting team
Finally, slides should provide a preview of the content that has been created in the past and a preview of what content listeners can expect from each episode, and highlight any unique aspects of the podcast and it's gonna make the pitch deck give really well impressions.
Podcast Pitch Deck Template
A podcast pitch deck template is a great way to prepare your podcast for success. It is a document that provides all the necessary information you need to make a compelling pitch to potential partners, sponsors, and investors.
It should include detailed information about your podcast's format, content, and audience; a brief overview of your goals and objectives; and information about your team members' backgrounds and experience.
This template can help guide you when creating a well-structured pitch deck that will boost the chances of securing the funding or partnerships you need to bring your podcast to another level.
Using our template, you can easily create an impressive presentation that will leave potential partners wanting more!
With the help of this template, you can essentially take a bite of the pie and get your perfect podcast pitch deck created and ready for your platform.
You can then modify and personalize this however you want, but I bet you won't need to.
Podcasters Also Ask
How much should I pay for a pitch deck?
The cost of a pitch deck will vary greatly depending on the complexity and scope of the project. Most experienced pitchermen will charge an hourly rate, with some charging anywhere from $50 to $500 per hour. Additionally, many designers offer project-based packages that range from $500 to $10,000 or more.
What does a podcast pitch look like?
Podcast pitch examples vary based on the style and content of each individual podcast, but generally they should include a brief summary of the podcast and its intended audience, an explanation of why the topic is important and relevant, any unique or interesting elements of the podcast (such as special guests or a specific format), a proposed timeline for the first few episodes, and a brief overview of the host's qualifications.
Additionally, it's useful to include links to previous work, such as interviews or sample episodes.
How do you start a podcast pitch?
Introducing yourself and your project is a good way to start a podcast pitch. Explain who you are, why you're passionate about your topic, and the main idea behind your podcast.
Then, provide some details on the format of the show, such as how many episodes there will be, what topics will be discussed, and any special guests you plan to have on. Finally, explain why listeners should tune in and how subscribing to the show can benefit them.
How do you pitch a podcast to a producer?
Depends. Do you know the producer? Does he/she know you? Prior acquaintances are important because they make it easy for you to sell your idea to the producer.
My suggestion is to introduce yourself first, don't pitch, and then after you "market" yourself enough, share your idea unassumingly. Reach out to me if you want help with this. Schedule a call here https://calendly.com/viktor_ilijev/30min?month=2023-02
Podcast Pitch Deck Guide Conclusion
It's time for your voice to be heard and this guide will help you do that.
This guide is a valuable resource for anyone looking to start a podcast, promote their existing one or create a successful pitch for it.
It provides insight into the process of creating a successful pitch deck, from outlining objectives and gathering data to designing visuals and delivering a presentation.
As long as you got your idea, and good financials, you'll make a killer podcast pitch. If not, let me know, and I'll help you out. Schedule a free 30 min call with me here, and let's take a look at your needs together. Or visit my pitch deck service page for more info.
More Resources
If you're looking for more in-depth information on pitch decks, check my cornerstone guide on pitch decks that helped my clients win more than 4,000,000$ in funding:
You'll learn how to create an investor pitch deck by following my bulletproof, step-by-step guide that helped my clients get $4+mill in funding. What's included?
Building each slide (including elevator pitch, financials, and more)
Greatest startup pitch deck examples
What investors want to hear
What a pitch deck is and isn't
What a pitch deck isn't
Tips and tricks to create a pitch presentation