If you want to present a new product or service to the market or help your organization understand how marketing campaigns positively impact product sales, you definitely need a marketing deck.
Hey. I'm Viktor, a pitch deck expert, creative strategist and burger lover. My work has helped my clients win $4mill+ worth of pitches and helped 100+ companies develop decks that are currently helping them raise investments and close deals.
That's a lot of help.
This guide specifically aims at helping you understand what a marketing pitch deck is and how you can create one.
Let's dive in.
Hold on. Before you go and spend 20 hours building a deck…
Consider doing what 100s of others like you did. Let me help you develop a killer pitch deck and save 20+ hours of your time for a fraction of the cost. All it takes to start is a free 30 min call with me.
The least you will get is 10 actionable tips & strategies to own that next presentation, worth $599, for free.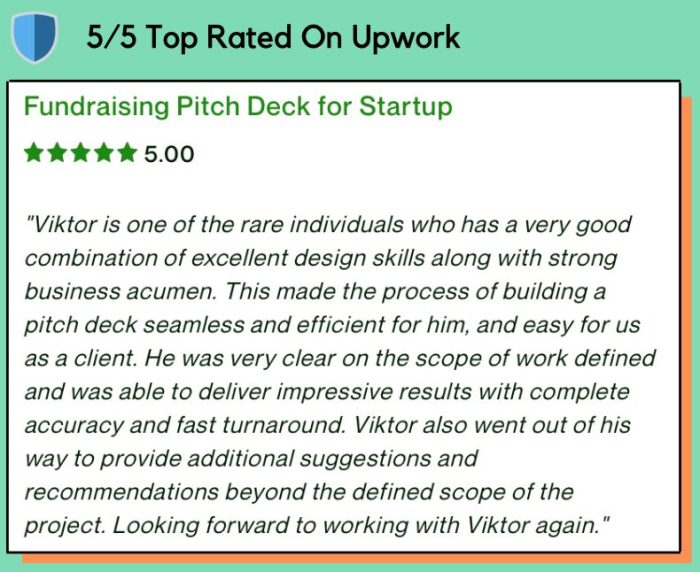 What Is a Marketing Deck?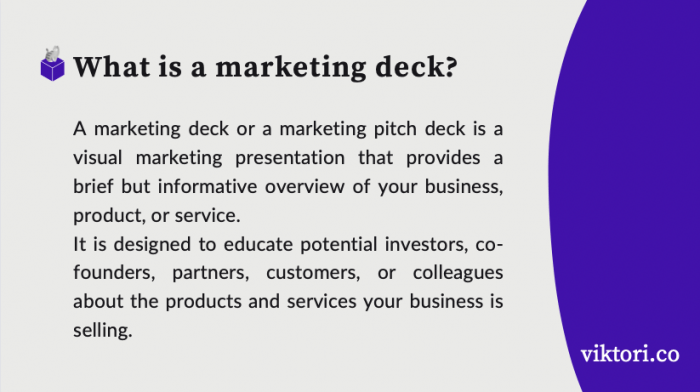 A marketing deck or a marketing pitch deck is a visual marketing presentation that provides a brief but informative overview of your business, product, or service.
It is designed to educate potential investors, co-founders, partners, customers, or colleagues about the products and services your business is selling.
Ideally, it should cover the key points of your business plan, the purpose of the products and services you provide, high-level financial projections, and funding needs.
What is the Purpose of a Marketing Deck?
Capturing the target audience's attention while marketing a brand or a business can be one of the most frustrating things to do.
Especially nowadays, when we are pretty busy and our attention spans are tremendously lowered, it can be a real challenge to present your product or service in the best light in a short amount of time.
That's where the marketing deck enters the picture, with its primary intention – to make the acquaintance of the purpose and value of your product, service, or business idea to your target audience.
Introducing your audience to what you're offering to the market this way should ideally make them able to recognize the need to support, purchase, or advocate for your brand after viewing it.
SMEs, medium to large organizations, and heck, even one-person agencies can use marketing decks as one of the main tools to get new clients and increase sales.
Why Is A Marketing Pitch Deck Important?
If you want to attract customers or partners or get your team to understand the value of the work they contribute to your organization and towards your goals, you will find that a marketing deck is especially helpful in achieving the following:
Providing the necessary information for customers and stakeholders to help them make informed decisions.
Allowing employees to understand your business based on the products and services you're selling much better.
If your marketing deck is fine-tuned, structured, and made with a purpose, it's one of the most important tools to help an organization grow, whether it's by getting more funding or winning new clients.
Which Slides Should a Marketing Deck Include?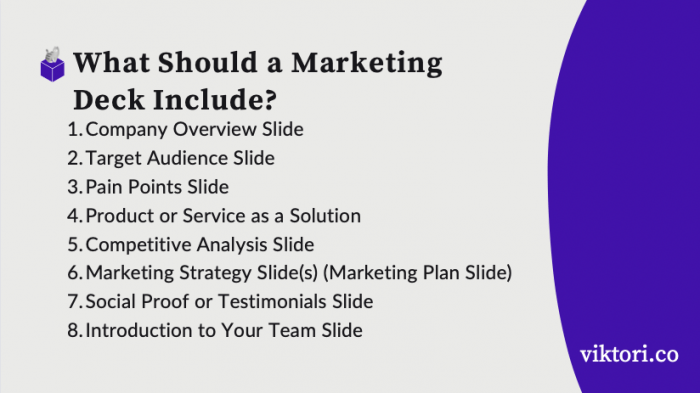 The best marketing decks are lean and contain 8 slides of crucial information that their target audience will understand and ultimately act upon.
To make one, you need to have more than an in-depth and thorough knowledge of your industry and the idea you are selling.
You need to know the particular problem that your idea is solving, your target market, the competition, rival products, anticipated revenues, and the uniqueness of your idea.
You need a total breakdown of your pitch, meaning you need to explain each part in as much detail as possible in the shortest amount of time available.
You also need to know your industry's numbers, upsides, downsides, worst/best-case scenarios, and ins and outs. Most importantly, you must know how to weave in a story narrative worthy of a movie trilogy. To help you improve your narrative, check this selection on the best books for pitching. The authors have won billions in $ thanks to their ability to create stories when pitching and are sharing their methods with you.
If you plan to present in front of investors, your idea should create a feeling with your investor that their money is not just in safe hands but will at least quadruple within a certain period of time.
So, if attracting investors is your main goal, especially if you are just starting with your business, following the startup pitch deck guide on how to create a pitch deck for investors might be of great help to you.
Apart from that, the main components an effective marketing deck should include are:
1. Company Overview Slide
The company overview slide should introduce the company, product, or service in one or two sentences.
Stating your unique value proposition (UVP), also known as unique selling proposition (USP), in this slide is also an important part.
You want your audience to get to know who you are and what your business does without saying a lot. This can be achieved by answering the question, "Who are you, and why should people listen to you?"
Do not forget to include your logo, phone number, and email address in this slide. You want a simple yet solid pitch deck when reaching out to your audience.
This slide should answer the following questions:
Will the audience know exactly what you offer and the problem you solve just by looking at this presentation?
Is the slide content clear and to the point?
Have I designed it well?
Is the content short, stupid and simple?
Would your audience decide then and there to accept your offer without even looking at the rest of the presentation?
Company Overview Slide Example
Here's an example of a company overview slide for an e-commerce selling bedsheets: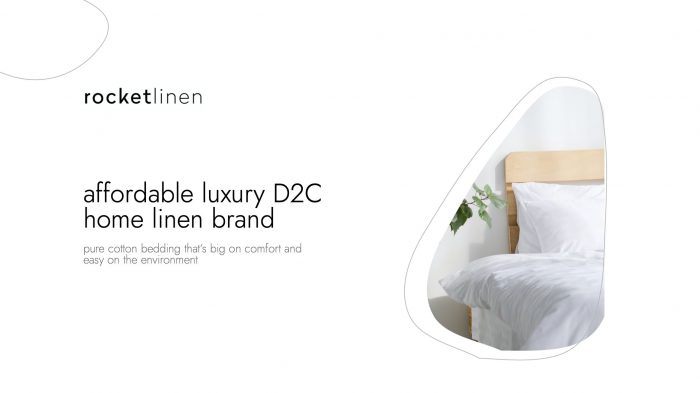 2. Target Audience Slide
This is the second component and is supposed to include your audience's statistics, market size, and opportunity for your business to succeed in the space.
You can also highlight market validation or the reason why someone needs your product or service.
Also, breaking down your buyer's persona (research-based representation of your ideal customer who will be the most interested in your products or service) using demographics and psychographics that align with your target market would be very useful.
This slide should answer the following questions:
Who are you servicing?
How big is the market?
Is there a clear opportunity?
Is there a clear danger?
Is there a defined market?
Example Target Market Slide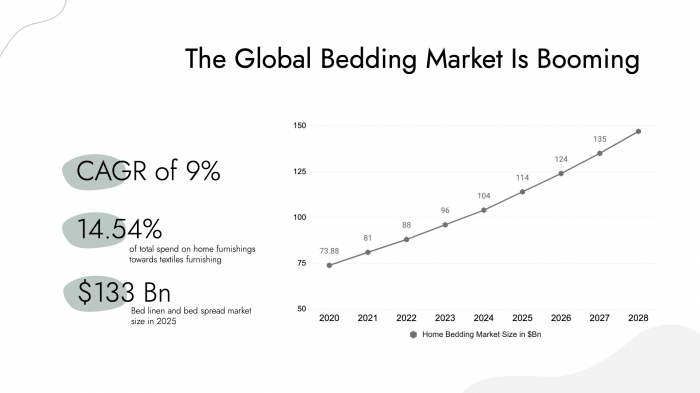 3. Pain Points Slide
The pain point slide discusses the problem your product or service will address. In this slide, you're touching on your audience's wound that needs healing.
Implementing storytelling tactics by using real-life people undergoing the same issues is proven extremely beneficial for this slide:
It is very important to show your audience that you are solving a real problem or pain point since you don't want them to lose interest in your presentation.
Therefore, this slide should answer the following questions:
What is it that you are addressing?
Who are the people experiencing this problem?
What is the problem's impact on the people experiencing it?
How does the person address the problem right now, and how are these solutions helping them?
My Tip: Use visuals to explain more complex issues. Illustrating how serious the problem is through data could also be very helpful for them to understand your solution's usefulness better.
This slide is where you show your audience that you truly understand what pains them.
Pain Points Slide Example
4. Product or Service as a Solution Slide
After sharing the problem(s) you're solving, your next step is to present the products/services that your business is offering as a solution. It is good to mention your unique value proposition and how it ties back to your product.
You will absolutely find it advantageous to support it with relatable stories and visuals like video clips, photographs, or even a physical demo of your product.
Therefore, this slide should answer the following questions:
Is it clear what my solution does?
Is it clear what the benefits are?
Is it clear how my solution helps?
Have I used visuals and illustrations to explain my solution?
Don't describe your solution in detail. Providing a higher-level overview of your solution and letting the visuals speak for you instead will grant you the optimum outcome.
Product Slide Example
5. Competitive Analysis Slide
The competitive analysis slide is where you show your competitors how your product/solution stacks up against them.
The purpose of the comparison is to demonstrate what sets your product apart from other similar products on the market. The distinguishing factors should address the needs and concerns of your target audience, making them more likely to choose your product over others.
Therefore, this slide should answer the following questions:
Who are the competitors?
What do they have that we don't?
What do we have that they don't?
What's our advantage?
How do we stack against them?
Competitive Analysis Slide Example
6. Marketing Strategy Slide(s) (Or Marketing Plan Slide)
The Marketing Strategy Slides will show the strategy you will implement to market to your audience.
Your marketing strategy should include a plan for how your campaign's timing, tactics, pricing, and measured metrics can help you gain market share and improve sales.
So, you might find answering the below questions helpful in regard to this slide:
How will you market to prospective customers?
What kind of marketing assets are you planning to create?
What methods and means will you use to reach your customers? Why do you think they will work? Provide any proof you have that this can be achieved.
What's your pricing like?
What are your target conversion rates?
Marketing Strategy Slide Example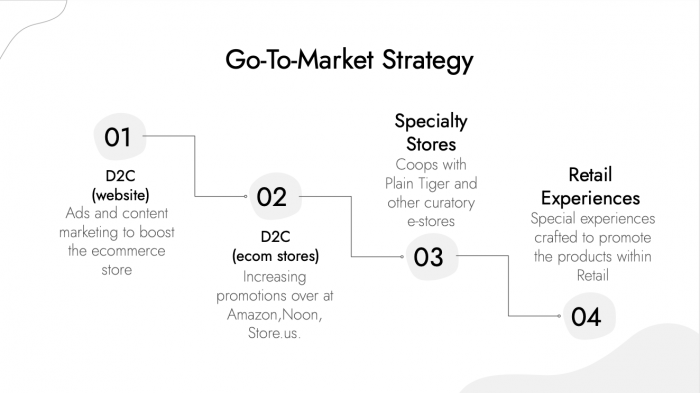 7. Social Proof or Testimonials Slide
One great way to inspire investors' or customers' confidence is to let them know that other people like them trust you since that can influence their decisions on whether to back or buy your product.
Use positive reviews and feedback from media publications, social media, and review sites to show that your product works and has helped people overcome their problems.
Questions to think about:
Are the testimonials relatable?
Is the feedback actionable and fact-packed?
Getting feedback from well-known brands, public figures, and influencers in your field would be even more convincing.
Testimonial Slide Example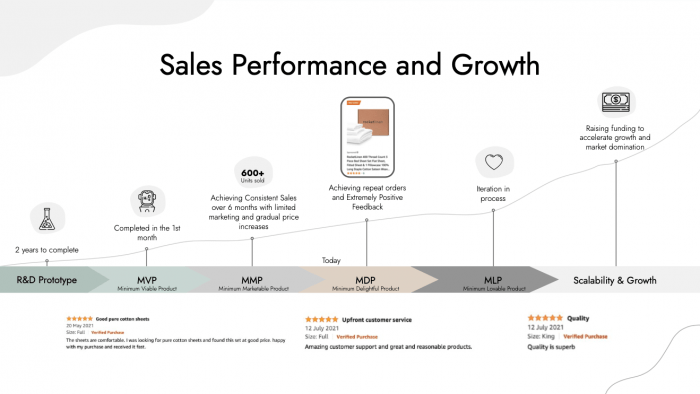 PRO TIP: Combine it with your sales and marketing or traction slide to increase the impact of your results and testimonials.
8. Introduction to Your Team Slide
People tend to pay attention to the faces launching the product as much as they do about the product itself.
So, ending the presentation by listing the amazing people behind your awesome organization will potentially attract them even more, whether they're customers, investors or anything in between.
The purpose is to increase trust in your product and your team.
To do this, it would be best to mention things like their experience in the industry, milestones, achievements, and other factors that will help raise their profile.
Questions to think about:
Have I highlighted the right information?
Is the information easily read and organized?
Does it reinforce the rest of the presentation?
You want to demonstrate to them that the individuals behind the product/service are competent, reliable, and trustworthy, just like what you are offering itself.
Team Slide Example
Marketing Pitch Deck Presentation Objectives
The way you present the information in the marketing deck is arguably just as important as the deck itself. So, how do you effectively present the information to the audience once the deck is prepared?
The following are key objectives for a successful marketing presentation:
To engage the audience and deliver a clear message
To provide a comprehensive overview of the product/service
To establish trust and credibility with the audience
To generate interest and excitement about the product/service
To motivate the audience to take action
Setting Out the Goal
The purpose of any marketing presentation is to make it clear to the audience what the goal is from the outset. From the start, being unambiguous and honest about your objective is crucial.
Let them know why you are passionate about your company's products/services. Create excitement about the topic and maintain an energetic tone throughout the presentation.
You want to keep your audience engaged from the start till the end.
Marketplace Overview
After identifying the goal for the presentation, providing a marketplace overview as an introduction to your plan is the next thing you want to present.
Make your products stand out from the competition. Show the audience why your product is the better choice and how it will positively impact them. Keep the focus on your product's positive attributes rather than on what makes the competition's offerings inferior.
Presenting a few interesting facts about your competitors or showing some statistics about customer demographics will help the audience get a clearer picture of the overall market.
7 Marketing Deck Tips and Tricks
The most important marketing presentation objective lies in presenting the information in an easy-to-understand and visually appealing way.
Ensure to include enough information in your presentation to show that your plans and strategies are plausible and will work, but be careful not to give too much information.
Try keeping it simple as much as possible, giving an accent to the most important parts.
Use numbers and statistics to show how the customer will benefit from using your product/service. For example, if your product saves the customer time, express this in terms of how much time they will save.
Remember that not all members of the audience are absorbing information in the same ways. Some people are visual learners, some auditory learners and others tactical learners. Some people learn best by seeing things, others by hearing things, and others by touching or doing things.
There are several ways to make your marketing plans and strategies more appealing to different stakeholders. One way is to present them in a visually appealing format, such as through slides or illustrations. Another way to make them more appealing is to clearly and concisely explain the importance of the charts and graphs. Finally, you can bring in samples of the products and services you are presenting.
Hold on. You might want to check my list on the best presentation books. Why?
It's 1O crucial books that will help you improve the design and structure of your presentations, besides improving its delivery. Check it out below.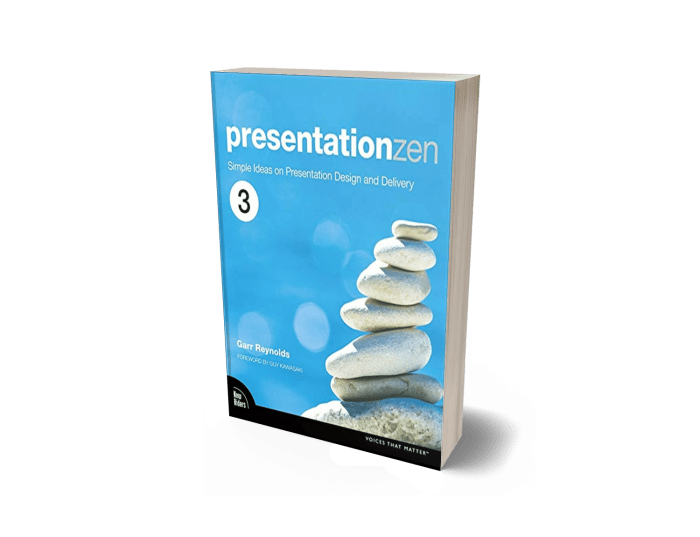 Including the customer in the presentation by showing him how he exactly will benefit is also a great example of this. Show them the problem that you can solve for them or the need your products/services can satisfy.
Be friendly, engage your audience and be open to feedback.
Marketing Deck Next Steps
The ideal marketing presentation should end with a discussion on the next steps and space for feedback from the audience. If you can, it would be great to provide a timeline for where the project is going from here.
Ending the presentation with a list of the next steps is a good way of getting your audience to share their thoughts and expectations based on what you've presented.
Ensure you allow plenty of time for the audience to ask questions during or after your presentation. Be open to listening and discussing everything they bring up. Your goal is to create an ongoing dialogue with the customer prospect.
You can even set up a time for a follow-up meeting or phone call if needed.
It would be great to offer to send or email additional product literature to address questions they may have expressed.
The Marketing Template You Can Steal And Use Right Now
Cover Slide:

Agency name, logo, and tagline

Introduction Slide:

Brief overview of the agency, its mission, and vision

Team Slide:

Introduction to key team members and their roles

Services Slide:

Detailed explanation of the services offered by the agency (like SEO, content marketing, social media management, etc.)

Process Slide:

Step-by-step breakdown of the agency's approach to marketing campaigns

Unique Value Proposition Slide:

What sets the agency apart from competitors

Case Study Slides (1-3):

Detailed descriptions of past successful campaigns, including client goals, strategies implemented, and results achieved

Testimonials Slide:

Quotes from satisfied clients

Results Slide:

Quantitative proof of the agency's success, such as increased traffic, improved conversion rates, or heightened brand awareness for clients

Pricing Slide:

Breakdown of pricing or packages available

Next Steps/Call to Action Slide:

Clear instructions on how potential clients can get started with the agency

Contact Information Slide:

Agency's contact details, including email, phone number, website, and social media handles
Marketing Pitch Deck Examples To Inspire You
Ok, so you got the template but you want some ideas right? Here are some to inspire your marketing pitch deck:
Influencer Marketing Agency: "Building Bridges, Influencing Outcomes"
Slide 1: Logo and tagline – "Building Bridges, Influencing Outcomes."
Slide 2: Agency introduction – Brief overview of the agency's focus on influencer marketing.
Slide 3: Our team – Introduction to key team members and their roles in influencer marketing.
Slide 4: Services – Detailed list of services including influencer identification, campaign management, content creation, and performance tracking.
Slide 5: Process – Step-by-step explanation of how the agency forms partnerships between brands and influencers.
Slide 6: Case Study 1 – Detailed description of a successful campaign, including strategy, implementation, and results.
Slide 7: Case Study 2 – Another example showcasing different influencer genres and campaign styles.
Slide 8: Testimonials – Quotes from satisfied clients and influencers.
Slide 9: Why us – Reasons that make the agency the best choice for influencer marketing.
Slide 10: Call to action – Encouraging potential clients to get in touch to discuss their influencer marketing needs.
Content Marketing Agency: "Weaving Stories, Engaging Audiences"
Slide 1: Logo and tagline – "Weaving Stories, Engaging Audiences."
Slide 2: Agency introduction – Short overview of the agency's expertise in content marketing.
Slide 3: Our team – Introduction to the creative team responsible for content creation and strategy.
Slide 4: Services – Breakdown of services such as blog posts, eBooks, infographics, video content, and social media content.
Slide 5: Process – Description of the agency's approach to content strategy, creation, and distribution.
Slide 6: Case Study 1 – Detailed case study of a successful content marketing campaign, including client objectives and campaign results.
Slide 7: Case Study 2 – Another example showing the agency's versatility in creating content for different industries.
Slide 8: Testimonials – Positive feedback from clients about their content marketing success.
Slide 9: Why us – Key reasons why the agency excels at content marketing.
Slide 10: Call to action – Inviting potential clients to reach out for a content consultation.
Email Marketing Agency: "Inboxes that Inspire"
Slide 1: Logo and tagline – "Inboxes that Inspire."
Slide 2: Agency introduction – Brief description of the agency's specialization in email marketing.
Slide 3: Our team – Introduction to the team responsible for strategy, content creation, and campaign management.
Slide 4: Services – Overview of services including email strategy, list management, email design, copywriting, and analytics.
Slide 5: Process – A step-by-step overview of how the agency designs and executes email marketing campaigns.
Slide 6: Case Study 1 – Description of a successful email marketing campaign that significantly boosted client engagement.
Slide 7: Case Study 2 – Another success story showcasing the agency's ability to increase conversion rates through personalized emails.
Slide 8: Testimonials – Quotes from clients praising the agency's impact on their email marketing success.
Slide 9: Why us – The unique benefits of choosing this agency for email marketing.
Slide 10: Call to action – Encouraging potential clients to get in touch for an email marketing consultation.
Here's some more for ya, this time I got a bit lazy so the format is compressed (like a zip file):
Affiliate Marketing Agency: "Linking Success to Your Brand"
The pitch deck opens with a captivating statement about the agency's proficiency in creating profitable partnerships. The following slides highlight their systematic approach to affiliate marketing, including partner identification, commission management, content creation, and performance tracking.
Case studies provide a tangible look into successful campaigns, demonstrating how the agency's efforts have increased affiliate revenue and expanded brand reach for clients. The pitch ends with an invitation for potential clients to connect and explore partnership opportunities.
AI-Powered Marketing Analytics Firm: "Data-Driven Decisions, Superior Results"
The pitch deck starts by introducing the agency's commitment to leveraging AI for advanced marketing analytics. The slides delve into how they use machine learning algorithms to analyze consumer behavior, predict trends, and optimize marketing strategies.
There are case studies that demonstrate how the agency's data-driven approach has improved ROI for clients. The deck concludes with a compelling call-to-action, inviting businesses to harness the power of AI for their marketing efforts.
Green Marketing Consultancy: "Eco-Friendly Brands for a Sustainable Future"
This deck begins with a powerful statement about the agency's mission to help brands align with environmentally conscious consumers. The subsequent slides detail the agency's expertise in green marketing, including eco-friendly product positioning, sustainable packaging design, and CSR campaign planning.
Success stories highlight how the agency has helped clients reduce their environmental impact while also boosting brand image and customer loyalty. The final slide invites potential clients to join the agency in promoting sustainability in business.
Event Marketing Agency: "Creating Experiences, Making Impressions"
The deck starts with an introduction to the agency's focus on marketing through memorable events. The following slides illustrate the agency's capabilities in event planning, promotion, execution, and post-event analysis.
Case studies provide a glimpse into past successful events that have enhanced brand awareness, generated leads, and fostered customer relationships for clients. The pitch concludes with an invitation for potential clients to bring their brand to life through impactful events.
Video Marketing Agency: "Visual Storytelling for the Digital Age"
The pitch deck opens with a bold statement about the power of video in today's digital landscape. The subsequent slides delve into the agency's expertise in video production, optimization, and promotion across various platforms.
Case studies showcase how the agency's video marketing strategies have driven engagement, conversions, and customer loyalty for clients. The deck ends with a call-to-action, encouraging potential clients to leverage the power of video for their brand.
Marketing Pitch Deck Template You Can Use
As a marketer, you might have a lot on your plate and building a marketing deck from scratch can be time-consuming, especially if you do not characterize yourself as a designer. The good news is you don't have to make decks from scratch.
Creating effective presentations is all about knowing what to include; a marketing deck presentation template is no different.
You can find tons of templates on sites like Canva, Slidesgo and Google Slides, but none of them will be in line of the brand you represent. What will happen is you'll need to spend hours adjusting these templates to fit your brand guidelines. There's a better way. My clients have used my written template to craft a stellar pitch in half the time and designed a decks that secured their investments.
This ready-to-use template will enable you to deliver a professional presentation faster and will make your presentations shine with uniqueness.
Also, you need to able to narrate your deck efficiently, just like Steve did.

That's why I tell my clients to use AirDeck, a super intuitive pitch deck narration platform (think Zoom, but prerecorded, customized pitch sessions sent off to clients) that allows you to record and narrate your slides and send a video pitch deck instead of sending JUST a deck (which doesn't work without your cool voice narrating it).

They have a lifetime offer that you can't miss out on.
Frequently Asked Questions By Marketeers
What is the difference between a marketing deck and a pitch deck?
The main difference between a marketing deck and a pitch deck is the audience that you're presenting to.
What's the difference between a marketing and sales pitch deck?
The main difference is that marketing teams use a marketing deck to present potential solutions to prospects, whereas a sales deck is used to present solutions to potential prospects through different sales channels like cold calling and online meetings.
Last Words From Me
By creating pitch decks with the same look and appearance as your other marketing materials, you can present your business professionally and uniquely and make it stand out even more.
After all, if you feel like you are still missing more detailed and precise information on creating and structuring the perfect and effective marketing deck, feel free to check our website: https://viktori.co/, which is a specialized resource in the field of pitch decks and can help you pitch anything.
You got this!
But if you don't got it, and you prefer to have your marketing deck done by a pro, let's talk. Schedule a free 30 min call with me here, and let's take a look at your needs together. Or visit my pitch deck service page for more info.
More Resources For You
If you're specifically looking to create a startup pitch deck, check my cornerstone guide on pitch decks that helped my clients win more than 4,000,000$ in funding:
You'll learn how to create an investor pitch deck by following my bulletproof step-by-step guide that helped my clients get $4+mill in funding. It includes information on:
Building each slide (including elevator pitch slide, financials slide, and more)
Best startup pitch deck examples
What investors want to hear
What a pitch deck is
What a pitch deck isn't
Best practices when creating a pitch presentation
Also, these resources on pitch decks: