You have a brilliant idea for the next "Peaky Blinders" but unfortunately, nobody buys into it.
The truth is: It's not them, it's you (contrary to popular belief and exes telling you). To be more specific, your TV show pitch deck is the real problem. But fear not, as I'm your personal Qui-Gon Jinn and will help you create an epic TV show pitch deck.
Sup. I'm Viktor, a pitch deck expert, creative strategist and burger lover. I've been a pitch deck expert for the past 10 years and helped clients raise millions, and win pitches, with my unique approach to creating pitch decks.
I've even pitched my own tv show that got rejected by HBO because it was too controversial!
With this guide, you'll be able to create one too, or use my own template, depending on how fast you need to get funded.
Let's dive in with the basics.
Hey, before you read on and spend about 20 hours making a pitch deck:
Consider doing what others like you did. Let me help you develop a killer pitch deck and save 10 hours of your time for a fraction of the cost. All it takes to start is a free 30 min call with me.
The least you will get is 10 actionable tips & strategies to own that next presentation, worth $599, for free.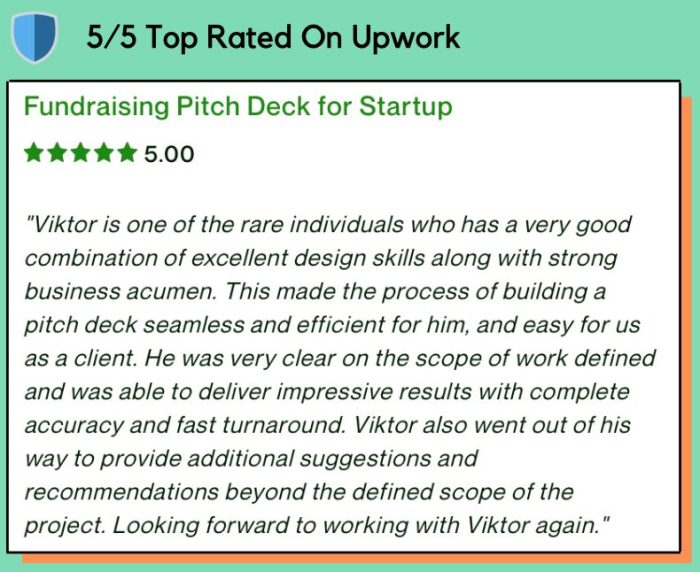 What is a TV Show Pitch Deck?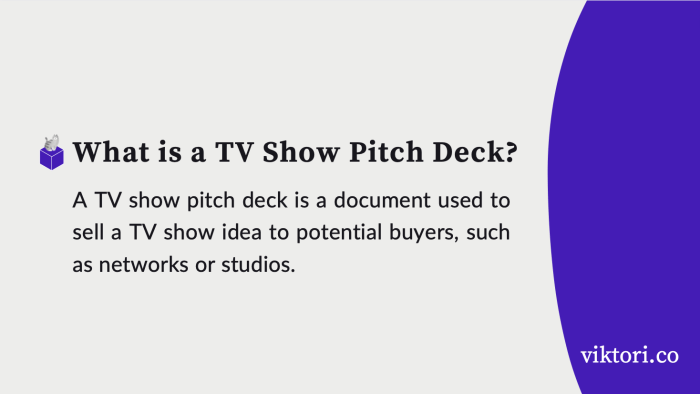 A TV show pitch deck is a document used to sell a TV show idea to potential buyers, such as networks or studios.
A TV series' ability to go from its initial plan into development and production depends on how well it pitches.
TV show writers must also be able to convey the intention behind their show and create an engaging pitch deck if they want to produce a popular television program and attract investors or collaborators to be interested in their project.
That can be achieved by making a successful pitch deck for the TV show and a catchy presentation of it.
Considering that the year is 2022, the television industry is one of the world's major ones, and people have a tendency to become easily bored by mediocre content, the tv show has to be developed in a manner that will keep the viewers engaged.
What Does A TV Show Pitch Deck Include?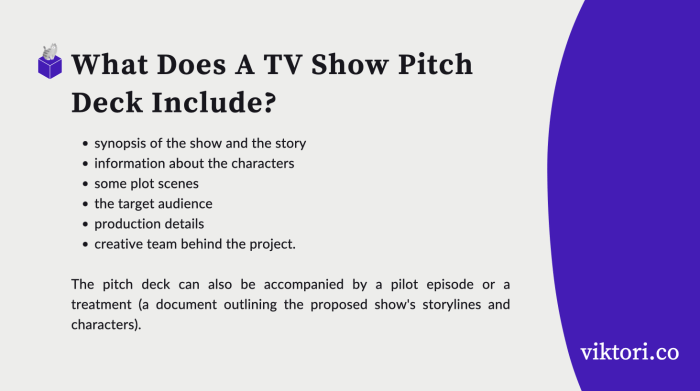 A well-designed TV series pitch deck typically includes:
synopsis of the show and the story
information about the characters
some plot scenes
the target audience
production details
creative team behind the project.
The pitch deck can also be accompanied by a pilot episode or a treatment (a document outlining the proposed show's storylines and characters).
What Are The Slides A TV Show Pitch Deck Should Include?
Feel free to use and abuse this 🙂
Title Slide: Comedy TV Series: [Series Name]
Slide 1: Series Overview
Brief description of the series
Target audience
Format (half-hour sitcom, sketch show, etc.)
Unique selling point
Slide 2: Series Synopsis
Series premise
Key characters and their roles
Setting and time period
Sample storylines
Slide 3: Target Audience
Demographics (age, gender, etc.)
Interests (comedy genres, other shows they enjoy)
Potential reach (streaming platforms, networks)
Slide 4: Series Format & Structure
Episode length and structure
Season length and number of episodes
Single or multi-camera format
Traditional or serialized storytelling
Slide 5: Unique Selling Points
Innovative comedy style or premise
Diversity and inclusivity
Strong character-driven storytelling
Social commentary and relevance
Slide 6: Creative Team
Showrunner and/or creator(s)
Key writers and producers
Potential director(s)
Any notable talent attached
Slide 7: Cast
Main cast members
Brief character descriptions
Previous work and experience
Slide 8: Production Budget & Timeline
Estimated production budget
Key milestones (pre-production, production, post-production)
Target release date
Slide 9: Distribution Strategy
Preferred networks or streaming platforms
Syndication potential
International distribution
Slide 10: Marketing & Promotion
Social media campaigns
Traditional advertising (TV, print, radio)
Publicity events and press tours
Cross-promotions and partnerships
Slide 11: Revenue Streams
Advertising revenue
Subscription fees (streaming platforms)
Syndication and distribution deals
Merchandising and licensing opportunities
Slide 12: Success Metrics
Ratings and viewership goals
Awards and critical acclaim
Social media engagement
Fan community growth
Slide 13: Conclusion
Recap of key selling points
Call to action (e.g., requesting a pilot order, greenlighting the series)
Contact information for follow-up
How To Make a Pitch Deck For a TV Show?
To make a pitch deck for a TV show, you'll need to include the basics first. That's information about the producer, the show's premise, the cast, and the crew.
You'll also need to create a visually appealing presentation that includes visuals, such as photos and videos from the show.
The trick is to use storytelling that will convince investors or distributors that your show is worth investing in. This means that you should demonstrate that your deck has personality and style.
So don't be afraid to express your art and creativity, feel free to play with different graphic design tools, platforms, edits, text, tone, colors, etc.
This will help the investors and tv execs learn more about your potential and connect with you and your project.
How Do You Make a TV Show Pitch Deck Stand Out?
To make a TV show pitch deck stand out, you need to have a strong concept that is unique and fresh. Your deck needs to be well-crafted and aesthetically pleasing.
Additionally, you need to be able to articulate your vision for the show and what sets it apart from other programs.
There is no one rule to articulate your vision, but answering the following questions should help you achieve that:
What are the key elements that make your show different from the competition and all the others out there?
What is the one thing that will make viewers want to tune in week after week?
Once you identify what sets your show apart, make sure to find a way to communicate that in a way that is both clear and engaging. To help you improve your narrative, check this selection on the best books for pitching. The authors have won billions in $ thanks to their ability to create stories when pitching and are sharing their methods with you.
I advise you to design it in a well-structured format so it's not very time-consuming, yet it pictures everything that needs to be said.
Hold on. You might want to check my list on the best presentation books. Why?
It's 1O crucial books that will help you improve the design and structure of your presentations, besides improving its delivery. Check it out below.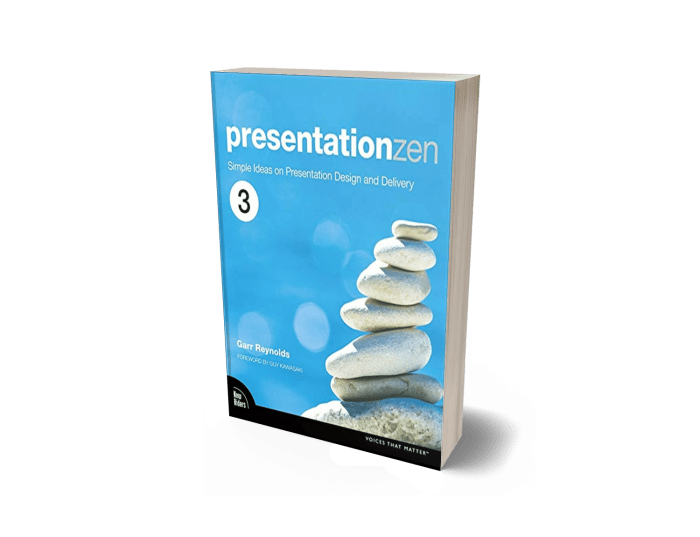 Ultimately, the best type of pitch decks are those that can tell a compelling story about the show while also providing enough information about the concept, story and, characters to pique the interest of buyers.
TV Show Pitch Deck Example
There's only one deck that stands out here. It's not your clasicall deck because it's more like a mini story packed up in a book but it's one of the best and it was made into a super succesfull TV Show series.
Check out the Stranger Things Pitch Deck
Tv Show Pitch Deck Examples To Inspire You
I might be a pitch deck expert but sometimes I can muster up my inner writer to come up with some OK ideas too!
"Culinary Destinations" – A Travel and Cooking Reality Show
Logline: A world-renowned chef explores hidden culinary gems in the farthest corners of the world, learning local recipes, customs, and traditions to recreate them in his home kitchen.
Format: Each episode takes place in a new country or region, focusing on local cuisine and culture. The host interacts with local chefs, families, and food vendors to learn traditional cooking methods.
Audience: Food enthusiasts, travel lovers, cultural explorers, aged 18-49.
Unique Selling Point: A rare fusion of travel and cooking, offering viewers an exciting way to explore the world through their taste buds.
Estimated Budget: Includes travel, production, and culinary expenses.
Potential Partnerships: Travel agencies, airlines, culinary brands.
"Tech Titans" – A Dramatic Biopic Series
Logline: A dramatic retelling of the stories behind the world's biggest tech moguls, their companies, and how their innovations have shaped our society.
Format: Anthology series, with each season focused on a different tech figure, such as Bill Gates, Steve Jobs, or Elon Musk.
Audience: Tech enthusiasts, entrepreneurs, and business-focused individuals, aged 18-49.
Unique Selling Point: Humanizes well-known tech figures, explores the tech industry's impact on society.
Estimated Budget: Includes production, casting, and licensing expenses.
Potential Partnerships: Tech companies, business schools, and entrepreneur networks.
"Climate Heroes" – A Documentary Series
Logline: Highlighting the unsung heroes fighting against climate change in diverse ways, from inventing new technologies to lobbying for policy change.
Format: Each episode focuses on a different individual or group's efforts to combat climate change.
Audience: Environmentally conscious viewers, activists, students, and educators, aged 13 and up.
Unique Selling Point: Inspiring stories of environmental activism, practical information on combating climate change.
Estimated Budget: Includes travel, production, and research expenses.
Potential Partnerships: Environmental NGOs, renewable energy companies, educational institutions.
"Alien Architects" – A Sci-Fi Drama Series
Logline: In a future where humans have colonized multiple planets, a group of architects face the challenge of designing and building in alien environments.
Format: Serial drama with a central story arc running through the season.
Audience: Sci-fi fans, architects, and creatives, aged 16-49.
Unique Selling Point: A unique blend of science fiction and architectural design challenges.
Estimated Budget: Includes set design, visual effects, production, and casting expenses.
Potential Partnerships: Architecture firms, science and technology companies, sci-fi publications.
"Parallel Lives" – A Romantic Comedy Series
Logline: Two soulmates live parallel lives in different cities, their paths almost crossing, until fate finally brings them together.
Format: Sitcom format with a mix of episodic and overarching romantic storylines.
Audience: Romance and comedy lovers, aged 18-49.
Unique Selling Point: Innovative storytelling style with parallel narratives, feel-good romance, and humor.
Estimated Budget: Includes production, casting, and location expenses.
Potential Partnerships: Dating apps, fashion brands, and lifestyle brands.
TV Series Writers Also Ask
What's the difference between a tv show pitch deck and a film pitch deck?
The main difference is that you're pitching a tv show in the former, and a film in the latter. Sometimes even the audience might be considered a difference simply because some production studios do only films, whereas others do just tv shows, so the execs are going to be different.
What's the difference between a tv show pitch deck and a TV pitch deck?
The main difference is that you're pitching a tv show in the former, and a general TV production in the latter.
Grab Your TV Show Pitch Deck Template
If you're pitching a TV show, you need a strong pitch deck to grab the attention of buyers and investors.
The good news is you don't have to make decks from scratch. Creating an effective TV show deck is all about knowing what slides to include. You can find tons of templates on sites like Canva, Slidesgo and Google Slides, but none of them will align with the brand you represent.
What will happen is you'll need to spend hours adjusting these templates to fit your brand guidelines.
There's a better way and award winning directors like Jon Sumple, Emmy award winner Eric Longs, and famous actor Austen Jaye, have seen why using my template makes it easier to get what you ask for.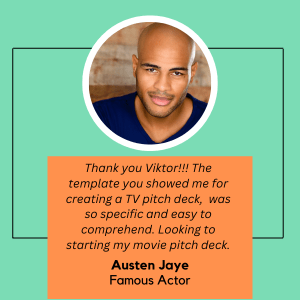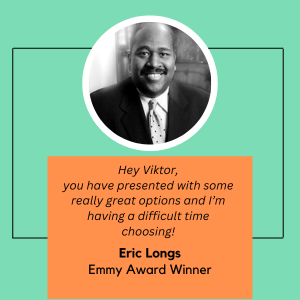 My clients have used my written template to craft a stellar TV show pitch decks in half the time and designed a deck that secured their new TV show some air time.
My Final Thoughts
Ultimately, what matters is how genuine and interesting the tv show idea is. Investors will usually buy into ideas that have audience potential, and have been tried and tested before. You might encounter friction if your TV show idea is a bit off the usual investment portfolio of the company you're pitching it to. But then again, think how shows like Peaky Blinders, American Gods and others made it. They were novel by themselves, completely different than other shows, and still made it on TV.
For more details about creating and structuring the ideal and effective TV Show deck, feel free to check out the main page. I got tips, tricks, mistakes and more for you to use and abuse! Or visit my pitch deck service page for more info.
You got this!
If you got up until here, then you should reconsider my offer.
Consider doing what others like you did. Reading how to make presentations will take a-lot of time. You need one today (probably). Let me help you develop a killer presentation and save 10+ hours of your time for a fraction of the cost. All it takes to start is a free 30 min call with me.
The least you will get is 10 actionable tips & strategies to own that next presentation, worth $599, for free.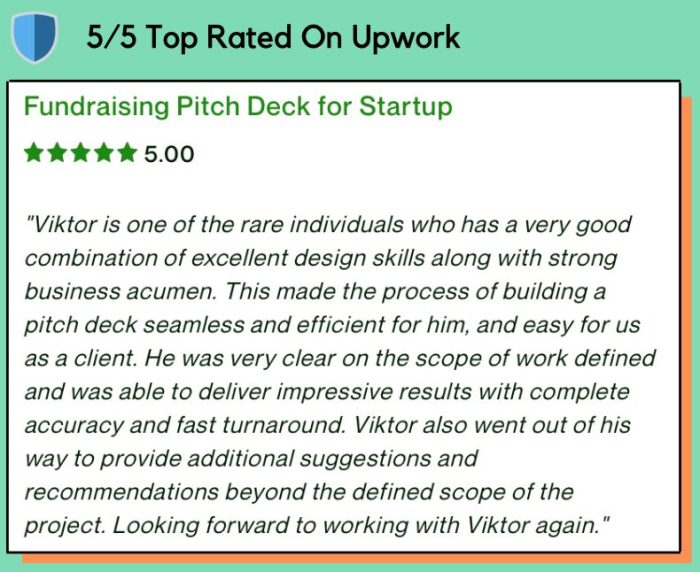 More Resources For You
Check my cornerstone guide on pitch decks that helped my clients win more than 4,000,000$ in funding:
You'll learn how to create a pitch deck by following my bulletproof step-by-step guide that helped my clients get $4+mill in funding. It includes:
How to build the slides (including elevator pitch slide, financials slide, and more)
Startup pitch deck examples
What investors need to see
What a pitch deck needs to be
What a pitch deck can't be
Tips and tricks when creating a pitch presentation
Also, check out these resources on pitch decks:

If you want to learn how to create just a pitch, check out some of these resources: