The medical sector has always been ripe for disruptions and is always ready for more companies and startups to come in and help extend human life.
But to transform these innovative ideas into tangible solutions, startups and businesses need more than just a vision—they need funding.

Enter the health sector pitch deck, a powerful tool that bridges the gap between innovators and investors. This guide delves deep into the art and science of crafting a compelling pitch deck tailored for the health sector.
Hey. I'm Viktor, a pitch deck expert, creative strategist, and burger lover. I've been a pitch deck expert for the past 13 years and helped clients raise millions, and win pitches, with my unique approach to creating pitch decks.
Dive in to discover the essentials, best practices, and real-world examples that will elevate your pitch.
Hold on. Before you go and spend 20 hours building a deck…
Consider doing what 100s of others like you did. Let me help you develop a killer pitch deck and save 20+ hours of your time for a fraction of the cost. All it takes to start is a free 30 min call with me.
The least you will get is 10 actionable tips & strategies to own that next presentation, worth $599, for free.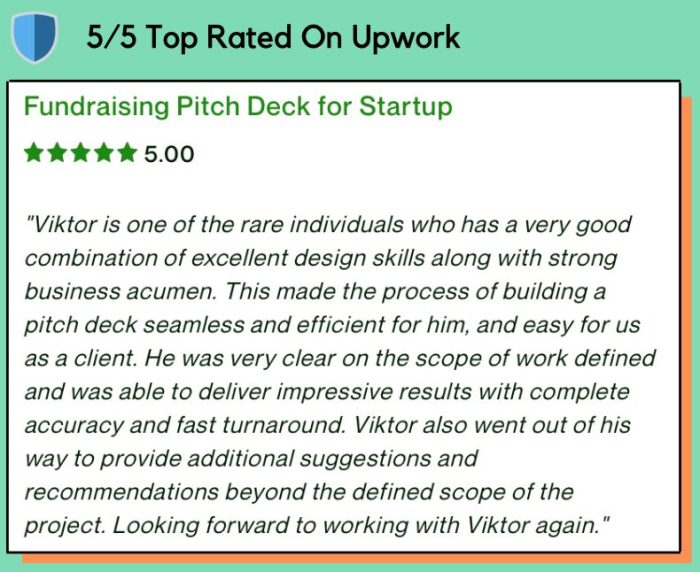 What is a Health Sector Pitch Deck? ​​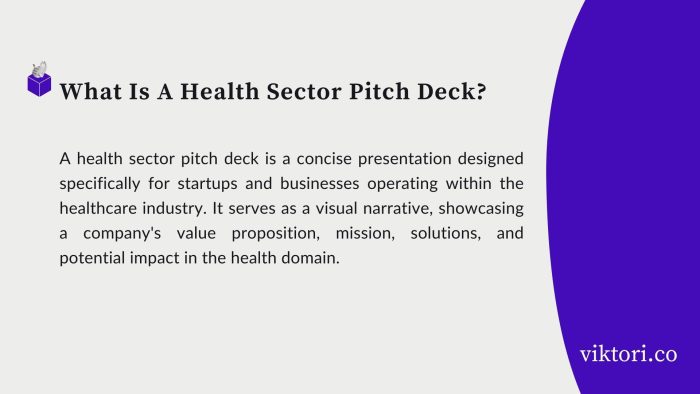 A health sector pitch deck is a concise presentation designed specifically for startups and businesses operating within the healthcare industry. It serves as a visual narrative, showcasing a company's value proposition, mission, solutions, and potential impact in the health domain.

Unlike generic pitch decks, those tailored for the health sector often address unique challenges and opportunities inherent to healthcare, such as regulatory compliance, patient care improvements, and technological advancements in medical procedures or devices.
The primary goal of this pitch deck is to captivate potential investors, partners, or stakeholders by highlighting the significance of the proposed solution in addressing current healthcare gaps or challenges. It emphasizes the company's potential for growth, scalability, and the promise of a return on investment.

Given the critical nature of healthcare, these decks also underscore the ethical considerations and the potential for positive societal impact. As we delve deeper, we'll explore the importance of having a stellar health sector pitch deck when seeking funding.
How important is it to have a great health sector pitch deck when asking for funding?
Having a great health sector pitch deck is of paramount importance when seeking funding. The health sector, with its intricate challenges and vast opportunities, requires a clear and compelling narrative to attract potential investors.

 Research has shown that the availability of human resources for health, local capacity to utilize funds, donor involvement in the health sector, and commitment to promoting equity have a considerable influence on resource allocation decisions, affecting the equity of funding allocations.

Another study highlighted that despite the significance of health economics in allocating public health resources, over half of the public health researchers and practitioners reported minimal or no use of health economics in their work due to barriers like lack of expertise, funding, and time.

This underscores the need for a well-crafted pitch deck to effectively communicate the value proposition and potential return on investment. Moreover, ministries of health must strengthen their ability to motivate for larger allocations from government revenue by demonstrating improved performance and the relative benefits of health investments.
Up next, we'll delve into the components that make up a health sector pitch deck.
What Does A Health Sector Pitch Deck Include?
A health sector pitch deck, tailored for the unique demands and intricacies of the healthcare industry, typically encompasses the following elements:
Introduction Slide: A brief overview of the company or startup, including its name, logo, and a captivating tagline or mission statement.
Problem Statement: Clearly define the healthcare challenge or gap in the market that your solution aims to address. Use data and statistics to underscore the magnitude of the issue.
Solution Overview: Present your product, service, or innovation that addresses the identified problem. Highlight its uniqueness and potential for impact.
Market Analysis: Provide insights into the target market size, growth potential, and segmentation. This demonstrates the scalability and viability of your solution.
Business Model: Outline how the company plans to make money. This could include pricing strategies, revenue streams, and sales channels.
Competitive Landscape: Identify key competitors in the market and differentiate your solution from theirs. Highlight your unique selling proposition (USP).
Go-to-Market Strategy: Describe how you plan to launch and promote your solution, including marketing, sales, and distribution strategies.
Traction: If applicable, showcase any milestones achieved, such as user testimonials, partnerships, or early sales figures.
Financial Projections: Provide a forecast of revenue, expenses, and profitability over the next 3-5 years. This gives investors a glimpse into the potential return on investment.
Team Overview: Highlight the expertise and qualifications of your core team members. Emphasize their relevance to the project and any prior successes in the healthcare sector.
Funding Ask: Clearly state how much funding you're seeking, how you plan to use it, and what investors will get in return (e.g., equity, convertible note).
Conclusion & Call to Action: Summarize the key points and encourage investors to take the next step, whether it's scheduling a follow-up meeting, trying out a product demo, or joining a pilot program.
Appendix: This section can include any additional data, research, or details that might be relevant for more in-depth discussions but didn't fit into the main presentation.
As we move forward, we'll delve into the step-by-step process of creating a Health Sector Pitch Deck Presentation.
How to Create a Health Sector Pitch Deck Presentation?
Creating a health sector pitch deck presentation requires a blend of storytelling, data-driven insights, and a deep understanding of the healthcare landscape. Here's a step-by-step guide to crafting a compelling pitch deck:
Understand Your Audience: Before you start, identify who you're pitching to. Different investors have varied interests, from technological advancements to patient care improvements. Tailor your message to resonate with their specific interests.
Start with a Strong Opening: Capture attention immediately with a compelling introduction. Highlight the magnitude of the problem you're addressing and the potential impact of your solution.
Use Visuals Wisely: Incorporate high-quality images, infographics, and charts. Visuals can convey complex information quickly and make your presentation more engaging.
Maintain Consistency: Ensure a consistent design theme, font, and color scheme throughout the deck. This not only looks professional but also aids in retaining audience attention.
Be Concise: While it's essential to provide comprehensive information, avoid overwhelming the audience. Each slide should convey a single, clear message.
Incorporate Testimonials: If you have testimonials or endorsements from healthcare professionals, patients, or pilot programs, include them. They add credibility to your claims.
Highlight the Team: Showcase the expertise and experience of your team members. Highlight any relevant achievements or qualifications that make them uniquely suited for the venture.
Practice Your Delivery: The content of the deck is crucial, but so is the way you present it. Rehearse your pitch multiple times to ensure a smooth delivery, and be prepared to answer questions.
Seek Feedback: Before the actual pitch, present your deck to mentors, colleagues, or industry experts. Their feedback can provide valuable insights and help refine your presentation.
End with a Clear Call to Action: Conclude by clearly stating what you want from the audience, whether it's funding, a partnership, or another form of collaboration.
Stay Updated: The healthcare sector is rapidly evolving. Regularly update your pitch deck to reflect the latest data, research, and developments in the industry.
Prepare for Follow-Up: After your presentation, be ready for deeper discussions, due diligence, and further questions. Have supplementary materials and detailed information on hand for interested parties.
Up next, we'll explore a tried-and-tested Health Sector Pitch Deck Slide Structure that you can adapt for your presentation.
The Exact Health Sector Pitch Deck Slide Structure You Can Steal And Use
Here's a structured slide-by-slide breakdown for a health sector pitch deck that you can adapt and use:
Title Slide:

Company Logo
Tagline or Mission Statement
Date of Presentation
Presenter's Name and Contact Information

Introduction:

Brief overview of the company or startup
Vision and mission

Problem Statement:

Define the healthcare challenge or gap
Use data and statistics to emphasize the magnitude

Solution Overview:

Present your product or service
Highlight its unique features and benefits

Market Analysis:

Target market size and segmentation
Growth potential and market trends
Opportunity within the market

Business Model:

Revenue streams (e.g., subscription, sales, partnerships)
Pricing strategy
Sales and distribution channels

Competitive Landscape:

Key competitors and their offerings
Your unique selling proposition (USP) and differentiators

Go-to-Market Strategy:

Marketing and promotional plans
Sales strategy and distribution channels
Partnerships and collaborations

Traction:

Milestones achieved (e.g., user base, partnerships, sales)
Testimonials or endorsements
Future roadmap

Financial Projections:

Revenue, expenses, and profitability forecasts (3-5 years)
Key financial metrics and assumptions
Team Overview:

Profiles of core team members
Relevant expertise and achievements
Funding Ask:

Amount of funding sought
Use of funds
Offer to investors (e.g., equity, convertible note)
Conclusion & Call to Action:

Recap the key points
Encourage the next steps (e.g., scheduling a follow-up, product demo)
Appendix (Optional):

Additional data, research, or details for in-depth discussions
FAQs or anticipated questions
Thank You & Contact Information:

Express gratitude for the audience's time
Provide contact details for further discussions
For a more indepth version, check my health sector pitch deck outline article.
This structure provides a comprehensive overview of your healthcare venture, ensuring that potential investors receive all the information they need to make an informed decision. As you craft your pitch deck, remember to weave in a compelling narrative that ties everything together.
Get Your Copy Of My Pitch Deck Template Structure That Helped Clients Get $100mill+ In Funding
So, if you want to impress buyers and investors with your health-related product or service pitch, you gotta have a killer presentation deck (no pun intended). But no worries, 'cause creating an awesome deck is simply about picking the right slides, and there are heaps of templates ready to go on sites like Canva, Slidesgo, and Google Slides.
Although, keep in mind that these templates might not match your brand, so you'll have to put in some serious time to make 'em fit.
Luckily, there's a way cooler way to go about it.
Instead of starting from scratch, you can use a totally personalized template to save time and create a deck that matches your brand perfectly. Believe me, my clients have tried this method and have been able to whip up an amazing pitch deck in record time and secure mega funding, deals, and investments worth over a whopping $100,000,000.
If you're looking for a quick and straightforward way to create a killer pitch deck for your health sector business, hit me up and I'll hook you up with the template that has helped others achieve major success. 
div id="form-acm_35718″>