Hey all,
Sending you your weekly dose of Perspektiva – important perspectives to help you grow in life and business.
Owner's thoughts:
I've never shared these perspectives with anyone else besides me and a handful of currently succesfull individuals.
They cover aspects of communication, strategy, self improvement, processes, and idea making (among other things). They've helped me:

Reach $60,000 Annual Revenue with my newest company and growing I started as a VA two years ago earning $12k per year
Rank several finance niche articles rank 3rd and 4th in Google for specific long tail keywords, surpassing fool.com and businessinsider.com and their multimilion dollar budgets.
Shell out 100 pages of blog articles in 2 months for less than 5$k budget and increase traffic by 30%, ranking several focus pages first for their respective focus keywords.
Work with companies like Porsche, Phillip Morris, Ebox Solutions, Flat-Icons, Just Start Investing, and more.

When sharing these perspectives on social media, use this short link https://bit.ly/3wcLJVe or my social media handles to mention me. Here they are:
What you'll read today:
Social Signals And How To Use Them For SEO Juice
Google is a machine that reacts to signals. If we treat it as such, then any signal you create, anywhere, will be acknowledged.
Be it links, content posted, comment posted etc…
But there are also other ways you can send signals to Google and let it know that your brand is out there.
Enter social signals. I'm not talking about Facebook or Instagram.
I'm talking Flickr, Unsplash, Shutterstock – platforms where you can create shareable media like images, audio, video stock.
This approach won't bring your website on the top of SERPS but will give a strong indication to Google that your brand is being talked about, engaged with and live across the web.
How does it work?
For example, one of my good friends has this site for selling used Porsche cars called: Porsched! and you want to boost traffic AND have clients know your brand name.
Hire
photographers that have Porsche stock footage
Videographers that have Porsche video stock footage
Audiographers (if they exist) that have stock audio with Porsche sounds.
Pay them and get that footage for yourself.
Upload the footage to sites like:
unsplash
pixabay
freepik
pexels
Make sure that the profiles you create are 100% complete.
Then, tag each photo/video/audio according to what it represents but also:
Use long tail keywords that show the context of the stock footage
Find out what similar popular footages use as tags, descriptions and use that for your footage
Use your brand name within the description and tags
What happens when you do this?
Ultimately if your photos are good, people will download them. Some will use them for their own websites.
PRO TIP: After a while, you can reach out to sites and ask for a link back because it's your image and they use it without giving you credit - It's called the Reverse Image Keyword Research.
So, you get links but more importantly… when people interact with your media (like download, etc…) they send a minor social signal to Google telling him that they've interacted with your brand.
Compound that effect when your media gets millions of views (which they do if the media is good and optimized properly) and you get some good brand mentions across the web.
Increasing The Traffic Of A Highly Competitive Niche By 25% In 2 Months
Current stats for a financial niche site we do content production.
Traffic when we started: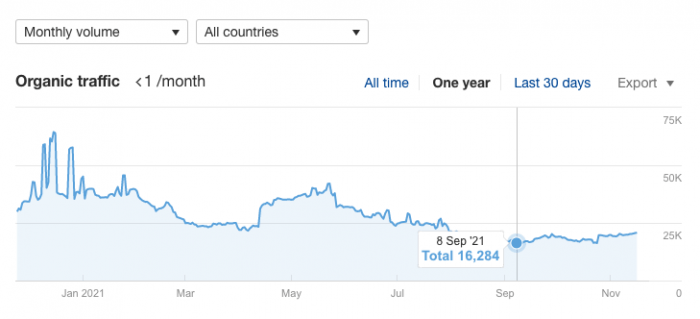 The stats are not mind-blowing yet. But given the competitiveness of the niche, where we go against fool.com, and we still managed to beat them in SERPS for several high traffic keywords, landing 3rd and 4th.
What we're doing to uprank this site:
Content Velocity

5 long form posts (2k words on average) per week, focusing on 2 topic clusters simultaneously.

Content Optimization

Internal linking – we mix it up when it comes to the anchors using all types available
Custom Images – Designed from scratch – summaries of specific article segments, easy to share.
Main KW optimization and using cluster of supporting keywords in H's and body
Used dynamic text formatting such as tables, bullet points, graphs and more

Content Distribution

Posted Images with brand name tags to sites like

Unsplash, Pixabay and more

Used Missinglettr to automate social media posting with custom post content
Custom videos done with Pictory and posted to Youtube
The Importance Of Having A Good Pitch Within Your PR package
The situation:
You have a good site on hand, 40+ DR, 20k traffic and increasing.
You start getting requests for guest posts and link insertions. When you follow up with your canned response, communication stops.
Why is that? Usually, it's because your canned response hasn't positioned your request well enough – in other words, it can be pitched much better than the way it is.
Pitching is not reserved only for startups and ad agencies.
Pitches are everywhere.
It's all about the pitches.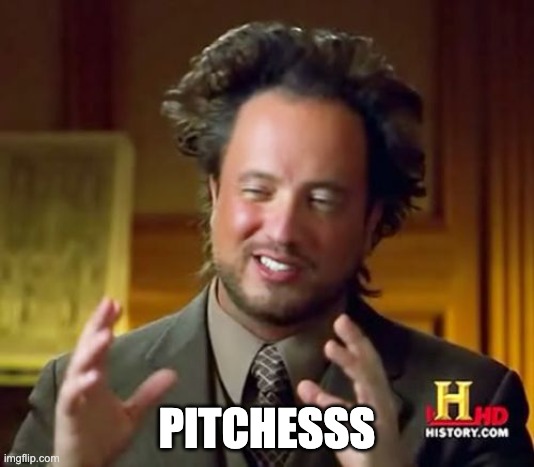 If you can't pitch your site well and clear enough, the other side won't accept your offer even though they did reach out first.
Why? They got other options too. They are reaching out to thousands of sites every day and they got a limited budget to spend. If you're not justifying your ask with specific, mindblowing benefits, you loose.
Here's the situation:
Your site fit a criteria for them. Could be the traffic or DR/DA/PA. This is why they reached out hoping they will get SEO juice by getting a link from you. That's their expected benefit
The real benefit they would get is something you know and you can communicate with them through a carefully crafted pitch within a short presentation. The benefit usually can be summed up as:

That site would be presenting in front of an audience that will convert to paying customers. They are not just getting a link

What you need to include in your pitch:

Breakdown of your audience. Include demographics and psychographics
Breakdown of your traffic and sources
List out 5 benefits of interacting with your audience
List out examples of what other companies experienced when they linked to your site
List out things they'd miss out on if they don't link up to your site – create FOMO
List out future plans and projections that will show out-reachers what they can expect in the future. If you show people what you plan and how you plan on doing that, and what are the expected results, they will want to jump in and be part of that success story
Create a pitch for your site that would essentially make even investors want to put in their money in your site just because it's a one-of-a-kind site with a stellar USP.
Don't be a canned response. Everyone does that. Elevate your canned response by making it into an irresistible pitch that will have any site scream TAKE MY MONEY!!!
Link Placements: Do You know Who Clicks On Your Link Placements?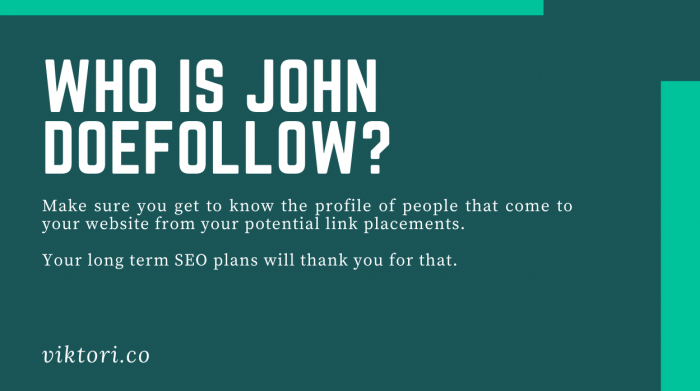 Have you met John Doefollow from the backlinks department?
Yeah you have. You see him every day, when you open that Analytics page. Him and thousands other that just stream in your website and leave for no reason.
Have you heard someone talk about how they added a link to a specific site and how that link brought insignificant change to the site's metrics/traffic?
And talk about how that traffic converted into paying clients?
The problem is that rarely marketers, when doing link-building campaigns, focus on the benefits and gains from individual links. Instead, they focus on the big picture and how the 20 links they built this month together with the published content, brought in an x change of traffic.
Which is ok. Sometimes it's difficult to keep such detailed track of the nuts and bolts and how they contribute towards the goals we've set. Particularly:
Keep track of the kind of traffic that comes in from specific sites and how that traffic interacts with our site, individual pages…
Analyze the demographic and psychographic of the traffic coming in from that specific site and if that fits our audience…
Imagine if you knew:
The profile of the person that came from each backlink, where that person interacted with your site, what they did and why they didn't do what your site was intended to do?
The overall feedback is that you can't know exactly what type of traffic comes in through backlinks, but you can estimate it, based on the type of traffic that specific site has.
But, the devil is in the detail. Knowing who lands on your website helps understand that person's habits, who they are and what they'd like.
Imagine you land a link on Forbes, and your site is about selling used Porsche models.
Thanks to John Doefollows tool here, you know exactly who lands and what type of a person they are.
Out of 2000 that land, only 3 have bought a Porsche. Which is not bad, to be honest 😀
The rest were just there to window-shop because the target audience that Forbes has is people that don't really have the money to buy a Porsche right now.
And you paid 3000$ for that link.
Now imagine getting a link to a less known site called – Sorbes.
You paid 300$.
1000 people came in through that link, 50 bought a Porsche.
A good chunk of the 1000 people landing are people that would have the money to buy your Porsche.
Sorbes is a site that delivers gold-crusted sorbes' to your doorstep. Each one costs a fortune.
Not only that but, since it's a subscription-based business, you get a very detailed profile of each of the people that click on your link and land on your site so you know exactly who bought and what their background is (within the confines of privacy of course).
It's important to know what type of an audience comes in from which link because ultimately if you have built 2000 links from sites whose audience is different than your ideal one, you're not converting traffic. Even worse, traffic lands on your site and leaves which is a big no-no in the eyes of Google.
Always make sure to know the audience prior to linking. Sometimes linking can have more cons than pros.
Find out who John Doe really is before you even link to that site.
In summary, the red queen says that there's a world where two sides live:
One that only relies on reproduction to survive and the other only relies on knowledge to survive – the latter dont mate rather wait for the first to get educated. This way their "legacy" lives through the ones who only mate.
Our bodies are built from cake-like recipes and not architectural blueprints. So its impossible to feed info back to the recipe by changing the cake.
Bodies do not replicate they grow. Genes replicate and therefore our bodies are just evolutionary vessels for the gene.
Sex is the dealer in poker – generating unique hands from the same monotonous deck of genetic cards shared by the whole species
Time erodes any advantage.
The red queen concept – all progress is relative. The faster you run, the more the world moves with you and the less you make progress.
Any progress is relative as long as the foe depends heavily on you or suffers if you thrive.
Evolution is a treadmill not a ladder.
Appsumo Business Ideas To Start Hustling
The beauty of Appsumo is that it saves a load of resources for you and your team and gives you tools that will speed up, improve your product/service.
What if you don't have a service or product? What if you're just struglling to keep your current business running with outdated tools and techniques?
Thanks to Appsumo, you can make a service or product, by either using one or combining several appsumo tools in one. Below you'll find business ideas that you can use and start making money right now.
You can also upgrade your offering, if you're an existing business sinking in the backlog of the internet.
PRO TIP: You already have the copy for your service - it's the app sumo deal page and the tools landing page. Just combine the best of both worlds.
On to the ideas:
Appsumo Business Idea 1
Title: Email Marketing Service
Slogan: We help you send automated and customized emails to EVERY person on your list.
OR
Send curated emails to every individual on your list.
What is this business idea about:
Offer this service to small to medium sized businesses that are using Mailchimp, Constant Contact and Emma.

It's better because unlike the competitors, you can customize each email to fit a speficic person, and make it more personal that way. This way, you build much stronger relationships with your audiences.

Cost 250$ giving you 30k contacts. Develop a subscription based model.
Appsumo Business Idea 2
Title: Monitor Down Time
Slogan: Second by the second website downtime monitoring. Your site is down – we tell you why it's down.
What is this business idea about:
It's better than Pingdom and Pagerduty because of the way it sends live updates of the issue at hand.

You can easily see which sites use Pingdom by generating a list from Builtwith or Wappalizer. Reach out to them.
For a small monthly fee of 5$ you monitor your clients websites, and let the right person in his team know when the site is down, and WHY it's down so that that person can fix the problem.
Appsumo Business Idea 3
Title: Better Than Ultimate
Slogan: Ultimate addons are old news. It's time for interactive shopping experiences that keep customers entertanined and make them buy.
What is this business idea about:
Buy the addon, and use it to build websites for clients that are using the Ultimate addon for Elementor.
You can easily see which sites use the ultimate addon by generating a list from Builtwith or Wappalizer. Reach out to them.
Keep the benefit simple:
Cost 147$ for the Multiple tier. You can either charge a monthly fee (upselling your maintanance and upgrades) or per project. Need to find out how competitors price their service? Check this guide out: https://viktori.co/how-to-get-pricing-from-competitors/
Ads That Make You Think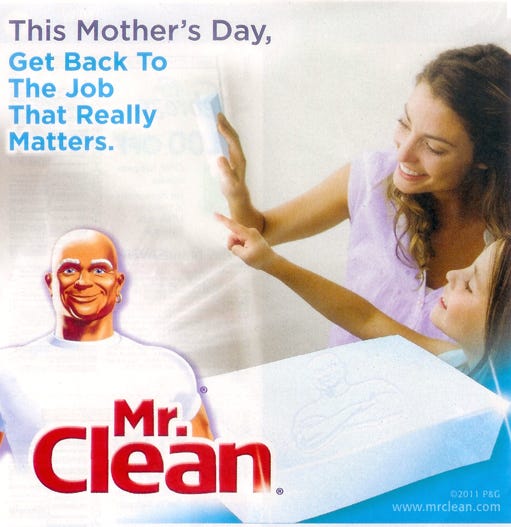 Peta you mad?
5 Useful Links To Help You Grow Your Knowledge
Perspectives From Other People

Complicated subjects train the mind

Hard workouts train the body

Complicated people train the heart

Hard times train the spirit

Unknown
As always, if you got 4000$ laying around, let me know and I'll send you my bank account.
Unlike the prince of Nigeria's offer, this is NOT a scam.
Cheers,
Vik
Previously on Perspektiva: