Before I go into explaining this ridiculously easy competitor analysis framework, I want to give you some background.
Since I was single-digit years old, I wanted to know how things worked inside out. What I did was, break the things apart into tiny pieces and then rebuild them up.
Quick story: I remember my dad buying me an old mini Fiat from Russia.
I was the hottest kid on the street. Until I decided to find out why this Fiat is a Fiat (The usual dilemma an 8-year-old deals with). Called my cousin, got some wrenches and screwdrivers and in a matter of minutes, the car was dismantled in tiny pieces. We "analyzed" it, and left for lunch. The last I saw of that Fiat was that it was being used by my grandad to build a fence for the chickens he used to look after in his backyard.
Fast forward to my 20ties. During the course of my employment in amazing companies such as New Moment New Ideas Advertising, or Valoso, a global video production company, and now when I own my own company, I noticed that some clients we worked with, plateaued at a certain point or just started sinking in sales, retention, started losing market share, and more.
And I noticed that some companies, namely competitors excelled at the same time.
Why was this happening?
I also noticed that plenty of serial entrepreneurs, the ones I worked with, had a history of failed businesses, one after the other consecutively.
What was going on?
They were very highly motivated, skilled, and most importantly, smart people.
After careful observation, I found out something peculiar.
They all had a pattern of avoiding a single step in the business creation process.
A key step that created the foundation for a solid business.
A step that governed the successful execution of marketing, sales, and development processes.
That step? It's not what you think.
Successful businesses rest on the shoulders of people who have tremendous passion, patience, and discipline to put into them. Skill included!
Most of us lack most of the four. That's why we as entrepreneurs and explorers, go through life, jumping from one unsuccessful project to the next, never having the closure of why things failed, only justifying them with "their time has come" or that "it's just not for me".
What Happens If You Keep On Doing This (Rather Not Doing This Step)?
You'll keep repeating the same mistakes, never learning why you made them in the first place. Imagine waking up old, thinking you did everything right, and it was not your fault but your experiences tell of failed projects, unsuccessful ones.
But it was your fault. It's your fault because you failed to do the most important step of them all.
Your research, bro.
I understand why you didn't. I did the same thing plenty of times and failed expectedly so. Too impatient and self-centered and allowing myself to believe that I can do without knowing why someone is better than me and my idea, and not use that to my advantage.
It's like being in the Roman era and going against a foe, you have no idea how big nor skilled he is.
Ego against reality.
The simple competitor analysis framework outlined below, will help you avoid that.
When I first heard the word framework, I was like "it sounds like something that takes time and something that businesses did 30 years ago".
Those businesses did use a competitor analysis framework, and a lot of them are still alive.
But frameworks don't have to be boring and make Johnny a dull boy.
We found a simple way to build out a competitor analysis framework, that uses online saas tools and can literally generate detailed reports within minutes.
Even though that sounds fun, it's not the fun part. The fun part is how you get that report delivered to you.
This Competitor Analysis Framework Is For:
Starting entrepreneurs: Copy-paste and paraphrase an approach that works well for your biggest competitors.
Experienced business owners that notice a change in their KPIs, want to find out why that KPI has changed and how to avoid a bigger problem.
Agency founders that want to upgrade their offering and service.
It's the skyscraper approach to creating a company (content marketers pun).
This is not for people that have no patience or just want a quick fix.
If you're the kind of person to skim and jump to a specific section, good for you. Here's your table of content sir:
First, What Is A Competitor Analysis Framework?
It's not just the process of evaluating, turning upside down, dissecting and breaking down your competitors to their building blocks.
It's also the process of taking the blocks that work, and using them to build something better.
Second, Do You Know Who Your Competitors Are?
The biggest mistake you can make when doing this competitor analysis framework is to include only the biggest competitors and the first google results.
You need different types of competitors so that you can build out an analysis and get insights that are rich in data. This is why you must include big, small, medium-sized companies, direct competitors, and indirect competitors.
The more varied the list, the better your insights will be.
Take a look at this graph here that shows you the type of competitors you have.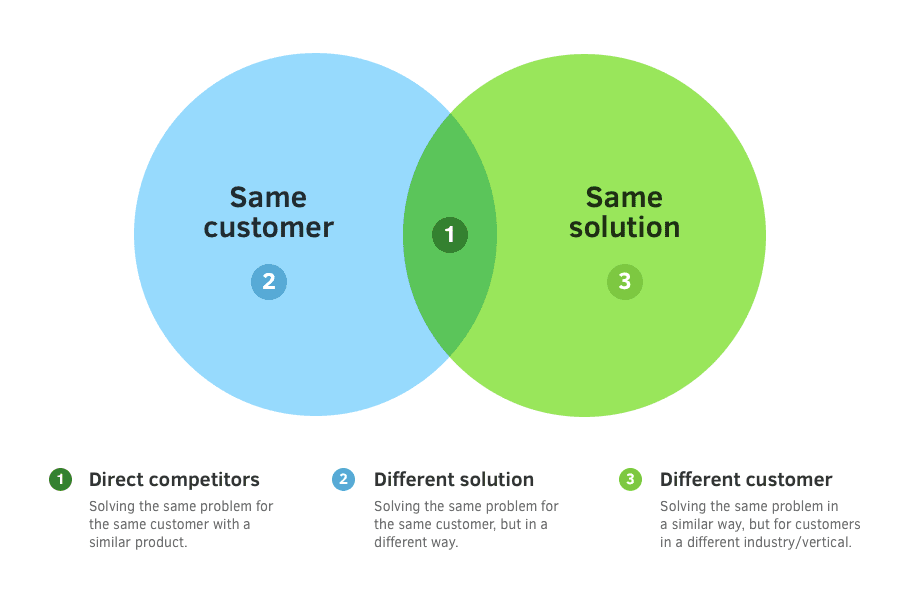 How Does This Competitor Analysis Framework Work? Quick Guide
The process we'd use to dissect a competitor or your company is more or less the same process you'd use to disassemble the Fiat. You want to dig in, and find out the following:
Then, summarize everything into a simple presentation.
These 6 requirements are codependent on each other. For example, you can't define a road map without the tech stack, and you can't build out a UX/UI layout without knowing the tech stack.
Each requirement builds upon the other 5 and supports its findings to give you a holistic overview of the overall picture.
In other words, you get a birds-eye perspective on the situation.
We like to call this framework the "Box Framework" – a competitor analysis framework that helps you unbox your competitor. Each aspect of a competitor we analyze is one side of the closed box. When we have successfully analyzed all sides then we can figure out what the best approach is to open the box. Within the box, is what you're looking for.
Similar to opening pandora's box – but instead of plagues and calamities, you get solutions instead.
Enough philosophy. Let's go into each one.
1 | Current Market Situation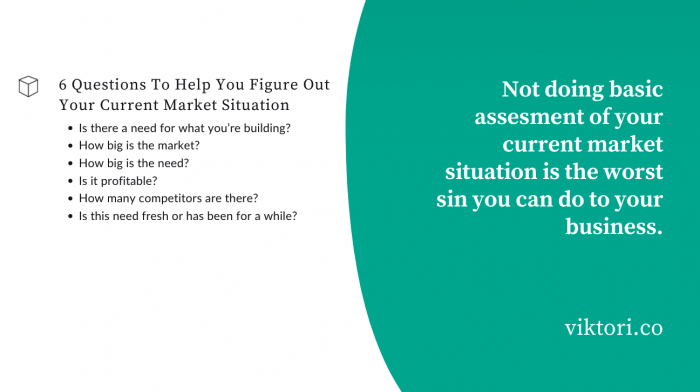 The very basics which entrepreneurs (past versions of myself included) wrap up quickly by checking a few links on google's first page results. Not doing basic assesment of your current market situation is the worst sin you can do to your business. It's like figuring out that the Fiats motor malfunctions, without even opening the hood (just by observing the fiat from above).
6 questions to help you figure out your current market situation
Is there a need for what you're building?
How big is the market?
How big is the need?
Is it profitable?
How many competitors are there?
Is this need fresh or has been for a while?
Services and tools to help you build a current market situation
Crunchbase – basic info about the company and it's employees, hierarchy and funding.
Glassdoor, indeed – Looking through the job ads, you'll likely notice what your competitors are aiming to build and focus on in the future, giving you a glimpse into their own features and iterations.
Statista – 1 mill > Statistics, graphs, diagrams, pie charts… all there and ready to be used so that you can understand what drives consumers, understand their behaviour, and how they consume information. There's no tool more comprehensive than Statista out there.
2 | Tech Stack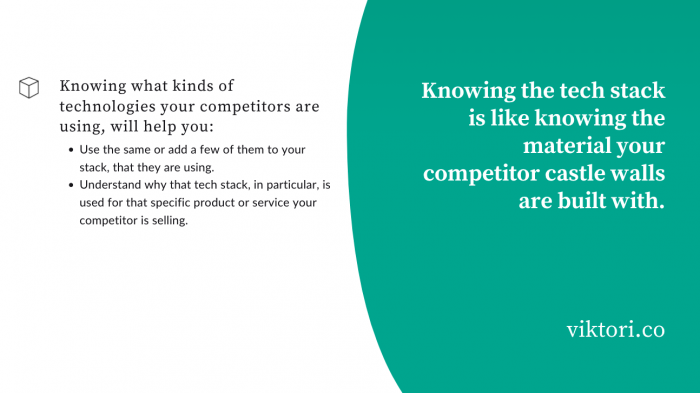 Knowing what kinds of technologies your competitors are using, will help you:
Use the same or add a few of them to your stack.
Understand why that tech stack, in particular, is used for that specific product or service your competitor is selling.
You can literally find out what widgets, analytics, frameworks, content management systems, advertisers, content delivery networks, web standards, and web servers your competitors use to dominate the niche.
You can also find out which technology trends are currently hot and in demand. Don't just focus on what those specific competitors use, look at the big picture and see what the market wants and uses.
3 best tools to find a tech stack:
BuiltWith – a website profiler, lead generation, competitive analysis, and business intelligence tool providing technology adoption, eCommerce data, and usage analytics for the internet.
Wappalyzer – a technology profiler and leads data provider. Their products provide sales and marketing teams with technographic insights and tools for lead generation, market analysis, and competitor research.
WhatRuns – an advanced browser extension that helps you identify web technologies used on any website.
3 | Road Map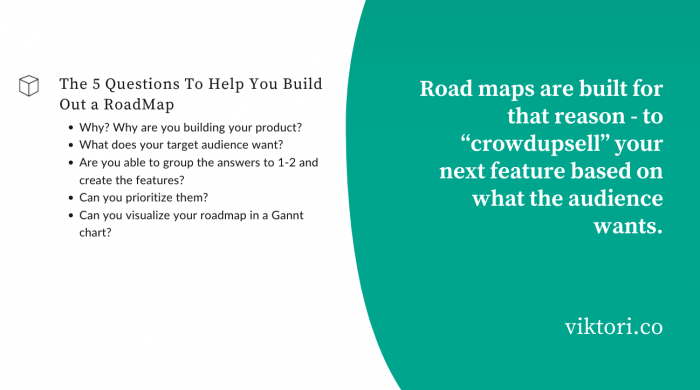 A high-level summary of your (or your competitor's) upcoming product features. Documentation and strategic planning is most often a folder in the "later" section of early-stage businesses because it seems that it's either a waste of time or time-consuming. It's not.
A product road map tells your users and clients that you're headed in the right direction. Besides, they will chip in their two cents and tell you if they would use a feature or not.
When it comes to your competitor, you will know exactly what he is building and what features he is planning on implementing in the future. This will help you understand what his audience is looking for. Road maps are built for that reason – to "crowdupsell" your next feature based on what the audience wants.
3 Free Tools You Can Try For Road Mapping
Trello. Not built for a roadmap but it's free. Here's a roadmap template that you can use.
Google Sheets – the most basic of them all.
Airtable. Google Sheets on steroids. Try this template.
3 Advanced Road Mapping Tools
Airfocus is a road mapping and prioritization platform designed to help teams collaborate remotely.
ProductPlan is an easy-to-use product road mapping platform that allows for collaboration with audiences.
Aha! is road mapping software that lets you crowdsource, analyze, prioritize, and visualize features.
The 5 Questions To Help You Build Out a RoadMap
Why? Why are you building your product?
What does your target audience want?
Are you able to group the answers to 1-2 and create the features?
Can you prioritize them? Use this approach.
Can you visualize your roadmap in a Gannt chart?
4 | Sales Process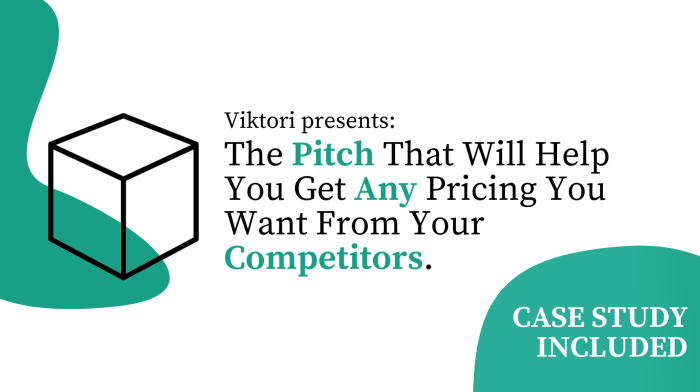 An important part of building your competitor analysis framework is asking yourself: "What does their sales process look like? Do they have one? If yes, how many stages does it take for a lead to go from being a cold one to an MQL and eventually a client?"
There's a simple process you can use to find the sales process of your competitors – read this short guide here (case study included).
5 | Content & Ads Landscape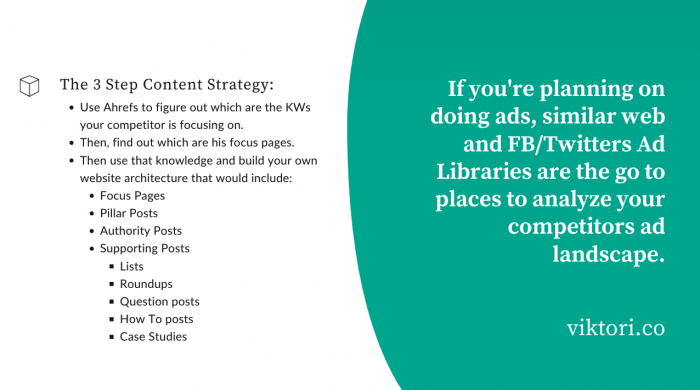 Next up in the competitor analysis framework – you want to find out what your competitor is ranking for, see if you can rank for those same keywords, and build out a content structure around those keywords.
Keyword Research
Use Ahrefs to figure out which are the KWs your competitor is focusing on.
Then, find out which are his focus pages.
Then use that knowledge and build your own website architecture that would include:

Focus Pages

Depending on how many services/products you have, you can have as many FP as you want. But don't go overboard. Try to focus on the few.

Pillar Posts

That one main post explains your product/service in general and in-depth.

Authority Posts

Made to attract backlinks. Its structure is that of a Skyscraper and helps the site gain a lot of backlinks through a solid backlink campaign.

Supporting Posts

Small size posts aimed at covering supporting keywords.

Types of posts include:

Lists
Roundups
Question posts
How To posts
Case Studies

Size: 600-1500 words

A link to a simple content sheet that includes all the above.
Want to see how your future audience engages with your competitors content?
One of the best tools to do that is BuzzSumo – It shows you the most shared posts on their blog and gives you an idea as to what to write yourself and what kind of content will resonate with your audience.
Ads
If you're planning on reaching out to audiences through paid ads, you will need to know how your competitor does his ads. Some of the best tools to help you do this:
Similarweb – If you're looking to get an in-depth look into the traffic sources, traffic types, engagement stats, general page stats, geo segmentation, and more, Similar web is the number one go-to tool.
Facebook Ad Library – A collection of all ads currently running on Facebook and Instagram. If you want to see how your competitors are funneling traffic, and what kind of ads they create, this is where you start.
Ads Transparency – Twitter's version of the Facebook Ad Library.
6| UX/UI Competitor Analysis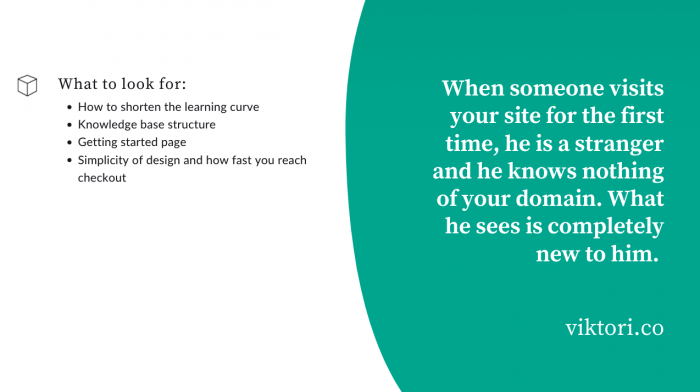 A lot of great products failed because users couldn't get around and got lost.
Sometimes, what we think our users like in terms of user experience is totally different from what they really need.
When someone visits your site for the first time, he is a stranger and he knows nothing of your domain. What he sees is completely new to him.
Your job is to guide him through your domain and show him how he can get to the promised land easily.
This will help him immerse with your product, and help him become a master of your product.
What if you don't guide him? There's this thing called, learning curve. The steeper it is, the more likely your users will drop out.
How do you guide someone? How do you flatten and shorten that learning curve?
Tutorials and guides. One of the key points in creating a content strategy is to teach your customers and shorten that learning curve as much as possible.
How do you know what type of tutorial to give? Check what your competitor is doing.
Every good competitor will have a:
Getting Started Page – This is the intro page, with information about the company, product/service, easy access to links that will help the user understand more about the product/buy it.
Knowledge Base/FAQs – The best way to answer the questions your audience has, is to know the answers and have them listed in one place, for everyone to access them. It helps the user navigate through your domain easier.
Every good competitor will have a good UX/UI experience set for their audience. How do you achieve the same?
There is no one size fits all approach for this step. It depends on what you're looking for to improve or build.
If for example, you want to improve the checkout process design and increase conversion rates, first what you want to do is:
Video and process document that way your competitor makes his audiences go through the checkout process.

Think of yourself as his audience, and go through the process, video-ing the whole thing, and at the same time documenting every step of the process in a simple document.
Then, you want to analyze the whole process and figure out what can be improved and what can be substituted. Add as many competitors as possible to the equation so that you can get the best of all worlds.
Finally, pick the steps you want to use for your own process.
Here's a great article on that topic, from the friends at Usability Geek.
How We Do It
To implement the Box competitor analysis framework, me and my agency, we use:
BuiltWith or Wappalyzer – to find the tech stack
Miro – to visualize
Ahrefs – SEO
Airfocus – Roadmap
Sales Process – our own process. Again, here it is.
UX/UI – Miro/sheets/loom to document it, and Figma to build the mockups.
Case Studies: You Analysed, Now What?
Now you neatly pack every piece of info you got while doing the competitor analysis framework, into one document.
We pack it up in presentations because they give a sequential overview look of the Box framework.
I'm not going to show the full 4 step analysis we did for a single client due to privacy, however, I'll show you how we did each step for different clients.
Client: MyData Solutions
Tech Stack / Road Map / Market Situation
What he wanted to build: PaaS that helps c-level execs improve decision making.
What he was lacking: Good tech stack, BI on the current market, and how to show the data in a friendly way.
FunFact:

He began selling it as a dashboard and then switched to a PaaS when we presented the findings.

The resulting competitor analysis framework: MyData Solutions Pitch
Client: Gomechanic
Road Map / Market Situation
What they built: SaaS for Indian aftermarket car services.
What they were lacking: To see how the rest of the market was doing what they were doing.
The resulting competitor analysis framework: GoMechanic Pitch Deck
Client: Inclusionist
Tech Stack / Road Map / Market Situation
What he was building: Helping companies grow revenue with inclusion services.
What he was lacking: The competitor landscape, and how inclusion could be implemented.
The difficult part: the company operated within the government and analyzing government competitors and the overall landscape is difficult due to a lack of accessible information.
The resulting competitor analysis framework: The Inclusionist Pitch
Client: Adfolks
SEO Landscape / Road Map / Market Situation
What they were building: Helping Microsoft increase Azure business.
What they were lacking: Needed to build out a content silo and strategy to position themselves as an authority in their region when it comes to growth ops for azure.
The SEO Landscape analysis and proposal: Growing Through Content
The Findings: AdFolks Pitch
The resulting competitor analysis framework: Content Strategy In Detail

Few notes on the sheet:

The analysis section covers the GMB Audit and On-site SE
The execution section covers the Silo, content execution, and anchor text

Silo – The structure of the content types.
Content Execution – A simple content production system (CPS). This version of the CPS is an early version of our current process that we use over at my agency.
Anchor text – a simple matrix table that helps you figure out the anchor text placement/ratio throughout the content.
Client: Fint Ventures
Market Situation
What they were building: The Biggest Fintech Fund in the Middle East.
What they were lacking: Current market situation to show partners of the lucrativeness of the fintech industry in the middle east.
The resulting analysis: Fint Ventures Pitch
Client: PipTech
Full competitor analysis
What they were building: A pay-per-view solution for outdoor advertising.
What they were lacking: They didn't know they were building it until I helped them realize the potential this market offered for a solution like this.
The resulting analysis: PipTech Pitch
Client: Happy Porch
SEO Landscape, Current Market Analysis
What they were building: Purpose driven solutions for businesses that are making an impact in the world.
What they lacked: How similar companies reach out to potential consumers
The tricky part: Very difficult niche to work with. Finding purpose driven companies is like looking for a needle in a haystack.
The resulting analysis: Happy Porch Pitch Deck
What Do You Really Get By Applying This Competitor Analysis Framework? 5 Reasons.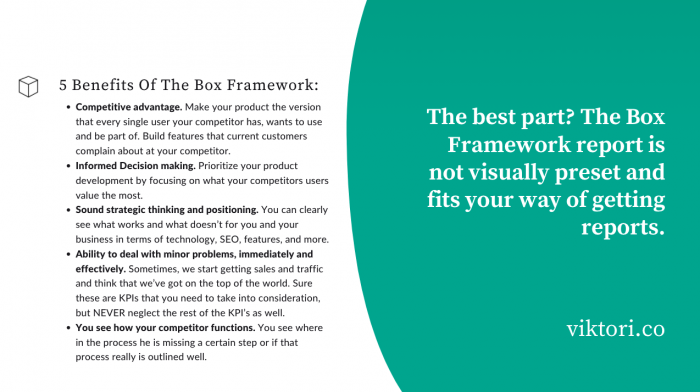 Competitive advantage. Make your product the version that every single user your competitor has, wants to use, and be part of. Build features that current customers complain about at your competitor.
Informed decision-making. Prioritize your product development by focusing on what your competitor's users value the most.
Sound strategic thinking and positioning. You can clearly see what works and what doesn't for you and your business in terms of technology, SEO, features, and more.
Ability to deal with minor problems, immediately and effectively. Sometimes, we start getting sales and traffic and think that we are on top of the world. Sure, these are KPIs that you need to take into consideration, but NEVER neglect the rest of the KPI's as well.

Sometimes, the problems we encounter, we tend to justify and push them to the side. That's one of the biggest mistakes we can make. The biggest issue with our demise and hubris is that we are so enthralled by our success and who we are and what we have, and how everything works, that we stop paying attention to the small problems that occur daily.
These are red flags that require your utmost attention. This is where this framework works and helps you figure out where the problem originates from, how competitors deal with it, and how you can deal with it.

You see how your competitor functions. You see where in the process he is missing a certain step or if that process really is outlined well.
Why This Competitor Analysis Framework?
A solid foundation is crucial to a business's success. That foundation requires good research and competitor analysis. Users want it cheap, easily accessible, easy to use, and they will get it from the competitor that positions that in front of them. This framework will put you in that position.
So that you don't reinvent the wheel. Copy what works, make it better. This approach will help you do exactly that, take something that works, and make it better.
That is if you're looking to build something new. If you're looking to fix a problem within your already existing processes and business, you can still use this approach.
If you can't do it yourself we are happy to help you.
What we do is deconstruct the architecture of the site/tool and lay it in front of you like pieces of legos, neatly packed in a presentation.
This way, you as the owner can see:
What is missing or needs to be optimized on a grand scale.
How you can take his structure and make it better.
What you will see, in a simple presentation:
Your competitor sales funnel functions as a process
Roadmap
Tech stack
SEO tree – look at the backlink structure
Ux UI of specific processes
Market situation
Let me know.
Or book a 30 min free call here.
What Separates The Box Framework From The Rest?
Look through the case studies again. Did you see a fixed visual representation of the box framework?
We all have our own way of interpreting information and data and sometimes, frameworks like the SWOT or Porter's 5 forces might seem too strict for what we want to achieve. For example, In SWOT, you have to categorize the data in one of the four quadrants. Which is great but, sometimes it's not.
Our framework is flexible and can take up ANY visual form.
You just need the data from the 6 aspects mentioned previously.
This is why our approach works with any niche and why clients like it. The report is shaped into whatever the client is used to looking at.
Alternative Competitor Analysis Frameworks
The framework I outlined previously might not be a good fit for you. The alternatives are:
Swot Analysis
This is a framework used to evaluate a company's competitive position and to develop strategic planning. SWOT analysis assesses internal and external factors, as well as current and future potential. (source)
Porter's Five Forces
Porter's Five Forces is a framework for analyzing a company's competitive environment. The number and power of a company's competitive rivals, potential new market entrants, suppliers, customers, and substitute products influence a company's profitability. (source)
Strategic Group Analysis
Strategic Group Analysis (SGA) aims to identify organizations with similar strategic characteristics, following similar strategies or competing on similar bases. Such groups can usually be identified using two or perhaps three sets of characteristics as the bases of competition. (source)
Growth Share Matrix
The growth share matrix is, put simply, a portfolio management framework that helps companies decide how to prioritize their different businesses. It is a table, split into four quadrants, each with its own unique symbol that represents a certain degree of profitability: question marks, stars, pets (often represented by a dog), and cash cows. By assigning each business to one of these four categories, executives could then decide where to focus their resources and capital to generate the most value, as well as where to cut their losses. (source)
Perceptual Mapping
Perceptual mapping or market mapping is a diagrammatic technique used by asset marketers that attempts to visually display the perceptions of customers or potential customers. The positioning of a brand is influenced by customer perceptions rather than by those of businesses. (source)
Wrap Up
The most important lesson of all is that your competitor should not be the number one priority here. Your customer is. Use this framework to understand where you fail, and the competitor's success and vice versa, combine the best of both worlds and grow your company.
Use this framework to:
Eliminate costs
Increase

the price of your product
your profit
the quality of your

Create new features
Remove unnecessary features
And of course, if you can't do it, I can. Let me know.
Cheers,
Viktor