With businesses competing to win over consumers' attention, marketing has become more ruthless than ever before. Therefore it's essential to have winning creative strategies to survive and thrive in such a competitive field.
Creative strategy is the vital link connecting business planning with the creative process, the answer to longstanding strategy, crafting concepts and narratives around relevant connections.
If you don't have a clear idea of what Creative Strategy is and why it's important and want to learn how to build an effective one, you've come to the right place. This article will discuss the definition, types, components, and overall strategy development.
So, let's begin!
Hey, before you read on and spend about 10+ hours making a strategy:
Consider doing what other like you did. Let me help you develop a killer strategy presentation and save 10+ hours of your time for a fraction of the cost. All it takes to start is a free 30 min call with me.
The least you will get is 10 actionable tips & strategies to create a strategy, worth $599, for free.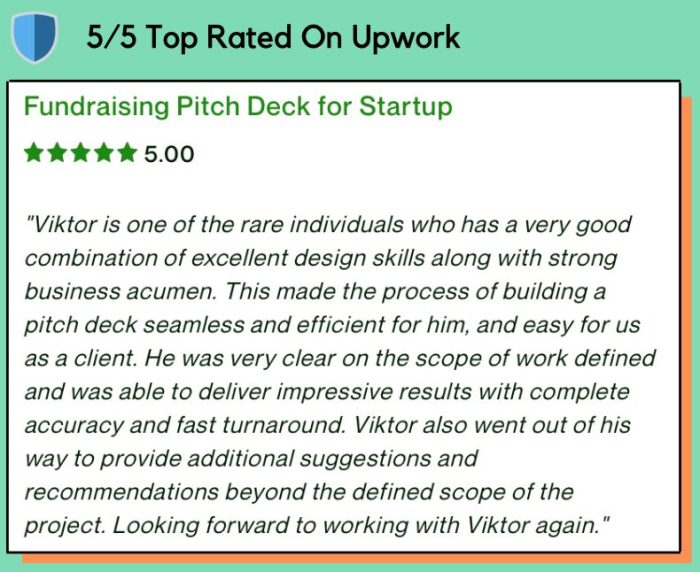 The Importance Of Creativity In Business
What do you think of when the thought of creativity comes to mind?
Many people believe that creativity only lies within an artist's paintbrush, writer's book or a designer's sketch. However, creativity can be found in far more places than on canvas, within the pages of a novel or across the keys of a piano. In reality, creativity is not confined to one sector, and that's what makes it so wonderful.
So, what exactly is creativity, you might wonder?
Simply put, creativity involves transforming your ideas, imagination, and thoughts into reality. When you're creative, you can see the hidden patterns, make connections between things that aren't customarily related, and develop new ideas. Creative ability depends on creative thinking, which has a touch of hard work but primarily creative problem-solving.
So, what happens when you start implementing creativity into your business? Creative thinking offers a different approach to problem-solving, and when that kind of approach is practiced, the positive result becomes inevitable.
As said, creativity plays one of the most critical roles for businesses. Here are some examples of the benefits of creative thinking and creative marketing within an organization.
Creativity helps in identifying new opportunities;
Creativity brings new solutions for difficult problems;
Creativity engages different learning styles;
Creativity allows for non-linear thinking;
Creativity can bring people together and can nurture skills in teamwork and cooperation;
Creativity increases motivation.
Creative‌ ‌Strategy:‌ ‌What‌ ‌Is‌ ‌It?‌ ‌
Today, consumers choose products and services for various purposes, beyond functionality or emotional reasons, which have evolved over the years due to multiple factors. This is where the job of a Creative Strategist comes into play, as they make the marketing message unique, impactful and inspiring.
What Is Creative Strategy?
The focus of the Creative Strategy is not just on one area of content marketing or branding. Instead, it looks at the bigger picture to consider for all parts of your business.
Your "brand" is what distinguishes you from your competition. It is the public face of your business, and it tells your customers what they can expect when buying your products and services.
On the other hand, your Creative Strategy presents the guiding principles in developing marketing materials, advertisements, online ads, etc., and incorporating your brand.
Therefore, the Creative Strategy provides detailed consumer research data and insights for a more effective brand strategy and marketing. It represents a system of devising a strategy using creative solutions.
Why Do You Need Creative Strategy?
The essence of creative strategy is to go into the unknown and return with something unique and exciting.
The best creative strategy provides insights and possibilities to the innovative team, and gives your creative team what they need to develop a high-performing marketing strategy that will help boost your brand. It increases the strength of the team.
How To Build An Effective Creative Strategy?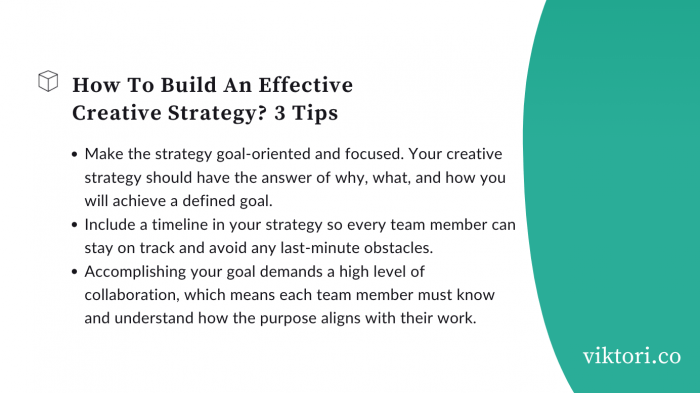 Your creative strategy is the guide you'll use to lead your brand to where it needs to be, drive sales, earn a profit, and keep your customers engaged. To develop a great creative strategy, it's best if you notice these advises:
Make the strategy goal-oriented and focused. Your creative strategy should have the answer of why, what, and how you will achieve a defined goal.
Include a timeline in your strategy so every team member can stay on track and avoid any last-minute obstacles.
Accomplishing your goal demands a high level of collaboration, which means each team member must know and understand how the purpose aligns with their work.
Every strategy should start with an exploration of your wanted results. Then, you can follow these six steps to stay on track, including developing KPIs and meeting deadlines for creating the content.
Define Your Goals
Knowing what you want to achieve is the key to success in every plan. You must know where you are headed to map your journey to that place. For instance, if your goal is to make more sales online, your plan should be different than the one you would plan for 15 percent more lead generation.
Before going any further with your plan, write down your goals and the ways you think are the most efficient to achieve them. Further map your following actions, including establishing budgetary limitations, allocating resources, and your plan's possible risks. Then, once your creative strategist and the marketing team have set the goals, sharing the information with everyone you think can benefit is crucial to the plan's success.
Build The Right Team
Having the right team by your side can significantly benefit your strategy, as a diverse team can offer a view on the project from different perspectives and provide balance and fresh ideas. A creative strategist is a key component of this team. Check this article out on reasons why you should hire a creative strategist.
Write An Engaging Statement
A creative statement emphasizes the purpose of your brand and campaign.
Therefore, an effective creative statement should be concise and highlight what the organization intends to do once its creative strategy takes place.
Develop A Weighting System For KPIs
Every campaign requires evaluation. It would be impossible to measure success or failure without having a reliable metric structure. As a result, choosing the perfect key performance indicators or KPIs is crucial in creating a creative strategy. KPIs are metrics that show progress towards a particular goal.
To determine KPIs, you have decided what you are trying to achieve. Then, many following planning procedures will become much more manageable.
With KPIs in your strategy, you now have the answers to questions such as whether you want to achieve a specific number of reactions by next quarter or you want to increase their percentage each week.
Determine Your Messaging And Marketing Channels
Whether it is a social media marketing campaign, an advertisement, an eBook, a billboard, or even a combination of these, choosing how your marketing content will be delivered is that step of your strategy that will influence your target audience.
Here, it's crucial to determine what the commercial will say and how you want to say it. Your message's length, tone, and style should be compatible with your goals and be engaging enough to influence a potential client's perspective.
Establish A Timeline
Establishing a realistic timeline is key to any strategy as it is crucial to preventing any last-minute mishaps or missing an important deadline.
It also lets everyone know what is going on and whether the team members are on the same page. When each member knows what is expected from them, the project moves forward seamlessly, and this way, it's easy to avoid any obstacles getting in the way.
Benefits Of Creative Strategy
There are many benefits of developing an effective creative strategy that your team will be thankful for later.
The creative strategy allows individuals to express their ideas and opinions regarding important matters. It also allows you to look at your strategy to see where the campaign is instead of guessing where it stands or what the next steps are.
A different benefit of a creative strategy is that it provides a level of organization to a complex advertising process by significantly simplifying it.
The creative strategy is what allows the creative team to develop brilliant new ideas and come up with different approaches to solve existing problems.
Few examples of creative strategies
Conclusion
Today you learned all about creative strategy, how to write a creative strategy, why it's essential for your company and its benefits.
As you can see in this article, creating and efficiently implementing this crucial aspect of your business is of the utmost importance.
Thank you for reading, I hope this article was informative and helpful to you, and don't forget to share your questions and comments with me!
And, of course, if you liked this one, you should check some of the other articles below: