Imagine the following: You just defined a set of 100 keywords and you're ready to put them through a content production system that will write content based on those keywords and will help you up-rank your site.
Then, you put your keywords in a sheet and forget them for two months. You go on with your life and other problems, fishing trips, whatever.
Two months passed and you open that sheet. What you see is your keywords broke their cocoon and became live, optimized posts on your website, and are helping you rank higher and rake money.
Unfortunately, the only thing in common with your current reality and the one above is the set of keywords you have (if you even have them).
Right now, you're stuck in your inbox, communicating with your writers, uploaders, and SEO editors, keeping track of your articles in your head.
You might have some notes spread around your desk or Macbook.
If that's the way you imagined spending your time, then feel free not to read on.
But if you want to avoid doing the email management part completely and really set and forget, the following content production process is what you need to implement.
It helped an affiliate marketer build 100 articles in 2 months and rank first for a specific focus keyword. Time he spent on this process? 20 minutes per day max.
This is not a quick fix kinda process. It takes time.
But it will also save you time – time that you can spend on finding new clients, refining your offer, building your team, go fishing.
The best part? It's incredibly easy to implement and use. What you'll need to do is provide the keywords (or just the industry you want to focus on) and from time to time, choose "yes" in the approval section for the given article draft.
Two months from now, you could have 100 articles live on your website, helping you rank your content, while at the same time, saving you hours of inboxing, for a fraction of the price.
It all sounds great. Now let's read how that content production process came into existence and how it looks like right now.
Quick Throwback
2 years ago, I approached an affiliate marketer through a job board. He was looking for someone that could help him uprank his affiliate sites, by creating optimized content, doing keyword research, updating old content, and a bunch of other activities.
It all began with a few articles. It evolved into a process that created 100 articles in two months and helped rank several pages to the top of the SERPS (1st position) for a specific keyword.
Here's the story of how that content production process came to be, how it looks like now, and what it will look like in the future.
About The Client
Jamie is one of the best affiliate marketers I know and heard of. What you read in Matt Diggity's posts or Authority Hacker posts, this guy lives by, day in day out.
A hell of an entrepreneur that knows which LFHs to target and get them ranked by doing activities that follow google's updates as religious zealots follow their daily rituals.
One day, on a sunny Sunday afternoon, he noticed an opportunity within the niches his sites were ranking.
There were about 100 different LHFs that were ripe for the taking.
They all had a KD of <20 and traffic 200+.
He was looking at a combined traffic of about 30k each month.
The Brief
The call was made. He asked me if I can help him create a content production process that would quickly create 100 articles – well researched, optimized, and according to the guidelines of the latest Google Core updates.
What We Needed To Develop:
A custom-built content production system that will accommodate our client's need to build out optimized content, fast and efficiently.
A Content Production System That Will Be:
Simple to use for:

Writers
Uploaders
Researchers
Outline Creators
Proofreaders
SEO analysts
Post Publication team

Provide birds eye perspective – allowing the client to quickly see how the article production process is progressing
Easy to fix – if problems arise
Easy to track and monitor results
Easy to update
The Content Production System Would:
Get a client brief easily (at the same time, allow the client to provide a brief without any hassle and effort)
Research keywords and the competitor landscape
Create a detailed outline and writers guidelines that will support the writing process
Help manage writers and the writing process
Help manage up-loaders and how they upload the articles to a CMS
Accommodate quality assurance at each of the previously mentioned steps
Allow for a quick and easy SEO checklist to be implemented to each article before it goes live
Set a post-publication process in place where:

The article gets into the process of getting backlinks by
Doing an email backlink campaign
Doing a LinkedIn backlink campaign

Have a subprocess in place that will find faults, errors, and redundancies that we can analyze and improve along the way (or for the next batch of articles)
Results:
100 Articles:
Researched
Outlined
Written
Optimized
Uploaded
Content covered three different niche industries, unrelated to each other.
Average article size: 2500 words
Both sites saw:
30% increase in organic traffic
20% increase in organic keywords 
This was just one month after the articles were published.
Two sites and their metrics:


External software used:
Surfer SEO
Ahrefs
Blogely
Canva
Elementor and Gutenberg
G Suite
Amazon Associates
What Was The Ecosystem This Content Production Process Was Built In?
Google Sheets.
The Content Production System Explained (Step by Step)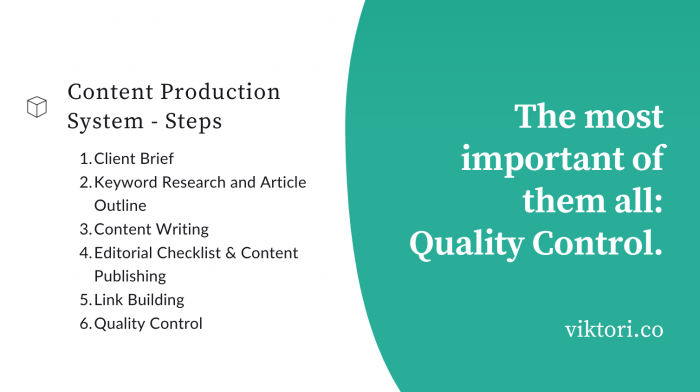 The following system was created to accommodate the needs of an affiliate marketer. It's a flexible system that can be adjusted to fit any type of industry.
The current version of the content production system is comprised of 5 key steps:
Step 1: Client Brief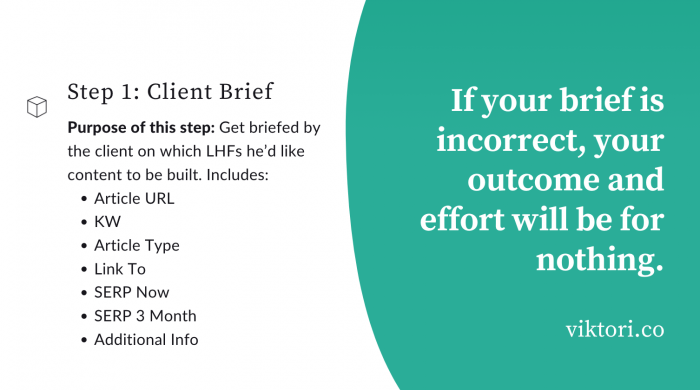 Purpose Of This Step
Get briefed by the client on which LHFs he'd like content to be built.
Substeps

Article URL: If the client has an existing article he'd like redoing, this is the place the articles' URL would go
KW: The focus keyword that the article would focus (or existing article focuses on)
Type: The type of article that we need to create

It could be a:

Multiple review
Single Review
How to
Roundup
Vs
Pillar Post

Knowing this, we can assign the appropriate outline

Link To: Which internal link we should be linking to
SERP NOW: Current Google Ranking
SERP 3 Month: The ranking in 3 months – to see the impact of the content production system
Additional info from the client: This is where our client would let us know if:

There's a specific competitor/doppelganger he wants us to outrank
Links to specific affiliate networks he is part of so that he gets bigger commissions
Explanation
It's the most important step in the content production process. If your brief is incorrect, your whole process will be for nothing. Every step along the way you'd be spending time and resources building something that the client doesn't want.
To make sure that you're on the right track: Double check the inputs with your client.
This specific set of steps was created for content marketing, but you can freely use and modify it for:
Graphic design
Software dev
E-commerce
Any other industry that requires a brief to get you started.
User Story
Briefing
Briefing Method a: Client fills in the google form and provides us with info on the 7 substeps. (sometimes 5 or 6 depending on whether the client wants a rewrite or a brand new article)

The fastest of all 3 briefing methods. Lack of human touch is evident.

Briefing Method b: Client slacks us with his request and we fill in the 7 substeps

Recommended because it shows genuine conversation between us and the client. It takes a bit more time but you'd spend more time talking with the client this way and he wouldn't feel as if he is talking to a software.

Briefing Method c: Client fills in the 7 substeps by himself.

Sometimes clients like to get their hands dirty and feel involved within the process.
We check the inputs in the sheet and whether we need more info or not. If all is good, we move on to the next step.
Step 2: Keyword Research And Article Outline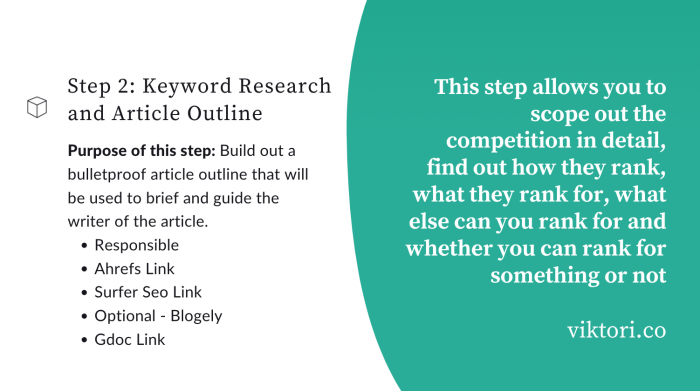 Purpose Of This Step
Build out a bulletproof article outline that will be used to brief and guide the writer of the article.
Substeps

Responsible: The person responsible for creating the outline will be added to this sheet
Ahrefs Link: Link to the focus KW result page from Ahrefs. We use this page to extract valuable info about the keyword and supporting keywords.
Surfer Seo Link: Link to the analysis report done by Surfer Seo. A must-have tool for any SEO professional that wants to rank content higher.
Optional: Blogely – Blogely is another tool that helps blitzkrieg your outline creation (and more – read how I pitched the owner and became friends with)
Gdoc Link: Link to the actual outline
Explanation
The most important step in the content production process (yes, this one too).
If your outline is wrong, your writer will create an article that will probably flunk and never rank for the focus keyword. This step allows you to scope out the competition in detail, find out how they rank, what they rank for, what else can you rank for, and whether you can rank for something or not. Everything combined, you'd get an outline that would (ideally) produce the best type of content available on the market. Content that:
Users search for and want to read
Google up-ranks because it's google friendly
Competitors want to copy because it's amazing
User Story
After we define and approve the brief, we assign Johnny as the person responsible for creating the outline. Johnny will go into Ahrefs, plug in the focus keyword in the keyword explorer tab, and look in awe of the plethora of data in front of him.
What he will do here is figure out whether the focus keyword has a better version that we can use as a keyword or if there are keywords that we can use as support.
He takes a sip of coffee.
Then, he opens up Surfer Seo, plugs in the same keyword into the search bar (depending on the platform he chooses either mobile or desktop), and waits for the report to appear.
He knows that this is the most important step in the process and waits like a puppy.
After the report is done, he takes out a few key elements and puts them in the outline:
Word count
Supporting keywords
Questions
Figures out a headline
And some additional things he will need.
He then takes a template outline Google doc for a multiple review article, copies it, and puts it in the client folder. He then populates the article with the Surfer SEO info.
Finally, the outline doc is added to the sheet, column M (sharing is on with everyone in the organization), and tags the client, letting him know that the outline is ready.
If the client approves the outline he will mark column P with "yes".
Then we move on to the next step.
Step 3: Content Writing
Purpose Of This Step
Control the process of content writing and make sure the content written fits the client criteria.
Substeps

Writer: The writer responsible for creating the content
First draft deadline: Self-explanatory
Content Dump: This is where we put all the content ideas we find throughout the competitors' articles so that we can use them for our article.
Article link: Google doc link of the written article.
Intro: This is a checkpoint – it helps us figure out if an intro has been written according to the guidelines or not.
Tone: This is a checkpoint – it helps us figure out if the tone of the article is in line with the exciting articles or the clients' character.
Formatting: This is a checkpoint – it helps us figure out if the article is formatted properly – headings, bullet points, paragraph density…
KW density: This is a checkpoint – it helps us figure out the keyword density and whether we should adjust it or not.
Citations: This is a checkpoint – every writer must submit citations for their work to back up statistics and any claims they write in the article.
Explanation
The most important step in the content production process. This step allows us to get from a blank page to a fully written and optimized article.
It's important to note that one of the most critical factors influencing the quality of the final product here is the writer himself. You need to have very strict hiring procedures in order to pick the right writer for a specific industry.
Second thing to note, is that you must have a roster of writers here that will be on standby for article writing.
Third thing, editor – without one you'll be sending an article to your client that is formatted wrongly, optimized terribly, and written poorly.
User Story
After we got the outline approved, we now need to assign the article to one of our writers. The industry we are writing for is content production so Jane will be the perfect fit since:
Content writer for 6 years
Has been writing about processes and content writing
Her price is ok and acceptable
Understands how to get in the shoes of our client and assume his voice and tone
We assign her name in the R column and let her know that we need the article done in 2 days. Also, we mark the due date in column S.
The content dump part is done by Jane. She scours the competition and finds out that the highly ranked competitors all have few things in common:
Comparison tables
Custom made featured images and internal images spread out throughout the article
So, she includes this information in the same doc she is writing the article.
2 days later, she adds the article link into column U and lets us know.
Now, we go through the 4 checkpoints.
Intro – Her intro does comply with one of the four types of introductions: PAS – Problem, Agitate, Solution. It's short enough and will trigger the reader's curiosity to continue on.
Tone – Not great not terrible – joking aside, Jane has been able to really nail this one. The client is one who has a very specific voice:
Boston raised Italian
Owner of few companies
Loud
The formatting was good. It's important to follow a systematic approach when creating the headings, and Jane did that. H1 goes to the main headline whereas everything else within the article is H2/3/4/5.
KW density is also good. Our target keyword appears 1-2 times per 100 words.
Citations: she managed to find some good publications and journals from prominent educational institutions. Hint: You can always find these cited in every Wikipedia article at the bottom.
On to the next step.
Step 4: Editorial Checklist & Content Publishing
Purpose Of This Step
To upload the written article to the CMS, add important features, and do a final check on the uploaded text.
Substeps
Responsible: Uploader responsible for uploading the article
Content Uploaded: Whether the uploader has uploaded the raw content
Images with alt text added: Self-explanatory
Affiliates linked: if the site earns commission from affiliate marketing, we need to ad proper links to affiliate sites within the article, in specific places (like images, buy buttons, anchor texts)
Comparison table added: A comparison table is a must, regardless of what type of site you have and the topic you're talking about in the article
Meta box filled in: Self-explanatory
Snippet: Have we optimized the article for a specific snippet?
Buy buttons added: Self-explanatory
Featured image done? We normally use Canva and put the headline + a stat to show up in search results – this way we increase the chances of someone clicking through by giving him a snip of what he would expect
Uploaded Post SEO checked: This is where the editor comes in and checks for grammatical errors, structure, proper linking, meta tags, and more
Explanation
The most important step in the content production process. It's the calm before the storm. If anything gets messed up here, the final product will look bad when viewed by the audience and won't make money. This is why it's important to have a really good:
Editor who will check the article throughout
Uploader to make sure the uploaded text has little to no difference from the google doc and thus make things easier for the editor
User Story
After we get the written article, we now move to assign it to our uploader – in our case Gigi. When choosing someone to upload posts you need to make sure that:
They're systematical
Attention to detail is highest priority
Know english and know the upload process
Will communicate if problems arise
Gigi fits that description. What he does is he copies the content from the google doc and pastes it into the draft article on WordPress. If we work with Elementor, then the process here would be more complex than just copy-paste. Gigi marks the AF column with "yes".
Then, he uses the pictures our client has taken by himself and uploads them one by one into the appropriate places within the article.
Sometimes we are given the freedom to choose where to upload the photos – so we make sure to avoid the wall of text
Sometimes we don't have that freedom
If the client has no photos taken, we go to deposit photos and choose royalty-free photos to upload. Gigi changes the name of the photos and includes the focus keyword. He also adds the Alt text. He then marks column AG.
Next up, he finds the links to the affiliate networks/products and hyperlinks to the anchor text the client has provided. Marks as "yes" in the sheet.
Then he uses a plugin and adds a simple table to compare the top 4 softwares for content production.
Fills in the meta box with the heading and the meta description.
Choose the right type of snippet from our plugin.
Buy buttons are added underneath every product and linked to the affiliate product site.
Featured image done and uploaded.
Now for the final check by our editor. Usually our editor is the least busy person and today is an example of that. He quickly goes through the text and decides that it's ok to be published.
Now we move on to the final step.
Step 5: Link Building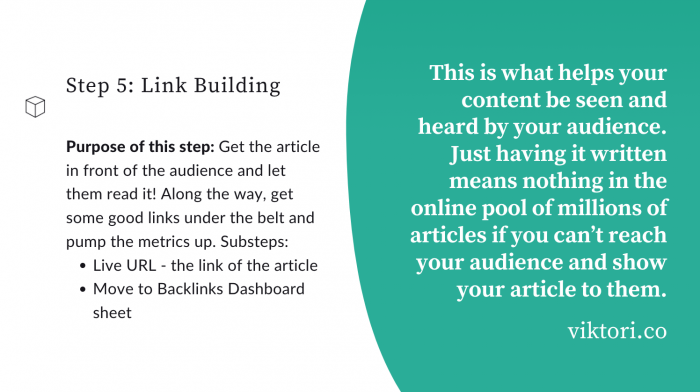 Purpose Of This Step
Get the article in front of the audience and let them read it! Along the way, get some good links under the belt and pump the metrics up.
Substeps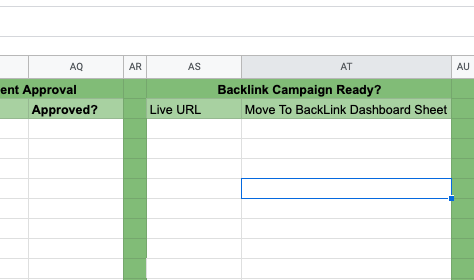 Live URL – the link of the article
Move to Backlinks Dashboard sheet
Explanation
The most important step in the content production process. This is what helps your content be seen and heard by your audience. Just having it written means nothing in the online pool of millions of articles if you can't reach your audience and show your article to them. We use our own system where we combine both email and LinkedIn to reach out to sites and get backlinks to your articles.
User Story
This step has its own resource which is currently being developed and will be linked here soon.
Step 6: Perpetuum QA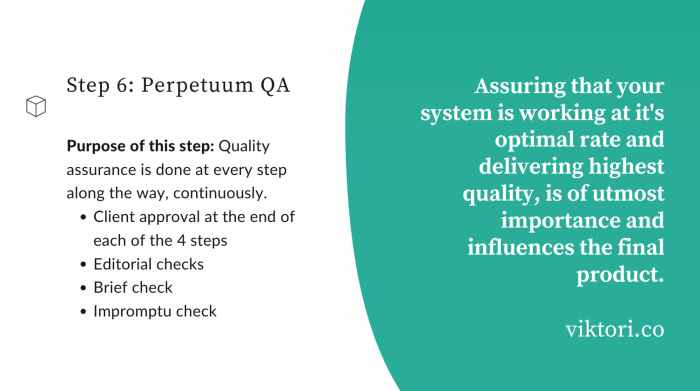 Quality assurance. THE MOST IMPORTANT STEP OF THE CONTENT PRODUCTION PROCESS. Has to be done at every step along the way, continuously (therefore Perpetuum).
To make sure that our product is of the highest quality (for the money) we implemented few QA checks:
Client approval at the end of each of the 4 steps. This is where the client checks if the deliverable is according to the requirements.
Editorial checks – at both content writing and upload to make sure the article is consistent with the writing and uploading guidelines.
Brief check – double-checking the brief by a second person in the team to make sure it makes sense.
Impromptu check – any team member, at any time can go in and check any part of the process. Since they'd be exempt from the fog of war effect (since they're not working on the given project) they can objectively see if something is off or not).
Video Guide And Copy Of The Sheet
If you want a copy of the sheet, just let me know in the comments or message me through LinkedIn.
If you need a video guide – I'll be happy to send you one or do a quick live demo. Let me know.
What We Are Planning On Doing:
We're currently testing out a no-code version of the CPS with Coda, Zapier, Elementor and Envoice.
What we're aiming to achieve is a no-code platform where clients can easily order content, have access to its production, tweak it if needed, and get it uploaded to their website.
The goal is to automate most of the tasks and dependencies such as notifying responsible people of assignments being given to them or assignments being done by them.
Essentially, taking out the production manager, who assigns people to each step.
FAQ
Who Can Use This System?
Anybody with basic knowledge of Google sheets, content marketing and project management.
If you're able to follow a step by step process then this system is for you.
Who Is This System For?
Affiliate Marketers
If you just flipped a domain and want to build out a content silo fast, this system is for you. It will help you:
Create content that focuses on LHF type of keywords
Manage the upload process easily and make sure proper SEO is done prior to publishing
Small Agency Owners
Whether you're in the design, AI, crypto, consulting, or any difficult niche, this is the system for you. The system will help you build out the initial content moat that will help you rank higher, funnel your readers easily and make them reach the check out fast.
Startups
If you have a very technical product that requires in-depth FAQs, this system will help you create that. It's designed to accommodate building a detailed structured knowledge base that's easy to understand and follow by even the least technical users.
Learning Curve
It's google sheets. C'mon.
Alternatives.
Need A Similar System Built Within Your Project Management Tool?
If you're currently working with Asana, Trello, Coda, Notion, or any other similar PM tool, then our system can be replicated easily within any of those PM tools.
It's a flexible system that can be "drag and dropped" into any softwerized PM tool.
If you want to do that, let me know.
Closing Words
The most important lesson here: Listen to your current clients, work closely with them, and sooner or later you'll create something that you can easily sell to other clients.
If you're a startup, having even one client is great because you can not only see and feel the pain points and build a solution to solve those pain points, but you can get that solution financed while you build it 😉
Second most important lesson: You need a sheet and a few good AppSumo deals to create an easily scalable process.