So, you're diving into the world of data analytics and need a pitch deck outline? You're in the right place. I've got a no-nonsense outline to help you get started.
No fluff, just the essentials. And hey, maybe we'll sprinkle in a light joke or two to keep things interesting.

Sup. I'm Viktor, a pitch deck expert, creative strategist, and burger lover. I've been a pitch deck expert for the past 13 years and helped clients raise millions, and win pitches, with my unique approach to creating pitch decks.
Let's jump in!
Hold on. Before you go and spend 20 hours building a deck…
Consider doing what 100s of others like you did. Let me help you develop a killer pitch deck and save 20+ hours of your time for a fraction of the cost. All it takes to start is a free 30 min call with me.
The least you will get is 10 actionable tips & strategies to own that next presentation, worth $599, for free.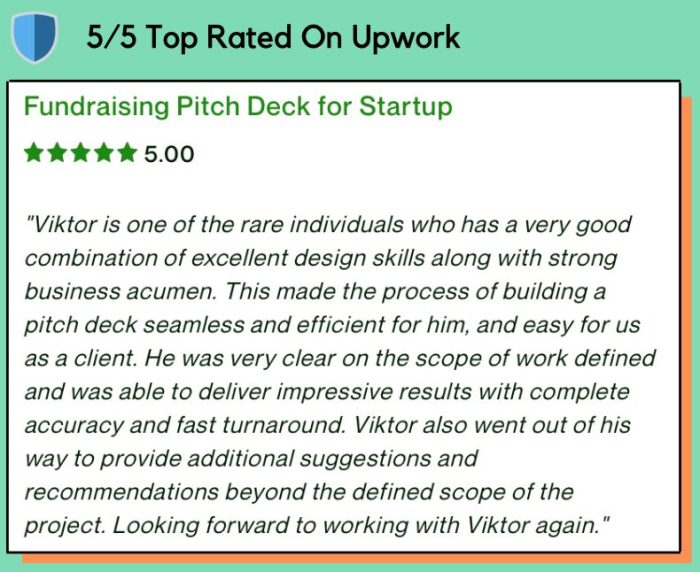 Data Analytics Pitch Deck Outline
Slide 1: Cover Slide
Title: DataSight Analytics Subtitle: Revolutionizing Data Interpretation
Image: A sleek logo of DataSight Analytics on the top right corner.
Description: A brief tagline or slogan, e.g., "Turning Raw Data into Insightful Actions."
Date: [Presentation Date]
Slide 2: Introduction
Title: About DataSight
Image: A collage or montage representing the company's culture, team, and ethos.
Brief Overview: "At DataSight, we believe in the power of data to transform businesses. Our cutting-edge analytics platform empowers companies to harness their data, derive actionable insights, and drive growth."
Team Introduction: "Founded by a group of data enthusiasts, our team comprises seasoned data scientists, industry experts, and tech innovators committed to redefining the way businesses interact with data."
Slide 3: Problem Statement
Title: The Data Dilemma
Image: A visual representation of data overload, perhaps a person surrounded by streams of numbers or overflowing charts.
Description of the Problem: "In today's digital age, businesses are inundated with data. From customer interactions to sales metrics, the influx is relentless. But how many truly harness this data's potential? The challenge isn't the lack of data but the ability to interpret and act on it."
Supporting Statistics:

"85% of businesses feel overwhelmed by their data." (Source: Data Industry Survey, 2023)
"Only 23% of companies believe they derive actionable insights from their data." (Source: TechInsight Report, 2023)
Slide 4: Solution
Title: DataSight's Answer to the Dilemma
Image: A visual contrasting the chaos of raw data on one side and the structured, insightful dashboard or representation on the other.
Product Introduction: "DataSight's analytics platform is designed to bridge this gap. Our AI-driven system sifts through the noise, identifying patterns, trends, and actionable insights."
Benefits Highlight:

"Real-time Data Interpretation"
"User-friendly Dashboards"
"Predictive Analytics for Proactive Decision Making"
"Seamless Integration with Existing Systems"
Slide 5: Product Demo
Title: DataSight in Action
Image/Video: A short video clip or animated GIF showcasing the platform's user interface, with data being processed and visualized in real-time.
Key Features Highlight:

"Drag-and-Drop Data Integration"
"Customizable Dashboards"
"Real-time Alert System"
"Collaborative Workspace for Teams"

Description: "Experience the seamless transition from raw data to insightful visualizations. Our platform is designed for ease of use, ensuring that even those without a technical background can harness its power."
Slide 6: Market Opportunity
Title: The Untapped Potential
Image: A pie chart or bar graph illustrating the size and growth of the target market.
Market Size: "The global data analytics market is projected to reach $500 billion by 2025."
Growth Potential: "With an annual growth rate of 12%, the demand for intuitive data analytics platforms is on the rise."
Trends:

"Shift towards predictive analytics"
"Increasing demand for real-time data processing"
"Integration of AI and machine learning in analytics"
Slide 7: Business Model
Title: How DataSight Thrives
Image: A flowchart or infographic detailing the revenue streams and business operations.
Revenue Streams:

"Subscription-based model for businesses"
"Tiered pricing based on features and data volume"
"Consultation and customization services"

Pricing Strategy: "Our pricing is competitive, ensuring SMEs can access our platform, while also catering to the robust needs of larger enterprises."
Slide 8: Competitive Landscape
Title: Standing Out in the Crowd
Image: A table or matrix comparing DataSight's features with key competitors.
Key Competitors: List of 3-4 main competitors in the market.
Unique Selling Proposition (USP): "While many platforms offer data analytics, DataSight's AI-driven insights, real-time processing, and user-centric design set us apart."
Differentiation Points:

"Unparalleled data processing speed"
"Intuitive user interface"
"Scalability for businesses of all sizes"
"Dedicated customer support and training"
Slide 9: Go-to-Market Strategy
Title: Paving Our Way to Success
Image: A roadmap or flowchart detailing the phased approach to market entry and expansion.
Marketing Strategy:

"Targeted online advertising campaigns"
"Webinars and online workshops"
"Collaborations with industry influencers"

Sales Strategy:

"Direct sales team targeting enterprise clients"
"Partnerships with tech consultancies and integrators"
"Referral programs and incentives for existing clients"

Partnerships: "Strategic alliances with cloud providers and data storage solutions to enhance our offering and reach."
Slide 10: Traction
Title: Our Journey So Far
Image: A growth curve or bar graph showcasing user acquisition, revenue growth, or other key metrics.
Milestones Achieved:

"Secured 50+ enterprise clients in the first year"
"Processed over 10 million data points"
"Achieved a 98% customer satisfaction rate"

User Testimonials:

"DataSight transformed our data processing workflow!" – CEO of TechFirm Inc.
"Intuitive, powerful, and indispensable for our team." – Data Analyst at InnovateTech
Slide 11: Financial Projections
Title: The Road Ahead
Image: A series of line graphs or bar charts showcasing projected revenue, profit margins, and user growth over the next 3-5 years.
Revenue Projections:

"Year 1: $5M"
"Year 2: $15M"
"Year 3: $30M"

Key Assumptions:

"20% YoY growth in the data analytics market"
"Expansion into two new geographic markets by Year 3"
"Introduction of two new product features annually"
Slide 12: Ask
Title: Join Us on Our Journey
Image: A compelling visual, perhaps hands shaking or a team photo, symbolizing partnership and collaboration.
Funding Sought: "$2M in exchange for 10% equity"
Use of Funds:

"50% for product development and tech enhancements"
"30% for marketing and sales expansion"
"20% for operational costs and team expansion"

Equity & Terms: "We're offering a seat on our board and quarterly performance reviews to ensure alignment and transparency."
Slide 13: Team
Title: The Minds Behind DataSight
Images: Portraits of key team members.
Founder & CEO: "Jane Doe – With a PhD in Data Science from MIT and 10 years in the tech industry, Jane spearheads our vision and strategy."
CTO: "John Smith – A seasoned tech veteran with 15 years of experience, John leads our product development and tech innovations."
CMO: "Lucy Brown – With a knack for market trends and a background in SaaS marketing, Lucy drives our brand presence and customer acquisition."
CFO: "Alan White – Alan, a Harvard graduate, oversees our financial strategies, ensuring sustainable growth and profitability."
Slide 14: Testimonials & Partnerships
Title: What Others Are Saying
Images: Logos of partner companies and portraits of testimonial providers.
Testimonials:

"DataSight's platform revolutionized our data strategy!" – CEO, BigTech Co.
"Their team's support and the platform's capabilities are unmatched." – Director of Analytics, InnovCorp

Partnerships:

"Proud partners with CloudTech – integrating advanced storage solutions."
"Collaboration with AnalyzeNow – enhancing data processing capabilities."
Slide 15: Challenges & Risks
Title: Navigating the Roadblocks
Image: A visual representation of hurdles or challenges, perhaps a maze or obstacle course.
Potential Challenges:

"Rapid technological advancements in the data analytics sector."
"Increasing competition from emerging startups."
"Regulatory changes concerning data privacy."

Mitigation Strategies:

"Continuous R&D to stay ahead of tech trends."
"Building strong brand loyalty through customer engagement."
"Proactive compliance teams ensuring data handling meets global standards."
Slide 16: Conclusion & Thank You
Title: Embarking on a Data-Driven Future
Image: A compelling visual, perhaps a rising sun or a team celebrating, symbolizing hope, and success.
Recap: "At DataSight, we're not just offering a product; we're pioneering a transformation in how businesses perceive and utilize data. With our dedicated team, innovative solutions, and a clear vision, we're poised to redefine the data analytics landscape."
Thank You Note: "Thank you for considering our vision and being a potential part of this transformative journey. We're excited about the possibilities ahead and hope to have you onboard."
Slide 17: Appendix (Optional)
Title: Additional Insights & Data
Images: Thumbnails or icons representing each additional topic or data set.
Additional Data Points:

User Growth Metrics: A detailed breakdown of monthly user acquisition, retention rates, and churn.
Technical Roadmap: A more in-depth look at the planned technological advancements and feature rollouts for the next 12-24 months.
Market Research: Comprehensive data on market trends, competitor analysis, and emerging opportunities in the data analytics sector.
Financial Breakdown: A granular look at the company's financials, including operational costs, revenue streams, and profit margins.

Backup Slides for Potential Questions:

Data Security Protocols: A slide detailing the measures in place to ensure data integrity and security.
Customer Support & Training: Information on how the company supports its users and any training or resources provided.
Pricing Tiers: A more detailed breakdown of the platform's pricing structure, including any discounts or enterprise packages.

Note: "These slides are for reference and can be referred to during the Q&A session or if specific topics arise during the presentation."
Wrap Up
And there you have it! That's your roadmap for a killer data analytics pitch deck.
Remember, it's all about telling your story and letting the data do the talking. A dash of humor never hurts, but keep it real and genuine. Now, go out there and knock their socks off with your pitch!
Best of luck!
But if you don't got it:
Consider doing what 100s of others like you did. Let me help you develop a killer pitch deck and save 10 hours of your time for a fraction of the cost. All it takes to start is a free 30 min call with me.
The least you will get is 10 actionable tips & strategies to own that next presentation, worth $599, for free.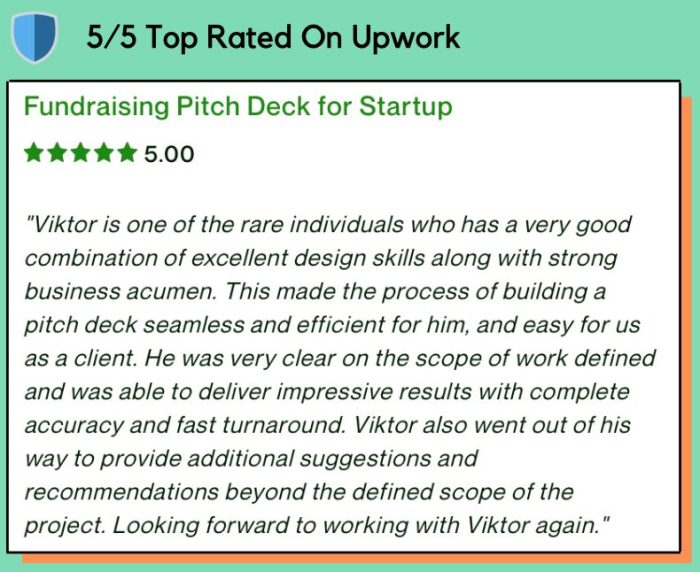 If you want to really dive into the world of pitch decks, check out our complete collection of pitch deck guides, pitch deck outlines and pitch deck examples.
Want more guidance? Go back to my data analytics pitch deck guide or get inspired by some in-depth data analytics pitch examples.