Photography, in its purest form, is the art of capturing light, moments, and perspectives.
Yet, as we dive into the digital age, this art form is being reimagined, expanded, and diversified. Beyond the quintessential studio portraits or event snapshots, photographers now have an ever-widening horizon of opportunities.
From invoking the insatiable thirst of wanderlust with ethereal landscape shots to preserving fragile memories of yesteryears through restoration, the canvas of photography business ideas is as broad as the imagination itself.
I'm Viktor, a pitch deck expert, & a creative strategist. Over the last thirteen years, I've worked with various startups and helped them secure $100+ million in funding and new business thanks to my approach and I'm sharing it here in this guide through a few photography startup pitch deck examples.
Let's begin
Hold on. Before you go and spend 20 hours building a deck…
Consider doing what 100s of others like you did. Let me help you develop a killer pitch deck and save 20+ hours of your time for a fraction of the cost. All it takes to start is a free 30 min call with me.
The least you will get is 10 actionable tips & strategies to own that next presentation, worth $599, for free.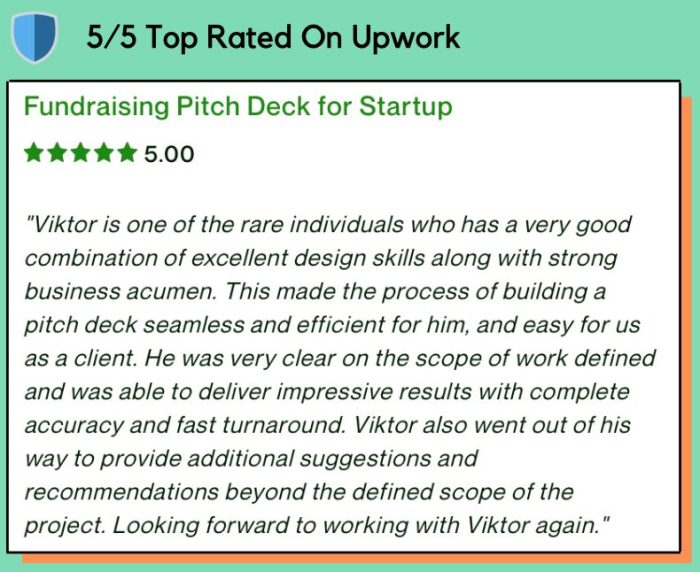 Wanderlust: Travel & Culture Photography
Concept:
"Wanderlust" seeks to showcase the hidden gems of the world, both in terms of natural beauty and cultural richness. By focusing on lesser-known destinations and local nuances, "Wanderlust" aims to offer a unique and authentic perspective that contrasts the saturated, often repetitive imagery of popular tourist spots.
Slide Breakdown:
Opening Slide:

Image: A mesmerizing shot of a sunrise over an untouched village in the Himalayas.
Caption: "Explore the Uncharted with Wanderlust."

Introduction Slide:

Image: Collage of various landscapes and people from diverse cultures.
Text: "Bringing the untold stories of the world to the forefront."

Portfolio Highlights Slide:

Display 3-4 contrasting images:

A bustling market in Marrakech.
An indigenous tribe performing a ritual dance in the Amazon.
The serene landscapes of the Faroe Islands.
A lesser-known historical monument in Southeast Asia.

Services Offered Slide:

Text and Images:

Personal Travel Photography: Image of a solo traveler amidst ruins.
Magazine Features: Mock-up of a magazine cover with a Wanderlust shot.
Cultural Exhibitions: Image of an exhibition hall with photos displayed.
Customized Travel Photobooks: A luxurious photobook open to a panoramic shot.

Unique Selling Proposition (USP) Slide:

Image: A popular tourist spot contrasted with a unique Wanderlust shot of the same location.
Text: "Beyond the cliché, into the heart of the destination."

Testimonials Slide:

Layout: Quotes from renowned travel magazines, influential travel bloggers, and satisfied individual clients, accompanied by small thumbnail images from their respective shoots.

Pricing and Packages Slide:

Display tiered offerings:

Bronze: Single photoshoot at one location.
Silver: Day-long coverage at multiple locations.
Gold: Multi-day coverage, including candid shots, landscapes, and cultural interactions.

Vision Slide:

Image: A globe made up of various travel images.
Text: "Uniting the world one photograph at a time."
Business Model:
Photography Tours: Organized group travels to exotic destinations where participants are guided on how to capture the best shots.
Digital Gallery & Print Sales: A website showcasing all photographs, available for purchase in digital format or as prints, postcards, calendars, etc.
Collaboration with Travel Agencies: Offering package deals where clients traveling to certain destinations can have their journey professionally documented.
Workshops and Masterclasses: Teaching travelers and budding photographers the art of capturing a place's essence.
Marketing & Outreach:
Social Media Presence: Regularly update platforms like Instagram, Pinterest, and 500px with breathtaking shots to engage a global audience.
Collaborate with Influencers: Partner with travel influencers for wider outreach.
Participate in Travel Expos: A platform to network with industry stakeholders and attract potential clients.
Local Art Galleries: Hosting exhibitions that tell a story about a particular culture or destination, appealing to the local audience's curiosity.
This is a more detailed overview of the "Wanderlust: Travel & Culture Photography" idea. Depending on the target audience and specific business objectives, further customization and niche targeting might be needed.
Tiny Toes: Newborn & Baby Photography
Concept:
"Tiny Toes" is dedicated to capturing the magic of the earliest days and months of life. These moments, fleeting in nature, are beautifully preserved as memories through the art of photography. Specializing in newborn, infant, and toddler shoots, "Tiny Toes" emphasizes safety, comfort, and the creation of timeless moments.
Slide Breakdown:
Opening Slide:

Image: A monochrome close-up of a newborn's feet gently held by a parent.
Caption: "Precious moments. Timeless memories."

Introduction Slide:

Image: A soft-hued collage of babies in various poses – sleeping, smiling, cuddling.
Text: "The purest moments, captured with love and care."

Portfolio Slide:

Display a series of images:

Newborn wrapped delicately in a blanket.
Infant's first laugh.
Baby exploring the outdoors.
Toddler and parent interaction.

Services Offered Slide:

Text and Images:

Home Shoots: A relaxed baby in a home setting.
Hospital Sessions: New parents holding their baby for the first time.
Milestone Memories: Celebrating moments like first steps or first birthday.
Baby Shower Documentation: Expecting mother celebrating with loved ones.

Safety and Comfort Slide:

Image: Behind-the-scenes showing the sanitized setup and the photographer handling the baby with gloves.
Text: "Your baby's safety and comfort are our top priority."

Testimonials Slide:

Layout: Feedback from happy parents, accompanied by the shots of their babies.

Packages & Offerings Slide:

Display tiered offerings:

Classic: 1-hour session, 10 edited images.
Premium: 2-hour session, 20 edited images, props included.
Deluxe: Multiple sessions (newborn, 3-month, 6-month, 1-year), photobook included.

Vision Slide:

Image: A time-lapse transition of a baby growing through the months.
Text: "Chronicle growth, celebrate life."
Business Model:
Subscription Packages: Parents can subscribe to a yearly package which includes sessions at major milestones.
Gift Cards: Allow friends or family to gift a photography session to expecting or new parents.
Collaborations with Pediatricians & Maternity Hospitals: Referral programs where new parents can avail discounts.
Merchandise: Selling photo albums, baby milestone cards, and frames.
Marketing & Outreach:
Social Media Presence: Utilizing platforms like Instagram and Pinterest to showcase recent shoots, sharing baby milestones, and offering baby photography tips.
Engaging Blog: Share articles on baby growth, photography tips for parents, and behind-the-scenes of shoots.
Workshops: Organize workshops on DIY baby photography for parents.
Collaborate with Mom Bloggers & Influencers: Partner with popular mom bloggers or YouTube channels for wider visibility.
Participation in Baby Expos: Showcase portfolios, engage with potential clients, and offer exclusive discounts for attendees.
"Tiny Toes" is a heartfelt venture that not only requires technical skills but also a deep understanding of babies and their comfort. The emphasis is always on creating a relaxed environment, ensuring the baby's safety, and delivering memories that families will cherish forever.
Urban Lens: Street Photography Workshops
Concept:
"Urban Lens" offers interactive workshops aimed at budding photographers and enthusiasts who have a passion for capturing the pulse of city life. These sessions are designed to teach the techniques, ethics, and nuances of street photography, offering participants hands-on experience in real urban settings.
Slide Breakdown:
Opening Slide:

Image: A gripping candid shot of a street performer surrounded by an enthralled crowd.
Caption: "Every street has a story. Learn to tell it."

Introduction Slide:

Image: Montage of bustling cityscapes, alleys, and candid expressions.
Text: "Unmasking the city's soul, one click at a time."

Workshop Details Slide:

Display bullet points with images:

Curriculum: Covering basics to advanced techniques.
On-Field Training: Image of participants clicking in busy streets.
Review & Feedback: Instructors reviewing photographs with students.
Ethics & Approach: Symbolic image showing respect towards subjects.

Instructors' Profile Slide:

Collage of 3-4 instructors with a brief bio and one of their iconic shots.

Past Workshops Slide:

Display images taken by previous participants, workshop sessions in progress, and group photos.

Upcoming Workshops Slide:

Details of the next few workshops: Dates, locations, special themes, and guest instructors.

Testimonials Slide:

Layout: Feedback from past participants with a few of their best shots taken during the workshop.

Vision Slide:

Image: Split image of a bustling street and its black & white photograph.
Text: "Empowering storytellers to immortalize the transient."
Business Model:
Tiered Workshops: Basic, Intermediate, and Advanced workshops catering to different skill levels.
Online Modules: For those unable to attend in person, offering recorded sessions and webinars.
Photowalks: Organized city tours with a focus on photography.
Portfolio Reviews: Personalized feedback sessions for individual portfolios.
Exhibitions: Showcasing the best works of participants, giving them a platform and recognition.
Marketing & Outreach:
Social Media Presence: Regular updates on Instagram, Twitter, and Facebook about upcoming workshops, showcasing participant's works, and sharing street photography tips.
Engaging Blog & YouTube Channel: Articles on street photography techniques, gear reviews, interviews with famous street photographers, and video modules.
Collaborate with Photography Schools/Colleges: Offer special sessions or guest lectures.
Early Bird Discounts: For participants who sign up well in advance.
Referral Programs: Discounts for participants who bring in friends or acquaintances.
"Urban Lens" is more than just a series of workshops; it's a community-building initiative. Bringing together like-minded individuals, it fosters a space where stories, techniques, and experiences are shared, nurturing the growth of each photographer.
EcoCapture: Wildlife & Conservation Photography
Concept:
"EcoCapture" merges the world of photography with environmental conservation. The objective is not just to capture stunning images of wildlife, but also to raise awareness about their habitats, the challenges they face, and the broader issues of biodiversity. EcoCapture seeks to inspire action through visual storytelling.
Slide Breakdown:
Opening Slide:

Image: A captivating shot of a critically endangered animal, perhaps a tiger amidst the foliage.
Caption: "Nature's Majesty, Through the Lens of Responsibility."

Introduction Slide:

Image: Montage of diverse ecosystems and wildlife.
Text: "EcoCapture: Bridging Passion with Purpose."

Portfolio Highlights Slide:

Display contrasting images:

A vibrant coral reef teeming with life.
A migrating herd of elephants.
A bird with its catch in the golden hour.
An image depicting habitat destruction.

Services Offered Slide:

Text and Images:

Wildlife Expeditions: Image of a photographer capturing a lion pride.
Conservation Campaigns: Photographs showcasing the impacts of climate change on biodiversity.
Educational Workshops: Classroom setting with presentations on wildlife.
EcoCapture Magazine: Mock-up cover of a monthly publication filled with impactful photographs and articles.

Collaborations & Partnerships Slide:

Logos and Names: Renowned environmental NGOs, wildlife sanctuaries, and conservationists who have collaborated or endorsed EcoCapture.

Ethics and Responsibility Slide:

Image: Photographer maintaining a respectful distance from wildlife.
Text: "Our commitment: No harm, no disturbance. Just authentic storytelling."

Testimonials Slide:

Layout: Quotes from renowned environmentalists, wildlife photographers, and NGOs praising the work and ethics of EcoCapture.

Vision Slide:

Image: A heart-touching image of human and animal interaction.
Text: "For the Love of Earth and Every Life Upon It."
Business Model:
EcoTours: Guided photography tours to various natural habitats, ensuring minimal human impact.
Print & Digital Sales: Selling images for publications, calendars, postcards, or as art pieces, with a portion of proceeds going to conservation efforts.
Sponsored Campaigns: Partnering with NGOs and environmental agencies for specific campaigns, documenting and highlighting specific issues.
Workshops & Seminars: Educating enthusiasts on the ethics and techniques of wildlife photography.
Marketing & Outreach:
Social Media Presence: Sharing awe-inspiring shots on platforms like Instagram, Flickr, and 500px, backed with stories and facts to educate followers.
Exhibitions: Hosting photo exhibitions in urban centers, drawing attention to the beauty of nature and the threats it faces.
Collaborate with Environmental Influencers: Leverage their reach to amplify the message of conservation.
School & College Engagements: Sessions aimed at educating the younger generation, inspiring them to care for the planet.
EcoCapture stands out as it intertwines the art of photography with the urgent narrative of conservation. Each click not only captures the raw beauty of the wild but also carries with it a plea for respect, understanding, and action towards preserving our natural world.
NostalgiaStudio: Digitizing & Restoring Old Photos
Concept:
"NostalgiaStudio" understands the emotional value behind old photos and the stories they carry. With advanced techniques, we breathe new life into these fading memories, digitizing and restoring them to their former glory. Our service ensures the preservation of these cherished moments for future generations.
Slide Breakdown:
Opening Slide:

Image: Side-by-side contrast of a faded, torn photo next to its restored version.
Caption: "Relive. Restore. Remember."

Introduction Slide:

Image: Hands holding a vintage photograph.
Text: "Breathing new life into treasured memories."

Process Overview Slide:

A step-by-step visual breakdown:

Scanning: High-resolution scan of the original.
Restoration: Repairing cracks, tears, and fading.
Colorization: If requested, adding color to black & white images.
Digital Delivery & Printing: Providing the digital file and optional reprints.

Technology & Tools Slide:

Graphics showcasing high-end scanners, graphic tablets, and restoration software.
Text: "Combining state-of-the-art tech with a delicate touch."

Before & After Slide:

A series of faded or damaged photos alongside their restored counterparts, showcasing the transformative work.

Pricing & Packages Slide:

Details on different offerings:

Basic Restoration: For photos with minimal wear.
Advanced Restoration: For heavily damaged or faded photos.
Memory Package: Scanning and restoring a collection, with a digital photobook.

Testimonials Slide:

Layout: Feedback from individuals who've rediscovered family history and cherished memories through the restoration process.

Vision Slide:

Image: A restored family portrait spanning multiple generations.
Text: "Preserving legacies, one photo at a time."
Business Model:
Individual & Bulk Orders: Catering to single-photo restorations and large family albums.
Subscription Services: Monthly plans for continuous restoration, suitable for collectors or families with vast photo archives.
Gift Cards: Offering people the chance to gift restoration services for special occasions.
Workshops: Organizing sessions teaching basics of photo restoration for DIY enthusiasts.
Marketing & Outreach:
Social Media Presence: Before-and-after shots on platforms like Instagram, engaging stories about the history behind photos on Facebook.
Engaging Blog: Stories behind restored photos, tutorials on basic photo care, and insights into the restoration process.
Collaborate with Genealogy Platforms: Partner with platforms and services that help people trace their ancestry, offering restoration of historic family images.
Local Exhibitions: Showcasing restored images from the local community, emphasizing the importance of preserving history.
AerialArt: Drone Photography & Cinematography
Concept:
"AerialArt" provides a unique bird's-eye perspective of landscapes, events, and architecture through the lens of cutting-edge drone technology. We capture breathtaking visuals from the skies, providing clients with striking imagery that stands out in any portfolio or production.
Slide Breakdown:
Opening Slide:

Image: A stunning aerial shot of a coastline or mountain range during sunset.
Caption: "Elevate Your Perspective."

Introduction Slide:

Image: A drone silhouette against a cloudy sky.
Text: "AerialArt: The Sky is Not the Limit."

Portfolio Highlights Slide:

Montage of diverse aerial shots:

A bustling cityscape.
A serene lakeside wedding.
A mesmerizing spiral staircase of a historic building.
A vast, undulating desert.

Services Offered Slide:

Text and Images:

Landscape Cinematography: Sweeping vistas of natural beauty.
Event Coverage: Capturing gatherings from above, from weddings to festivals.
Real Estate Showcases: Premium shots of properties.
Custom Projects: Tailored flights for unique client needs.

Equipment & Technology Slide:

Showcase of top-tier drones and camera tech.
Text: "Harnessing Advanced Tech for Crystal Clear Captures."

Safety & Regulations Slide:

Image: A drone pilot checking his equipment, with safety markers in place.
Text: "Safety First: Committed to Responsible Flying."

Testimonials Slide:

Layout: Feedback from clients praising the unique angle and quality AerialArt brings to their projects.

Vision Slide:

Image: A drone flying above a dense forest, capturing its vast expanse.
Text: "Crafting Stories from the Skies."
Business Model:
Package Deals: Offering tiered packages based on flight time, editing, and end deliverables.
Training Workshops: Providing drone photography classes for enthusiasts.
Equipment Rental: Renting out high-quality drones and related equipment.
Post-Production Services: Offering editing and post-processing for optimal results.
Marketing & Outreach:
Social Media Presence: Sharing awe-inspiring aerial shots and behind-the-scenes footage on platforms like Instagram, Vimeo, and YouTube.
Collaboration with Tourism Boards: Producing promotional content to showcase travel destinations.
Engage with Real Estate Agencies: Offering premium services for property showcases.
Participation in Film & Photography Festivals: Networking with professionals and showcasing AerialArt's portfolio.
"AerialArt" brings an innovative angle to traditional photography and cinematography, pushing boundaries and offering clients an unparalleled perspective. Through their craft, they transform ordinary scenes into extraordinary visuals, ensuring every shot is a statement piece.
Photography Startup Pitch Deck Examples: Last Words
As our exploration into the myriad avenues of photography business ventures comes to a close, it's evident that the realm of photography extends far beyond the confines of the viewfinder.
It's an ever-evolving tapestry of creativity, innovation, and entrepreneurship. With each novel idea, photographers are not only pushing the boundaries of visual storytelling but also redefining how we perceive, interact with, and cherish the world around us.
From the nostalgia-laden corridors of history to the high-tech skies of drone cinematography, the opportunities are as limitless as our capacity to envision them.
As the shutter closes on this article, one can't help but feel exhilarated for the future frames yet to be captured, the untold stories awaiting their spotlight, and the persistent innovation that the world of photography promises. Here's to the snapshots of today and the groundbreaking ventures of tomorrow!
You got this.
But if you don't got it:
Consider doing what 100s of others like you did. Let me help you develop a killer pitch deck and save 10 hours of your time for a fraction of the cost. All it takes to start is a free 30 min call with me.
The least you will get is 10 actionable tips & strategies to own that next presentation, worth $599, for free.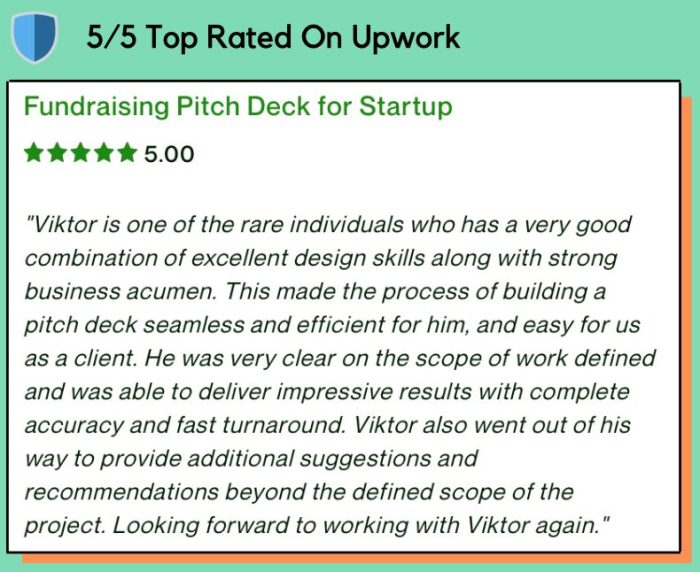 Looking for more guidance? Go back to the massive photography pitch deck guide or check out the fleshed out indepth photography pitch deck outline.