Creating a successful IT pitch deck is a critical step for businesses seeking investment.
It's more than just a presentation; it's a tool that communicates the value, potential, and credibility of your business to investors.
Hey I'm Viktor, a pitch deck expert, and creative strategist. Over the past 13 years, I've helped startups and individuals secure over $100 million in funding thanks to my approach and I'm sharing it parts of it in this IT pitch deck outline.
In this article, we will explore a structured outline for developing an effective IT pitch deck, breaking down each section and providing clear guidelines for content inclusion.
From defining the problem and presenting your solution to showcasing your financials and asking for investment, each slide plays a crucial role in narrating your business story.
Whether you're a startup founder or an established business leader, this guide aims to provide a clear and practical approach to building a pitch deck that resonates with investors.
Hold on. Before you go and spend 20 hours building a deck…
Consider doing what 100s of others like you did. Let me help you develop a killer pitch deck and save 20+ hours of your time for a fraction of the cost. All it takes to start is a free 30 min call with me.
The least you will get is 10 actionable tips & strategies to own that next presentation, worth $599, for free.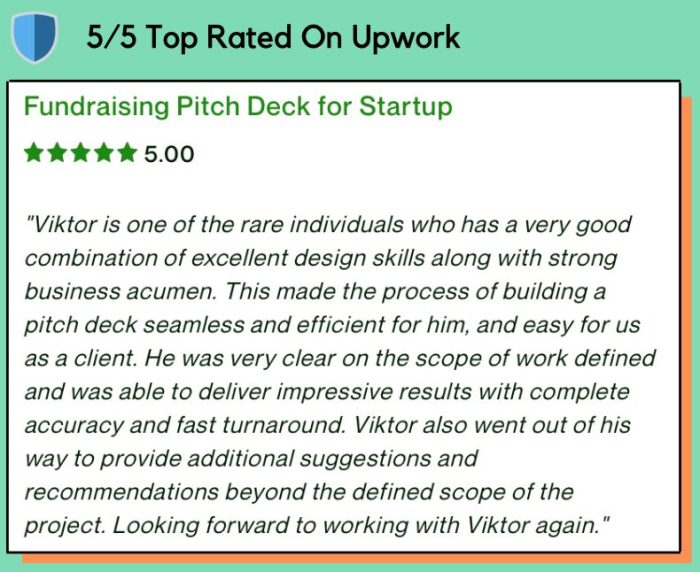 IT Pitch Deck Outline:
1. Title Slide
Background: Use a high-quality image that resonates with your brand or the IT industry. Ensure it's not too cluttered so that the text stands out.
Company Logo: Place it prominently at the top or center of the slide.
Tagline or Elevator Pitch: "Revolutionizing IT Solutions for Tomorrow's Challenges."
Date: "September 21, 2023"
Presenter's Name: "Jane Doe, Co-founder & CEO"
2. Introduction
Background: A subtle gradient or a muted image of a tech workspace or team collaboration.
Brief Overview: "At [Company Name], we're not just about technology. We're about pioneering solutions that address real-world challenges. Our mission is to bridge the gap between complex IT problems and innovative, user-friendly solutions."
Highlight the Problem: Use a compelling statistic or fact. For instance, "Did you know? 70% of businesses struggle with integrating modern IT solutions into their existing infrastructure."
3. Problem Statement
Background: Use a visual that depicts struggle or confusion, perhaps a tangled wire or a maze.
Detailed Description: "In today's rapidly evolving digital landscape, businesses are overwhelmed. They face challenges like:

Integrating legacy systems with new technologies.
Managing data security in an era of breaches.
Adapting to changing IT regulations and standards."

Supporting Data: Incorporate a few key statistics or graphs. For instance:

"85% of businesses feel their current IT solutions are outdated."
"60% report they've faced a security threat in the past year due to IT vulnerabilities."
4. Solution
Background: A contrasting positive image, perhaps a light bulb or a clear path through a forest.
Introduction to Your Product/Service: "Introducing [Product Name], our state-of-the-art IT solution designed with modern businesses in mind."
How It Addresses the Problem: Use bullet points for clarity:

"Seamless Integration: Compatible with both legacy and new systems."
"Enhanced Security: Advanced encryption and real-time threat detection."
"Future-Proof: Regular updates to stay compliant with regulations and standards."
Remember, while the content is essential, the design and visuals play a crucial role in keeping the audience engaged. Ensure a consistent theme, use high-quality images, and maintain a balance between text and visuals for maximum impact.

5. Product Demo/Features
Background: A sleek, muted backdrop that doesn't distract from the product visuals or feature highlights.
Brief Demo: If possible, embed a short video or animated GIF showcasing the product in action. This could be a user interface walkthrough or a simulation of the product solving a problem.
Key Features & Benefits:

"User-Friendly Interface: Designed with simplicity and efficiency in mind."
"Adaptive Learning: Our system learns and evolves based on user behavior."
"Collaborative Tools: Enhance team productivity with built-in collaboration features."
"Cloud Integration: Access and manage your data anytime, anywhere."
6. Market Opportunity
Background: A dynamic image or graphic representing growth, such as a rising bar graph or an upward arrow.
Size of the Target Market: "The global IT solutions market is valued at $500 billion and is projected to grow at 10% annually."
Growth Potential & Trends:

"Increasing adoption of cloud technologies."
"Rising demand for cybersecurity solutions."
"Shift towards remote work amplifying the need for robust IT infrastructures."
7. Business Model & Monetization
Background: A subtle, professional backdrop, perhaps a blueprint or a strategy board.
How You Plan to Make Money:

"Subscription Model: Monthly and yearly packages tailored to different business sizes."
"Licensing: Offering licenses for larger enterprises with customization options."
"Affiliate Partnerships: Collaborating with complementary service providers."

Pricing Strategy:

"Competitive Pricing: Positioned to offer more value at a similar price point to competitors."
"Tiered Packages: Catering to startups, SMEs, and large enterprises."
8. Traction
Background: A motivating image, perhaps footprints on a path or milestones on a roadmap.
Key Milestones Achieved:

"Successfully onboarded 500+ businesses in our beta phase."
"Achieved a 98% customer satisfaction rate."
"Formed partnerships with leading IT service providers."

Testimonials or Case Studies:

Feature 1-2 short testimonials from satisfied customers or partners. For instance:

"Since integrating [Product Name], our IT workflow has never been smoother. Highly recommended!" – CEO of TechCorp
"[Product Name] offers the perfect blend of innovation and usability. A game-changer for our team!" – CTO of InnovateTech
As with the previous slides, the design should be consistent, and the content should be concise yet impactful. Visual aids, like graphs, icons, and images, can help convey the message more effectively and keep the audience engaged.

9. Marketing & Growth Strategy
Background: An image or graphic that symbolizes growth, such as a plant sprouting or a rocket launching.
Customer Acquisition:

"Targeted Digital Campaigns: Focusing on platforms frequented by our target audience."
"Webinars & Workshops: Educating potential clients about the benefits of our solution."
"Referral Programs: Encouraging our current users to bring in new customers."

Marketing Channels:

"Social Media: Regular updates, case studies, and user testimonials."
"Content Marketing: Blog posts, whitepapers, and e-books to establish industry authority."
"Partnerships: Collaborating with complementary businesses for co-marketing opportunities."
10. Competitive Landscape
Background: A chessboard or a battlefield, symbolizing strategic competition.
Main Competitors:

"TechSolve: A similar IT solution but lacks our adaptive learning feature."
"InnovateNow: Known for their user interface, but their pricing is on the higher side."
"CloudMasters: A veteran in the industry but hasn't updated their platform in years."

Unique Selling Proposition (USP):

"Our blend of cutting-edge technology with user-centric design sets us apart. While others focus on just the tech side, we prioritize the human side of IT solutions."
11. Team
Background: A collage or a mosaic of team members, showcasing diversity and unity.
Key Team Members:

"Jane Smith, CEO: With 10 years in the IT industry, Jane brings a wealth of experience and vision."
"Raj Mehta, CTO: A tech wizard, Raj has been instrumental in developing our product's core features."
"Liam O'Connor, CMO: Liam's innovative marketing strategies have propelled our brand to new heights."

Relevant Achievements:

"Our team collectively has 30+ years in the IT sector."
"Multiple awards for innovation and design."
"Successfully launched and scaled two previous startups."
12. Financial Projections
Background: Graphs and charts showcasing positive growth trends.
Revenue Projections:

"Year 1: $1M"
"Year 2: $2.5M"
"Year 3: $5M"

Key Assumptions:

"A steady increase in the adoption rate of our product."
"Expansion into new markets by Year 2."
"Introduction of complementary products/services by Year 3."
Remember, while the content is pivotal, the design and visuals play a significant role in conveying the message. Each slide should be designed to capture attention, convey the core message, and move the narrative forward.
13. Funding Ask
Background: An image or graphic that symbolizes investment or growth, such as a seedling being watered or hands shaking over a deal.
Amount of Funding:

"We're seeking an investment of $2 million."

Use of Funds:

"Product Development: 40% – Enhancing features and expanding our tech stack."
"Marketing & Sales: 30% – Boosting our reach and customer acquisition."
"Operations & Infrastructure: 20% – Scaling our team and resources."
"Research & Future Projects: 10% – Exploring new market opportunities."

Investment Terms:

"Offering a 10% equity stake in return for the investment."
14. Risks & Challenges
Background: A balanced image, perhaps a tightrope walker or a ship navigating stormy seas, symbolizing the balance of risk and reward.
Potential Risks:

"Market Saturation: The IT solutions space is competitive."
"Rapid Technological Changes: The need to constantly innovate and adapt."
"Regulatory Challenges: Navigating the evolving landscape of IT regulations."

Mitigation Strategies:

"Diversification: Expanding our product suite to cater to various niches."
"Continuous Learning: Investing in R&D and team training."
"Legal Advisory: Collaborating with experts to stay compliant."
15. Closing/Thank You Slide
Background: A warm, inviting image, perhaps a sunrise or a team celebrating a milestone.
Gratitude:

"Thank you for your time and consideration. We're excited about the journey ahead and hope you'll join us in making IT solutions more human-centric and efficient."

Contact Information:
16. Appendix (Optional)
Background: A neutral backdrop, allowing for various types of content to be added as needed.
Additional Data & Insights:

"Detailed Market Analysis: Breakdown of our target demographics."
"Technical Specifications: In-depth look at our product's tech stack."
"Extended Team Profiles: Introducing other key members and advisors."

Q&A Support:

"Additional slides can be prepared to support potential questions from investors, offering deeper dives into specific topics or areas of interest."
With this, your IT pitch deck is comprehensive, covering all essential aspects from the introduction to the closing. Remember to rehearse the presentation thoroughly, anticipate questions, and always be prepared to adapt based on the audience's feedback or interest. You got this!
But if you don't got it:
Consider doing what 100s of others like you did. Let me help you develop a killer pitch deck and save 10 hours of your time for a fraction of the cost. All it takes to start is a free 30 min call with me.
The least you will get is 10 actionable tips & strategies to own that next presentation, worth $599, for free.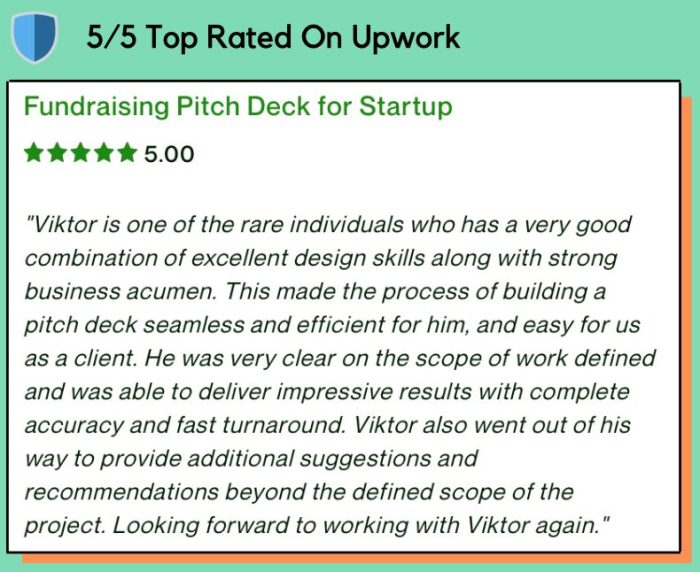 If you want to really dive into the world of pitch decks, check out our complete collection of pitch deck guides, pitch deck outlines and pitch deck examples.
Want more guidance? Go back to my IT pitch deck guide or get inspired by some in-depth IT Startup pitch deck examples.